The X-Files Season 10 Episode 2 Review: Founder's Mutation
Carissa Pavlica at .
Would it make sense to use alien DNA, if our government had it, to find a cure for horrific diseases?
It might, if it was in the right hands. But what if that wasn't their intent at all? That's where the case on The X-Files Season 10 Episode 2 takes us, and it was a huge leap in quality above the premiere.
Special Agents Fox Mulder and Dana Scully were fully entrenched in the X-Files again, Asst. Director Skinner was backing them up and pushing them onward, and most of all, they were all cool and comfortable. The easy breezy nature of their relationships was apparent.
"Founder's Mutation" is The X-Files without trying to cram a decade's worth of old information and new conspiracy theories into a 45 minute script. Let's dig in!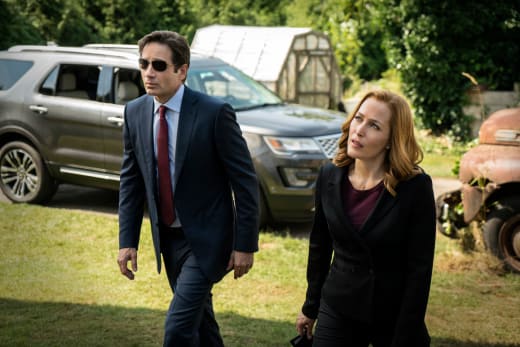 This hour ties in with The X-Files Season 10 Episode 1 in the loosest way possible. There isn't even a mention of what happened or the blinders being taken off with regard to Mulder's life's work.
Instead, we're immediately thrust into an X-file and Mulder and Scully are on the scene to handle it. Right off the bat, Scully is looking at the body and Mulder is wondering why the victim, Dr. Sanjay, chose to kill himself in the most secure room in the entire building. There's more to this story than a suicide! 
Mulder cleaned up well. He's in a suit, and he's far more lively and flippant than he was in the premiere. Being alone definitely didn't suit him. I don't think we need to argue that he needed both the X-files and Scully to brighten his days and give him a little more zest.
The case was really interesting and tied well into the bigger picture.
The Founder, Dr. Augustus Goldman, had been experimenting on children for decades, including his own. Since it was all so secretive, the results so bizarre, babies being stolen right out of the womb and the Department of Defense involved, it's easy to make the leap that they're messing with alien DNA. They had it, so what else could it be?
Was it a two-pronged approach? Not only were they creating children with unique abilities such as Kyle and Molly (who just so happen to be Goldman's own children, how convenient), but also trying to come up with cures for the terrible diseases for which those children were being (so they said) treated?
Because if those kids were created and just happened to pull the bad straw, wouldn't the government have just killed them? Let's be real. They're hidden, they had no families and they served no purpose other than as mistakes. Unless they're really trying to find cures.
There were a lot of ways to fall down into the "what if" pipeline whether that's what was going on with Goldman and his eugenics experiments.
Mulder and Scully both went there themselves after they thought about William. Seeing the children had to bring up terrible thoughts for them, and each had ideas of what their lives with William might have looked like.
But did you notice that neither of them imagined a world in which they would have shared William together? That's kind of sad. Both of their fantasies ended with their worst case scenario – Scully's was of William becoming an alien, and Mulder's was of William being abducted. Not having them both as parents isn't all that great, either. Maybe together they would be able to keep the worst case from becoming reality.
At least they talked about William, together, and Mulder reminded Scully he never thought she was just anything to him. It will be interesting to see if they revisit William again before the six episodes are through. They said they were pulling the string to see what unraveled.
My favorite line of the night goes to Mulder, who was finally the comedic badass I wanted him to be when Skinner was checking in with them at the end of the case.
Scully: Have they found Molly or Kyle?
Skinner: You were the last one to see them, Agent Mulder.
Mulder: I blacked out after Goldman's eyes popped out of his sockets. Believe me, you can't unsee that.
Once again, it was great the opening credits were still there. You never know if they're going to change them after the premiere. They didn't!
There are so many guest stars. Practically every character is someone we've seen somewhere else. Nostalgia surely had everyone lining up at the door, eager for the opportunity to be a part of this revival. Good guy, bad guy, you'd just want to be on the board, you know?
Alright you guys. What did you think of this one? If you loved the first episode, where did this one fall? We'll be back on February 1 with The X-Files Season 10 Episode 3, and in the meantime, you can watch The X-Files online if you missed anything.
Carissa Pavlica is the managing editor and a staff writer for TV Fanatic. She's a member of the Critic's Choice Association, enjoys mentoring writers, cats, and passionately discussing the nuances of television and film. Follow her on Twitter and email her here at TV Fanatic.