Arrow Season 4 Episode 12 Review: Unchained
Carissa Pavlica at . Updated at .
That could have been much better.
From fan reactions online, I don't expect this to be the popular opinion. Which isn't a surprise. But as a storytelling device, Arrow Season 4 Episode 12 was all over the place.
It was an hour of moments rather than a truly good episode of television. And, yes, there were a lot of moments during "Unchained." Some of them very good, thankfully.
Two characters returned to Star City, Curtis delivered a company saving technical feat for Palmer Tech, Felicity's father arrived in town via a villain of the week shtick and Thea is in a coma with a 3 on the Glasgow scale. Hint: That's not good.
But that's not even all the moments. Also thrown into the mix with very little fanfare? Ruve Adams (Mrs. Damien Darhk) tossed her hat into the ring for mayor. Katana was guarding the potion Nyssa brought to Star City to save Thea.
We learned Sara is whole, and I was right – Constantine could have cured Thea, but the dude left town without bothering. At least we know why Sara is so different over on DC's Legends of Tomorrow now. 
Felicity was back at Palmer Tech, and even though Curtis came through with an amazing piece of technology, she was hardly confident. He essentially saved the company, but she felt less than in comparison to herself as OverWatch. 
Holt had a pep talk for her that got her through, but after everything she went through with Goth Felicity, it seemed odd that her insecurity would have appeared at the office. She was never at a loss there before.
While it was cute that she got to know her father a bit via the banter they did over headsets, I didn't quite catch why Felicity had an open line to The Calculator. Did anyone else? Any other time, she would have hung up on the adversary immediately and shut them down. 
While it worked to show how similar Felicity and The Calculator were to each other, it also felt as if they didn't trust us to recognize their similarities. Hello! He's related to Felicity! Can't you tell how similar they are by their banter?
She's a smart cookie, however. If it takes her more than a couple minutes to put together her father's return with the arrival of The Calculator, I'll be surprised. The better story would be to her grappling with a baddie as a daddy anyway, right?
Good vs Evil right in your own family, which is kind of what Thea has been going through all along. Thea needs to get well soon so Felicity will be able to ask her the tough questions.
I realize Roy was trying to keep a lid on his identity when he didn't help Thea as she was getting ready to plunge over the side of the roof, but did anybody laugh when he was running from Oliver later and breakdancing here and there as he bounded through the parking lot? Talk about giving yourself away!
There isn't another masked man in the universe that does those silly maneuvers like Roy Harper.
And how many people are going to say either "This is my life. It's my choice," or, "It's my choice. This is my life," before the season is over? And are each of them supposed to be nominees for the grave? Both Felicity and Laurel said it the day Felicity was shot and Thea and Roy both said it here, with Thea winding up in a coma.
The scene between Thea and Roy when they declared their love, wishing they had made different choices, leading to a future where they would have shared a family together was incredibly touching and brought closure to their relationship. Will this be the last time we see Roy?
And who would have guessed Malcolm Merlyn might be the voice of reason, if only for an instant? Of course Nyssa would show up asking Oliver to kill Malcolm in return for a bloodlust cure just as we didn't think he was a complete jackass. Plus, he also uttered the phrase.
After Arrow Season 4 Episode 11, which was so well done both with content and flow, this installment was a bit of a letdown. The pieces are there to set up some great stuff going forward, but this could have been so much better with less noise and more focus. That could have even been achieved if we had seen Nyssa's actions in a flashback down the road and not in real time here.
And, of course, if we had foregone Oliver's flashbacks altogether and cut any mention of the mayoral race. They just weren't necessary to an already packed hour. 
Are you ready to talk about that touch between Felicity and Oliver? Why he's hallucinating Shado on the island to help combat his darkness? Or maybe you're just ready to think about the future. You can get a look at what lies ahead with the preview: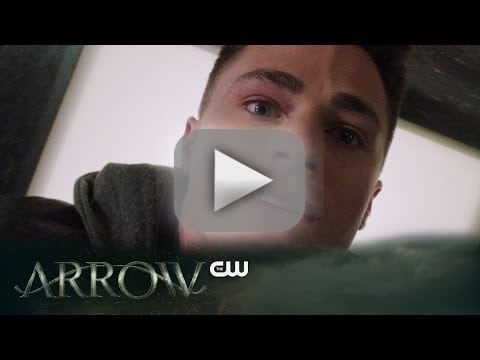 You can also watch Arrow online anytime via TV Fanatic, so don't hesitate to do so! 
Carissa Pavlica is the managing editor and a staff writer for TV Fanatic. She's a member of the Critic's Choice Association, enjoys mentoring writers, cats, and passionately discussing the nuances of television and film. Follow her on Twitter and email her here at TV Fanatic.