For the second night in a row, Castle was working towards making me forget the train wreck that the first half of Castle season 8 has been.
And without having to roll my eyes at the word, I can say that Castle Season 8 Episode 11 was actually – wait for it – fun! 
Yes, the show runners in their many, many interviews have been promising us fun all season long, but it finally appears that they are delivering on their word. 
It's about damn time.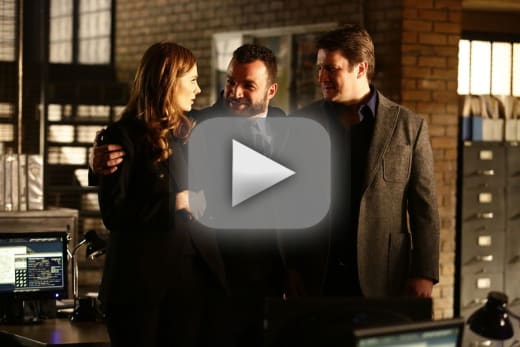 As much as I can't wait for this secret separation to be over and I hate that Martha and Alexis still believe it's going on, I did enjoy the amusement Castle was getting out of hiding it…
You know Beckett asked for some time so I'm just giving it to her every day. Sometime twice.

Castle
As for the case of the week, Gregory Mishkin getting his throat slashed was pretty brutal, and I was happy they didn't show more of the blood and gore than they did. But as gruesome a beginning as that was, the case took an entertaining turn rather quickly.
Vasili, the Russian diplomatic security officer/cleaner was a hoot. He walked the perfect line of being funny but also allowing us to believe that he took his job seriously. He also gave great bear hugs and was a huge fan of Richard Castle, Derrick Storm, Nikki Heat and Kate Beckett.
Vasili was completely heartbroken that Castle and Beckett no longer officially investigate cases together.
We all are Vasili. We all are. 
There were plenty of twists and turns in the case to keep me guessing. As Castle said to Ryan in this Castle quote…
Castle: This novel writes itself.
Ryan: Then tell us what happens next.
Castle: I have no idea. That's what makes it so good.
I certainly never expected that Anya, Grigory's mother was still alive. I also appreciated how our foursome of Castle, Beckett, Espo, and Ryan all worked the case together. 
When Beckett made the phone call asking to have her curtains cleaned, I had no idea who she was calling. My immediate reaction to seeing Rita once again was anger. I relate her to the start of this ridiculous and boring LokSat case and the horrible Caskett separation. That said, oddly enough, I actually like Rita if that makes any sense.
I was thrilled that Kate finally told Rick that Rita is married to his father. I was even happier to hear Castle admit that he's had enough of being protected and that he has flares of anger over it.
I wish we got to see more of that. It would make this storyline more realistic and perhaps more satisfying to see some consequences to all of Beckett's lies, even if many are by omission and done with the best of intentions. 
That Rita told Rick in one breath that Jackson never talks about him and then in the next that he's very proud of him struck me as odd, but it was certainly something Castle had longed to hear.
Other points worth mentioning…
No Vikram! No Hayley! Yay!
Do you think Beckett ever has nightmares over coming close to a sniper's bullet yet again?
Castle's baby shower gifts were so much cooler than Alexis'!
I really wanted to hear Beckett speak more Russian.
Well, we're two for two in the win column! Let's hope they can keep it going. Check back tomorrow for our Castle round table and then next Monday for my review of Castle Season 8 Episode 12. If you can't wait until then, you can always watch Castle online here at TV Fanatic.
C. Orlando is a TV Fanatic Staff Writer. Follow her on Twitter.