The first annual "Battle of the Badges" commenced on Chicago Fire Season 4 Episode 14 and Chili finally suffered the consequences of her actions. 
Below, TV Fanatics Elizabeth Harlow and Stacy Glanzman are joined by super fan Amy Perrin to discuss Casey dipping his foot into political waters, Chili's possible return, and who we want to see duke it out next.
Join us!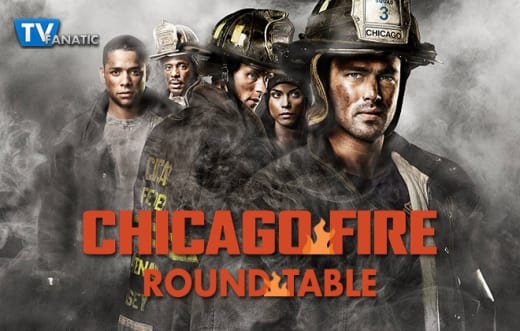 Is Casey running for alderman a good idea? Will he win?
Amy: Yes, it is a good idea, and I am pretty sure that he will win. The current alderman, and his predecessor have done diddly squat to make things better, and people are fed up. Casey is honest, a breath of fresh air who genuinely cares, and would make a difference.
Elizabeth: It certainly is something new and different. And it's politics (in Chicago no less!) so I'm all for it. I'd actually be way more into seeing Chicago Law if it centered on the city council instead of the prosecutor's office. I'm not sure if Casey will win though – how well would that really incorporate with Fire? I don't think the show could dedicate the time to his work to do it justice and still keep true to itself.
Stacy: While I absolutely think Casey would make a great candidate, I'm a little concerned he may have rushed into making the decision to run without thinking it all the way through. I think his campaign will make an interesting arc for this season, but I don't think he'll win, mostly because as Elizabeth said, I'm not sure how it would incorporate into the show.
Do you think Chili will be back at 51? Do you want her to come back?
Amy: I am thinking that she will be back, but I do not want her to come back. This may not be the popular opinion, but I have not cared for her since her introduction. Her personality rubs me the wrong way, and I think 51 was better without her.
Elizabeth: I'm not sure. The paramedics don't seem to be the luckiest people at 51, and she admitted to drinking on the job. Her best bet might be to clean up and move to a new city to make a fresh start.
Stacy: My guess is she'll be back eventually, but I don't want her back. It wouldn't be realistic for them to give her yet another shot. Plus, I think the fans are fed up with her. It's time to move on and give Brett a new partner.
Were you surprised Severide was the one to finally get through to her?
Amy: Severide did give her an ultimatum, so I am not that surprised that she went to Boden to confess her drinking on the job. However, I was surprised that she called Severide for the ride to rehab. Hopefully Chili will get the help that she needs there.
Elizabeth: Somewhat, but he is an authority figure in the house. My only hesitation with that is that Severide has been such a mess himself recently, and really didn't handle it with as much grace as he could have.
Stacy: I would have guessed it would be Brett or Dawson, but they both tried and failed. Severide caught her and she didn't have much of a choice as far as going to Boden, but she did decide to call him for help instead of falling further down the rabbit hole.
What did you think of the Battle of the Badges?
Amy: I am not a fan of boxing, and I found it rather lackluster. I thought the match would last longer, and that Jimmy would wind up beating Antonio.
Elizabeth: It played out pretty much as I expected. Antonio always had a massive advantage, and Herrmann getting screwed when he tries to make a quick buck has been a recurring theme since season one.
Stacy: I had hoped Jimmy would last longer than he did. The whole thing was over-hyped for how short it was. Herrmann did deserve to lose for his tactics though.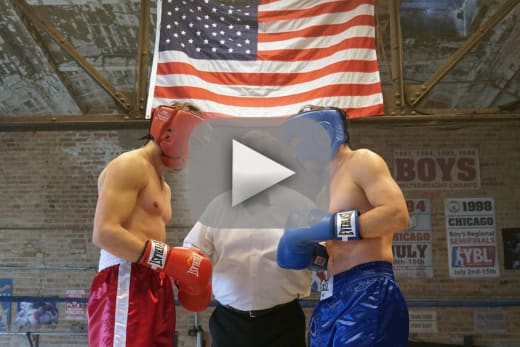 Who do you want to see take the ring next?
Amy: I think it would be cool to see Gabby, but if not her than Severide or Cruz.
Elizabeth: Gabby and Burgess maybe? Kim certainly has some frustrations to work out. I think Cruz's Zumba background could actually come in really handy with boxing, and would be really funny.
Stacy: I think Gabby vs. Lindsay would be a good match-up. They could also get Chicago Med involved, even though then they might have to change the name. I would root for literally anyone to beat the snot out of Will.
Stacy Glanzman was a staff writer for TV Fanatic. She retired in March, 2019.