Chicago Fire Season 4 Episode 14 Review: All Hard Parts

Stacy Glanzman at . Updated at .
The first annual Battle of the Badges is in the books!
Unfortunately, it lasted all of about thirty seconds, but it was entertaining nonetheless. 
The fight between Antonio and Jimmy on Chicago Fire Season 4 Episode 14 was really hyped up considering how short it was. Were you disappointed?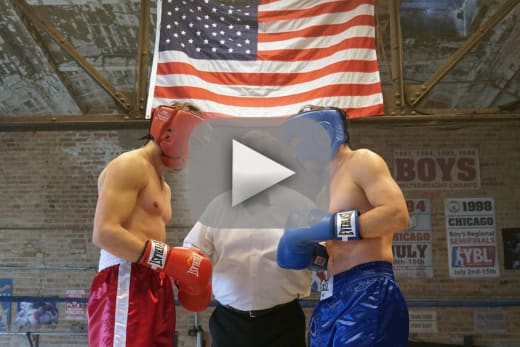 Personally, I wanted Jimmy to pull off the upset, and I thought Dawson's inside knowledge of her brother would be what he needed to win. However, thanks to his dishonest tactics, Herrmann really did deserve to lose all his money. I wonder how much Dawson lost. 
Casey: Herrmann, did you try and rig it by making Jimmy look like a bum so we'd all get fleeced?
Herrmann: Yes.
Brett: See this is why I don't bet on sports.
Dawson: Also, you don't understand them.
The most surprising part of the entire fight had to be Connie in that dress as the ring girl, right? I mean, seriously, where did that come from? 
Mouch did look pretty cute in his bow tie, though, and most of Chicago PD showed up to watch. We even got a glimpse of poor Ruzek off by himself while Burgess was shouting and getting into it. 
So, will there be a second annual Battle of the Badges? Who do you want to see take the ring next? 
Is the Chili story line finally over?
Honestly, if Boden hadn't fired her, I might have lost all respect for him. She's had more than her fair share of chances to get her act together, and I don't really know how she has lasted this long. 
But drinking on the job? I know I wasn't the only one worried for that guy who was getting a tube shoved down his throat. Did the whole audience let out a collective breath when it actually worked?
But that was dragged out way longer than it needed to be, and I don't see why we couldn't have had that scene of Severide dropping her off at rehab like four episodes ago. 
Will she be back after she completes the program? My guess is yes, but who will be Brett's partner in the meantime? 
Casey running for alderman could turn out to be really interesting. I don't really know much about what an alderman actually does, but if he can do it successfully while still being a full-time fireman, I think it's a great idea. 
However, I get the feeling that Cruz made it sound like less work than it actually is, and Casey is not the type to do anything half-assed. If he wins, I could see time management becoming a problem for him. Dawson is supportive of it now, but how will she feel when he has no time for her? 
Still, this could be a big deal for him and the house if he can really make a difference as a public figure. As Otis said, he could give the house a voice, even if he doesn't know how yet. 
Otis: When's the last time the CFD had a real voice?
Casey: And how do I give the CFD a real voice Otis?
Otis: I don't know, I just thought it was a good thing to say.
I mean, at least there's no way he can do worse than the guys who have come before him, right? 
I'm just saying while it's a nice idea, he made his decision kind of rashly, and he probably should have done a little more research before going for it. Here's hoping he isn't getting himself in way over his head. 
In case anyone is wondering, I Googled it, and a Chicago city alderman serves a four-year term. Pretty big commitment. 
Was anyone else confused what was going on when Chili and Brett were talking to the kid through the window? The kid said the dead bolt was locked and his brother passed out in front of the door, but why couldn't the kid reach over him and unlock it? 
I can understand if the issue was getting the door open while the guy was laying against it, but they did get him out somehow. Unfortunately they didn't show it. It's not important, just didn't make a whole lot of sense to me. 
All in all, not one of my favorites. What did you guys think? Hit the comments with your thoughts!
Don't forget, you can watch Chicago Fire online any time! 
Stacy Glanzman was a staff writer for TV Fanatic. She retired in March, 2019.