In anticipation of Colony Season 1 Episode 7, Tory Kittles took time out of his schedule to talk reporters this week.
It's a big episode for his character, and it's even named after him: "Broussard." To get some hints on what lies ahead and what Kittles believes motivates the character he embodies so well on the intriguing USA Network series, continue reading!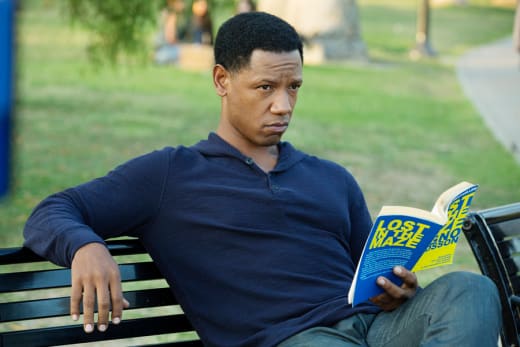 Kittles finds a lot about his character intriguing, and doesn't learn much about him in advance. He discovered he was a Red Hat "about a week before everybody else did," he said. "He's having to deal with seeing the things that the Red Hats do on a daily basis, you know, and he's gathering intelligence. But I think that plays a big effect on his humanity."
Broussard's training, his background, his history appear to allow him to keep his emotions in check. He keeps his cool.
"He was a soldier. And so all of those things have taught him how to survive in a war time. So that's essentially where the colonists are living. It's war time, and you have to choose what side you're going to be on," Kittles suggests, "whether you're going to comply with the occupation, which is something Broussard is very clear about."
Kittles shared that "there have been, sort of, bread crumbs and clues about Broussard and his history that have been sort of sprinkled through the episode leading up to episode 7. You know, it finds Broussard at a very precarious place because in [episode] 6. You know, it's the first time, really, that Broussard and Will have come face to face."
"And there was a moment in episode 6 where 'Broussard, the story' sort of gets flipped on its head, and now Will is going to come after him. So it's a very pivotal point within the structure of the whole season, actually, because everything sort of gets turned upside down." 
This week, we'll learn more about Broussard's history and how the past fits into the present, such as why fixing the house is so pivotal to the character, "Every time [Katie] would go see him, he would – the first time we see him, he's fixing the roof. You know?"
"So there's something about a soldier who now doesn't have the fight anymore, but yet he's trying to hold onto something, and he's doing it by fixing up this house. He's going to restore this house and that was him trying to not only maintain his humanity but also create something positive in this world where he's just struggling to maintain that humanity."
"And in further episodes, you see him fixing the plumbing, putting bars on the window. So the house, sort of, to me, was how he was trying to hold onto something special that connects to his past."
Broussard is motivated by "Freedom and maintaining the things that have been taken away from them. He will never be a guy who's comfortable living under rule of thumb. Because he was a serviceman and in the military and had that background, I think that he was hoping to come home and rebuild his house and take care of his mom and resume his life and while trying to hold on to his humanity." 
"I think he's a good guy, and I think his actions are justifiable under these circumstances. I think you really can understand he's a man of honor because when he has Will in his crosshairs, he does not pull the trigger because of his relationship with Katie."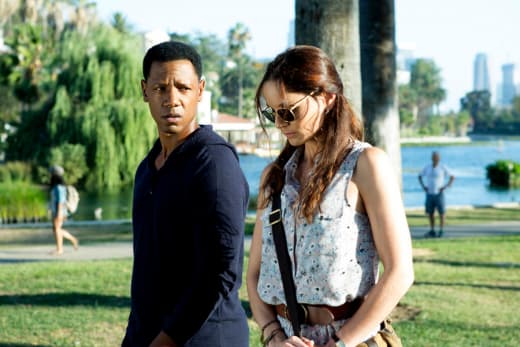 Kittles said there is a history to Broussard and Katie's relationship that will be revealed as the season plays out.
"But I definitely think that he cares for her a great deal and he respects her and he understands that she's a very important figure, not only in being a strong figure in the Resistance, but someone who he can trust, who has an intellect to be able to navigate this world." 
"But mostly I think she's someone who keeps him off the edge. She's someone he can rely on. In this new world, there's not too many people that you can rely on."
Kittles also noted that Katie keeps Broussard close to his himself, "in a place where he not only makes tactical decisions but doesn't get away from the humanity and understands the loss and the sacrifice and the ramifications of his decisions. It's not just hey, we're going to blow up all of these people, she makes him understand it's not just doing it but how you do it."
Kittles does think that Broussard is starting to suspect his relationship with Quayle is going to change, and that moment started when Quayle suggested Katie was a double agent. "Quayle is a mentor. [Broussard] does have a history with Quayle, and he has a sense of loyalty with Quayle. But at the same time, he feels that Katie is somebody that he can trust as well."
It seems as if getting rid of Will would be counterproductive since he could be an asset to the Resistance, especially since he has ties to Katie.
I think Broussard plays a longer game. I don't think he's reactionary. I think his tactical experience, his experience in gathering intelligence and in guerrilla warfare have taught him to not make rash decisions and even though there would have been a benefit to pulling that trigger, maybe in the long game there is a way Will can be useful to him or he can be useful to Will, I don't know. We'll see that play out.
Kittles has not gotten any information on the hosts. At least no more than we have. "You know, I got about as much information about the hosts as Proxy Snyder revealed last week in episode 6 [laughs]. That's about as much information as I have on the hosts!"
Broussard most likely tabled his moral conflict when taking a life, but Kittles himself had something completely different to say. "Well let me say this. Tory Kittles had a problem taking the life of the amazing Kathy Baker because not only was she a sweetheart, but she baked for everybody. She actually baked cookies for everybody. And the only scene I had with her was, you know, when I had to shoot her. So there was a definite conflict there and Tory felt awful."
"Broussard, on the other hand, felt that it was a necessary tactical decision and he stripped his emotion away from it because she was somebody higher up in the Occupation and his objective is to ruin and destroy the Occupation. So she's a casualty because of that."
Don't forget to tune into Colony tonight on USA Network at 10/9c!
Carissa Pavlica is the managing editor and a staff writer for TV Fanatic. She's a member of the Broadcast Television Journalists Association (BTJA), enjoys mentoring writers, wine, and passionately discussing the nuances of television. Follow her on Twitter and email her here at TV Fanatic.