So many thoughts, but they're all disjointed. That's OK, right? This show is all about a good time.
The 80's adventure came to a close on DC's Legends of Tomorrow Season 1 Episode 5, and I have to ask...did anyone even realize they were in the 80s? Because it seemed like a terrible waste of an otherwise great decade.
Of course, the 70s were used to such great advantage so early it's probably not the best idea to use up the 80s this early in the run. But it's time travel, and I like spectacular. 
My other question after watching these two parts would be this: why on earth would anyone actually set out to be firestorm? What's the benefit? 
I guess you can fly (which you can do as other superheroes), you can throw fireballs (that catch nothing on fire), you can cause nuclear explosions (what's the benefit there?) and...your clothes don't catch fire despite your otherwise fiery appearance. Oh, and you're merged with someone. Bonus?
Nothing about it seems even remotely appealing. I chuckled when Valentina asked Stein if he had ever merged with a woman. If I had been watching with someone, I would have given them an elbow. But when she just kind raped him into being her other half? Not cool.
Valentina had earlier given Stein some hallucinogens to try to get him to comply with her wishes, giving us a Cisco sighting, and then I thought he was seeing things when he spotted Vandal Savage because he didn't recognize him.
Does it concern anyone else that Stein didn't recognize Savage? Shouldn't they all be pretty familiar with the man they're hunting by now? 
Kendra and Jax were sidelined again, for various reasons. Rip's logic didn't mean anything in the long run and the two "junior" team members came up with some really great ways to help move things along. Unfortunately, only Jax had an expanded storyline. Kendra has yet to really spread her wings, both literally and figuratively.
She's always going to be the only one who can truly kill Vandal Savage, so he's going to need to get over his worry that she might get into danger when he's around. Yes, she'll be in danger. She might also end things once and for all. So there's that.
Sara FINALLY addressed the fact that she can take out a room full of men while Rip and Snart struggle to finish off one together. That was brilliant.
I wondered a while back if Snart would change at all after changing things where his father was concerned. His feelings about the team have definitely changed.
His thoughts on never leaving a team member behind (although he shortly thereafter altered his opinion for story's sake) and certainly never killing one was driven home through Sara. Snart wanted Sara to strangle Stein with her bare hands while looking him in the eye so she knew exactly what she was doing. Dang.
Mick and Ray in prison was funny, but they're playing Ray as if he's mentally challenged instead of socially awkward. Nobody in their right mind would behave as he was in the friggin' gulag. However, I did laugh out loud at this exchange:
Ray: This must be where they keep the VIPs.
Mick: This is prison, jackass, there are no VIPs.
Watching Mick grow closer to Ray, as if he was a puppy he couldn't possibly harm, was kind of cute. To be honest, I didn't see a lot of similarities to anything from the Prison Break universe, but their constant reminders that they only cared for one another was adorable, and I'll probably tune into the Fox series just to watch more of them.
Maybe the Legends cast can find roles, at least Caity Lotz and Brandon Routh? Slowly but surely, the four of them are starting to congeal with me as a really solid group. I wish all of the others felt as integral and necessary, but they don't.
That appears to be due to line delivery and natural chemistry. Some people have it as a group, others don't. It's not a dig, it just is.
At the end, the team got away and the Waverider was tossed out of the time loop and into Star City of 2046. It's here! The Green Arrow? It ain't Oliver Queen. But that guy with the beard? It IS Oliver Queen. He's got a long life ahead! Wow.
While this week was just a good time as, let's face it, every episode has been, DC's Legends of Tomorrow Season 1 Episode 6 is going to be something more. A look at a possible future. If they don't stop Vandal Savage, we can see some details.
Can you even wait?? Get your first look at the episode below!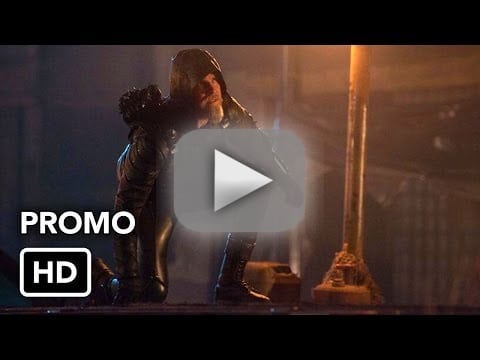 If you want to catch up on all of the fun, watch DC's Legends of Tomorrow online right here via TV Fanatic. Keep an eye out for the Legends of Tomorrow round table and photo previews as the week progresses. 
Carissa Pavlica is the managing editor and a staff writer for TV Fanatic. She's a member of the Broadcast Television Journalists Association (BTJA), enjoys mentoring writers, wine, and passionately discussing the nuances of television. Follow her on Twitter and email her here at TV Fanatic.