Someone got the short end of the stick.
On Gotham Season 2 Episode 12, Jim testifies before a police panel about Galavan's murder, and, basically, throws Penguin under the bus. 
But, it may not be that simple. Something happened between the two of them in the time after Jim shot Galavan, and whatever it was had to be something good.
There is no way Penguin is going to endure what he has, is, and probably will be enduring in the future if it wasn't worth his while.
I have to admit, I was blown away by the sheer boldness of Jim's denial that he had anything to do with Galavan's murder. Not that I thought he would readily admit to shooting the guy.
But, WOW, he had absolutely no qualms about lying, even if he took a few moments to really think about what he was doing. At least, it seemed like he was contemplating whether or not to go forward with the lie. There is no question that Jim Gordon's moral compass is trashed.
Barnes was having a hard time with it all. It was obvious he had a bad taste in the back of his throat after Jim's testimony and was itching to throw the book at Mr. Wonderful. When Penguin was caught, he seemed almost giddy at the thought (in Barnes' own special way).
But, much to his surprise, Penguin backed everything Jim had said. And, honestly, it wasn't what I was expecting either. Penguin deceived us with that smug look, because I was sure Jim was going to be be busted.
Not that it satisfied Barnes' suspicions. If anything, he's probably going to keep an extra sharp eye on everything Jim does. It wouldn't surprise me if he tasked Bullock with the job, but would Bullock betray Gordon?
So what happened between Jim and Penguin? 
What we know is that Jim disappeared after Galavan was shot, probably to where Lee was waiting for him on Gotham Season 2 Episode 11.  We know she accepted his proposal, because Jim called her his fiance at the hearing! Yay, Jim and Lee!
I'm guessing that whatever was worked out between Penguin and Jim was worked out beforehand. And, we know Jim has lied, once again, to Lee. Baby hormones or not, she really needs to get a clue. Like, always question his promises.
There's something that bothers me, though, about how Jim is referring to his and Penguin's stories as "the truth." Is he really trying to justify it all in his mind? His short conversation with Nygma seems to point that way, but I don't know. Is Nygma in or out of the loop? That was just an odd conversation.
It also bothers me how quickly Penguin confessed to the crime. Yes, he has no problem sharing his hatred for Galavan, but it all seems a little too packaged.
Isn't it strange how easily Penguin was caught after Jim was reinstated? That wasn't chance. That was planned. So you have to wonder, what are these two really up to?
I'm also not buying Butch all of a sudden becoming the new King of Gotham. He's not smart enough to hold that title, and he certainly doesn't seem to be enjoying his new role.
He was incredibly lackadaisical in using his drill hand to kill that guy. Could he have been handpicked by the Penguin himself to take over until everything is sorted out?
Butch is a follower not a leader, so it makes sense.
The problem is that now Tabitha has entered the picture, and there is no way that Butch is going to be able to keep her away, drill hand or not. He's about to become her lap dog...again, and she's about to become a badass Queen.
That is, unless Selina stops it before it starts. Could she be a spy for Gordon?
The other major issue is that Penguin is stuck at Arkham. It may very well have been planned out that way, but it's not looking like it was a good choice.
It was quite demeaning to have slop thrown in his face, but  even worse was the mockery that took place after his King of Gotham declaration. None of those loonies in the cafeteria showed any deference to him, and it really brought Penguin down a few notches. I truly felt sorry for him.
Jim better get his ass in gear, and get Penguin out of there, because it looks like it's only going to get worse. Professor Strange has Penguin on his radar, and that guy is one creepy dude.
It's clear that Penguin realizes the dire predicament he's in at the moment. Strange's final comments after their meeting literally sent chills down my spine. The way those words creeped (and I mean creeped, not crept) out of his mouth...
That's why you're here, after all, to be cured of your sickness. You are sick, aren't you?

Professor Strange
And what Nigel did to himself after his meeting with the Professor? Yikes! It's scary to think that Strange might have some hypnotic powers at his disposal.
This is the kind of bad guy Gotham needs, though – a criminal that's really going to wreak some havoc on the city. I'm guessing he's going to be the one bringing back Fish Mooney and who knows who else. Won't that be a good time?
His cohort in crime, Ms. Peabody, is just as creepy as he is. These two have some serious dimension that was lacking with Galavan and his band of nutcase brothers, so kudos to Gotham for the great casting. 
I have a feeling Fish Mooney's return is going to be linked to Mr. Freeze's recent cryogenic regeneration success. 
Victor and Nora's story was just incidental to the bigger issues taking place in and around Gotham, but Victor's dogged determination to help his wife provided some comic relief even though her illness was no laughing matter.
How ridiculous was it that the group of pharmacy shoppers helped Victor put the frozen pharmacist in his van? The guy definitely had it coming to him, but still.
And, I don't think anything phases Bullock, even a frozen security officer's head smashed through his windshield, which, by the way, was incredibly gruesome. 
Just think, had Fries been able to get that guy into his van before the police came, he actually could've come back to life!
It's obvious how Mr. Freeze and Nora will fit into the bigger picture, but how it happens remains to be seen. I just hope that Mr. Freeze will become a partner with Professor Strange and not one of his experiments. Though, I do wonder if there will be an accident so that Mr. Freeze can have an awesome freeze suit.
Other Thoughts:
Loved the feels between Nygma and Penguin at the station. Not only was it sweet when Penguin asked Nygma to look after his mother's grave, but also that Nygma willingly agreed to do it. Lilies, check.
Grossest moment? The liquefying body in Fries' basement. Ewwww, but the effects were awesome!
What kind of experiments is Bridgit Pike fighting at Indian Hill?
Bullock confidently telling Gordon how to pronounce Fries. Pure Bullock.
Should there be a 'ship name for Butch and Tabitha? Tutch? Babitha? Butchitha? The chemistry between those two was real!
Didn't the very pregnant Lee look adorable?
Even in a simple diner, Lucius Fox just oozes class.
What did you think about "Mr. Freeze"? Let us  know your thoughts in the comments below. Remember, you can watch Gotham online anytime, right here at TV Fanatic!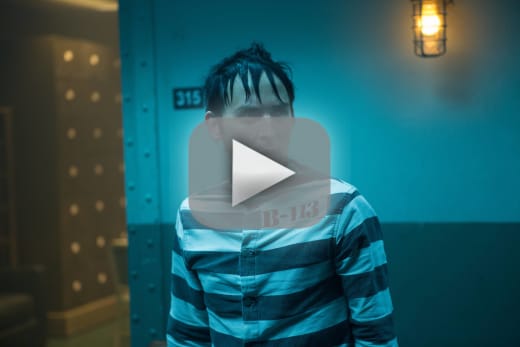 Lisa Babick is a staff writer for TV Fanatic. Follow her on Twitter.