iZombie Season 2 Episode 11 Review: Fifty Shades of Grey Matter
Meg Bonney at . Updated at .
Whoa, is it hot in here? iZombie Season 2 Episode 11 brought the sexy back, and we are not complaining. 
There was a lot going on and it was a nice shift from iZombie Season 2 Episode 10, which felt a little off. Here, each character took a step forward. 
It was pretty PG, except for the audio book, as read by the saucy Kristen Bell. Smart thinking by Rob Thomas because there is nobody who could have delivered those lines quite like her! 
I'm gonna show you why they call it a cockpit!

Kristen Bell
We didn't get much on the Max Rager plot, except for a demo by Major. He was insanely fast and coordinated after drinking it. That stuff is amazing! 
Rose McGiver as an eager sex pot was beyond delightful! Part of me hoped that this would lead to a much needed major Major hook-up, but it's understandable why those two can't be physically together. 
But who can she be with? Her hunky new zombie boy, Drake, that's who! It's still not clear whether Drake is a good guy working for a bad guy or if he is totally playing Liv. 
Even so, he and Liv got hot and steamy and we can't really blame her. Liv deserves some lovin'.
Liv: Have you guys ever wrestled? Stripped down, oiled up, see who winds up on top?
Major: Have we?
Ravi: Strangely enough, no.
Major: Night's young.
As far as the case, they had me fooled! I really did think it was the head librarian. She seemed to have something off about her, but instead it was the jerk of a husband. 
Some of the best moments came from one of my favorite new characters this season, FBI Agent Bozzio, played by the charming Jessica Harmon. In so many shows her character would be tough, with a secret soft side. She would have been just another stereotype. 
The fact that this minor character is so witty and interesting is no surprise if you are familiar with the show's creator, Rob Thomas. Thomas (creator of Veronica Mars and iZombie) has an amazing talent for breaking away from the usual norm for female characters in TV shows and we reap the benefits.
"The Upright Position" as read by Kristen Bell. I've always felt a kind of connection to her.

Liv
Now we need to talk about Peyton. She is another character that is on the smaller side, but she is a dynamic character. She is a young attorney trying to make a difference and sees Blaine and his endless info as her ace in the hole.
You sleep with someone. You think you know them. They could be anyone.

Peyton
It's odd to think that after all of this time, Peyton has never crossed paths with Blaine. Why didn't she think his hair was a bit stranger now that she is aware of the zombies in town?
She slept with Blaine, something we all saw coming, but it was unexpected that she learned so quickly exactly why that was horrible. I thought for sure that it would be a bigger reveal, but I love that they did it this way.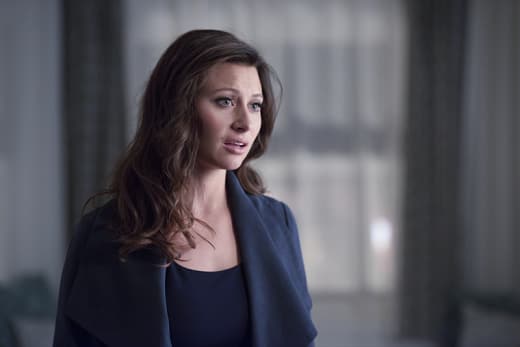 It was two best friends laying it all on the table, and you could see how distraught Peyton was after hearing the news. The question is, will Peyton cut ties with Blaine, or will she put her career first and continue to use him as her star witness?
Moment of silence for Minor. He was a good pup. How heartbreaking was it when Major watched as that bus drove away with his little buddy? Ravi was pretty sad too. Those boys need a puppy.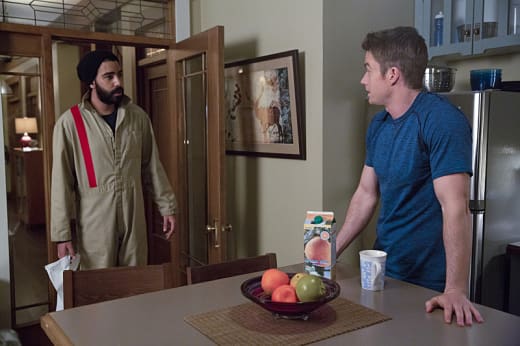 Overall, this was a great episode. It really picked up the pace on this season's plot and gave us some really funny moments. This show really is a gem! 
If you missed anything or you just want to listen to Kristen Bell read erotica again, you can watch iZombie online, right here on TVFanatic.com. 
What did you think of "Fifty Shades of Grey Matter"? Do you think Peyton will keep working with Blaine now that she knows what he does? Sound off below! 
Meg Bonney is a staff writer for TV Fanatic. Follow her on Twitter.