Law & Order: SVU Season 17 Episode 14 Review: Nationwide Manhunt

Jack Ori at . Updated at .
Crossover events often make for riveting television
The last Law & Order: SVU/Chicago PD crossover featured the death of a major character and a crazy serial killer, making it hard to top, but Law & Order: SVU Season 17 Episode 14 did just that.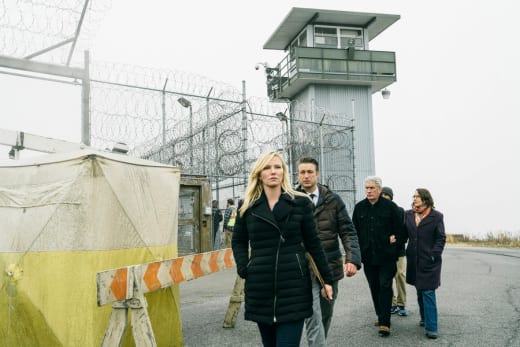 The SVU half of the crossover mainly set up the big story, but what an exciting set up it was. I recognized the woman who had helped William Lewis escape right away, so I was waiting to see how Yates and Rudnick escaped and what they were going to do. Trying to figure out their exact plan made the first part of the hour fun.
He's bored! He gets off on pulling everyone's strings!

Benson
Both Benson and Voight were suspicious of Yates from the second he started reaching out to "help" with some unsolved murders, and with good reason. He was very obviously up to something, plus he was even creepier than before this time around.
I'd forgotten about Yates' uncanny ability to smell all things related to pregnancy, making his scenes with Rollins even more disturbing. Sonny's protectiveness of her was a nice touch. The closeness between Sonny and Rollins keeps building and it'll be interesting to see where it leads.
You say Rollins understands him better than anyone else? Get her up here!

Warden
How Rollins fit into Yates' plan wasn't clear until after he'd escaped. It was obvious he was as obsessed with her as he had been before, but until the warden implied that Rollins was involved, it never occurred to me that he wanted to use her as a red herring to further his escape.
Of course, the warden also wasted a lot of time insisting that Rudnick and Yates couldn't possibly have escaped the prison walls. She clearly wanted to save face, but she was allowing them to get an even bigger head start, which was irritating.
It would have been a neat twist had the warden been on it the whole time, but that does not appear to have been the case.
Well, whatever Yates wants, I suppose.

Rudnick
Silva and Rudnick both asserted that Yates horned in on Rudnick's escape plan at the last minute, but Rudnick was awfully complacent about Yates' presence on his cell block.
Of course, there would be no reason to lie about that once Rudnick was caught, so he was probably just so intimidated by Yates that he didn't dare speak up.
Once the manhunt was on in the second half of the hour, things really got exciting. I was pretty sure Yates had no real use for Rudnick once he had made his escape; waiting to find out what had become of him added to the suspense.
What really made "Nationwide Manhunt" work, though, was the personal elements.
I want you to live tonight. Isn't that what you want?

Sonny
Sonny's rapport with Rudnick helped humanize both characters as well as providing an interesting counterpoint to Rollins' relationship with Yates. Nobody accused Sonny of anything improper or suggested he was being manipulated. Was Rollins right that she was being coddled because she is now a mother?
Lindsay's determination to get the guy who killed Nadia drove the story forward. Did anyone think Lindsay was going to listen when Dodds told her to stay down and wait for backup? I knew Yates was baiting Lindsay, but the cliffhanger leading into the Chicago PD half of the crossover was still a shocker.
What'd you think of the first half of the SVU/Chicago PD crossover event? Did you enjoy seeing Yates and Rudnick again? What moment most put you on the edge of your seat? Comment below!
Did you miss something? No problem. Just watch Law & Order: SVU online and get caught up!
Jack Ori is a senior staff writer for TV Fanatic. His debut young adult novel, Reinventing Hannah, is available on Amazon. Follow him on Twitter.