Law & Order: SVU Season 17 Episode 16 Review: Star-Struck Victims

Jack Ori at .
Rape cases are often hard to prosecute.
Throw in a victim who's made a bunch of inconsistent statements, a celebrity who is friends with a high ranking cop and the world of vlogging and social media, and it becomes almost impossible. 
On Law & Order: SVU Season 17 Episode 16, victim Christi Crier learns that the hard way.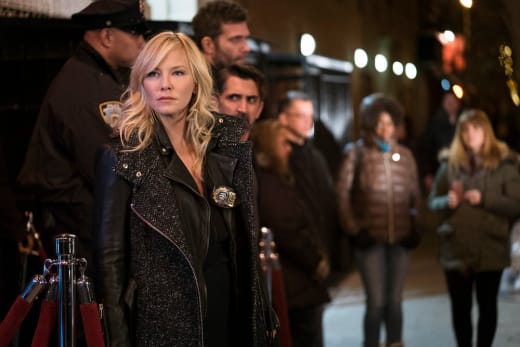 Christi was not the most likeable victim ever. In fact, for the first third of the hour, it wasn't clear whether she'd been raped at all. She seemed to be creating a reality show out of her experience at the beginning of the episode and didn't listen to the nurse's insistence that she not record.
Of course, her likability had nothing to do with whether or not she'd actually been raped.
I may be a special victim, but at SVU I'm not as special as Bobby D'Mico.

Christi
Christi came off as a bit entitled in her vlog, but she had a point. Dodds Senior was especially dismissive of her claims and seemed to put his friendship with Bobby D'mico above looking into whether there was any way to win the case.
On the other hand, there really wasn't much evidence, and most of that was Christi's fault.
These are the hardest conversations that I have to have. There's not enough evidence to make an arrest.

Benson
Olivia tried to be as empathetic as possible when explaining why they were not moving forward with this case. Christi's changing of the story three times and her use of social media to further her cause didn't do anything for her, either, and turning around and naming Olivia as the detective who didn't help her didn't make her sympathetic.
Setting a honey trap for my client or is this what new mothers are wearing these days?

Buchanan
As usual, Amanda was the only one rooting for the underdog. Her methods may not always be appropriate, but her heart is definitely in the right place. Nine times out of ten, Amanda is absolutely correct in her assessment of situations and can't get anyone to listen to her.
If only she could assert herself in a less self-destructive manner, she would be a hero.
There are a number of reasons why Amanda should not have gone undercover without telling anyone besides Bobby having hired an attorney. It really didn't seem clear how she was going to protect herself so that she didn't actually get raped and, of course, Bobby could easily claim entrapment.
I don't want to put you between me and my father, so you might want to stop asking questions.

Mike
Mike's relationship with Amanda was interesting. She seemed to resent what she perceived as his efforts to control her – could this be related to her actual rape back in Atlanta rather than to what Mike was actually doing? She was even angry that he came to her rescue at the club. 
Yet Mike leaked the video and more or less confessed to it to get Amanda out of trouble with Olivia. Mike's rebuffed attempts to protect and help Amanda are an interesting contrast to her relationship with Sonny. Mike also is continuing to separate himself from his father.
Sooner or later his refusal to follow Dodds Senior's plan for his life will come to a head; I wonder exactly how that will play out.
You know why she did that? Cause she figured you would tell me. So do me a favor and tell her, I don't like triangles.

Benson
Olivia wasn't happy with Sonny's attempt to speak up for Amanda rather than Amanda coming to her directly. The lack of communication seems to be at the heart of Olivia and Amanda's issues.
Olivia was a bit too quick to assume Amanda leaked the video, though it's hard to blame her since Amanda did go behind her back to try to catch Bobby.
So what did you think? Did Christi ever have a chance of winning her case? Did Amanda go too far? Where is the antagonism between Mike and his father going? Weigh in below!
Miss an episode? No problem! Just watch Law & Order: SVU online to catch up.
Jack Ori is a senior staff writer for TV Fanatic. His debut young adult novel, Reinventing Hannah, is available on Amazon. Follow him on Twitter.