Pretty Little Liars Season 6 Episode 15 Review: Do Not Disturb
Paul Dailly at . Updated at .
Have the liars matured at all?
If Pretty Little Liars Season 6 Episode 15 is to be believed, then not really. They're constantly conspiring with each other in order to get away with everything the most recent incarnation of A is putting them through. 
Would it really not have been easier for them to just go to the police? Considering the terrors they went through five years ago, the police would most certainly take the threats much more seriously this time round.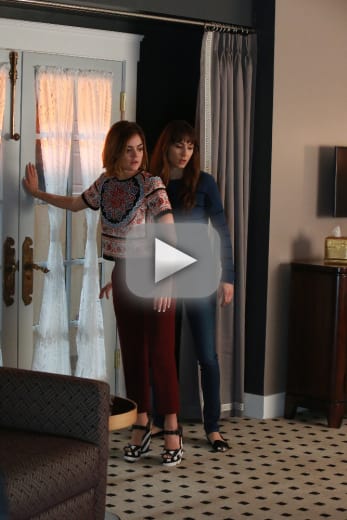 It wouldn't be all that surprising if they started to suspect pre schoolers though. This A loves emojis and it's getting quite ridiculous. Is it their way of claiming they aren't like the original A? 
The purpose of this whole episode was to make the sketch factor go through the roof on Sara Harvey, and for the most part it did work. I can't quite fathom why she's still on the scene. She's a terrible character and she's dragging the show down. 
It's pretty clear that she's going to have some sort of proof that Sparia broke into her room. They didn't use gloves, or at least tried to cover their tracks. It all seems that they're pretty much asking to be terrorized. They're being easy targets and they really need to be thinking about why they are such easy victims. 
OK, did I just let Sara Harvey trick me into trashing every room in my mother's home?


Hanna
One person who isn't ready to be a victim is Caleb and I laughed out loud when he gave A the virus. Hopefully it's the first of many times A gets the rug pulled from under them. 
Caleb needs to be very careful about what he's doing in terms of the whole campaign. There's no doubt that him merely clicking on that folder will trigger some sort of investigation into who tried to access it. Nothing on this show stays on the down low and there's a good chance Mona will be turning Yvonne against Spencer right about now.
It does suck that Mona is a suspect again. A lot of the storylines feel like they've been done before on the show multiple times and it's sort of ruining the show. The first few episodes back were really good, but there were just far too many moments this week that had me questioning whether I was watching a spoof of the show. 
All of the scenes that involved Hanna's boss were just so dumb and stupid. Couldn't they have made her boss at least a tad likeable? It would have been fresh. All these bosses in teen dramas seem to be portrayed as complete asses and it is not realistic at all. 
The best thing that came from this hour was that we got to eliminate Byron as a suspect. We knew this was coming, so I'm just glad it happened so quickly. 
However, I'm not buying his reunion with Ella. Stranger things have happened, but he's cheated on her once and there's a high chance he'll do it again. I can't help but wonder why she's setting herself up for a disaster. 
I honestly thought it was going to emerge that he and Ashley were the ones in cahoots, but I guess they could still be sleeping together. Nothing is outside the realm of possibility on this show. 
"Do Not Disturb" was another filler hour of this Freeform drama. It's time wind the show down towards a more permanent conclusion before fans are completely alienated from this once hot show.
Other tidbits from the episode:
Emily's scenes with Alison were a highlight, but the part with Sara potentially giving her a night terror were just predictable and it would be good if they didn't ring true. 
Aria's writing Ezra's book and paying his hotel room? These two will be back together by the season finale. Mark my words!
Is there hope for Mike to show back up? It'd be nice to see him and Mona share the screen. 
Did Hanna seriously not look at the car right next to the lane Hanna was hiding the drive in? When A said they were hiding in plain sight, I didn't think that meant standing out like a sore thumb!
What did you think of this week's episode? Is it time for the liars to say goodbye for good? Hit the comments!
Remember you can watch Pretty Little Liars online, right here on TV Fanatic. 
Note: Pretty Little Liars Season 6 Episode 16 airs Tuesday February 16 at 8/7c on Freeform.
Paul Dailly is the Associate Editor for TV Fanatic. Follow him on Twitter.