Pretty Little Liars Season 6 Episode 17 Review: We've All Got Baggage

Jay Ruymann at . Updated at .
On this week's thrilling Pretty Little Liars Season 6 Episode 17, the girls are left contemplating their choices yet again.
With the emoji villain lurking and Sara Harvey their top suspect, each of the girls is dealing in their own way. Some better than others..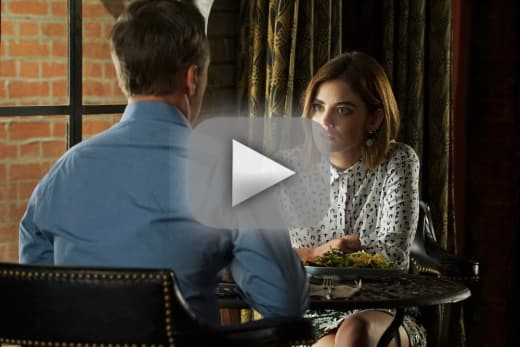 Can Emily Fields get a break?
She's been dealt the worst hand this season. Her father is dead, her eggs have been stolen and she's threatened with having this stalker's child, and after she accidently stumbled onto a possible murder weapon, she was almost flattened in the parking lot.
She's always had it so much worse than the other girls.
Aria's love life is once again screwed up by Ezra. Liam's return to Rosewood stirs the pot and when he finds out about Ezra, he's not very happy. He finally understands why Aria would write six chapters to put up a facade.
In doing so, Aria realized that she worked through her unresolved feelings for Fitz and she was ready to be with Liam. While she's dealing with her love triangle, Ella and Byron decide they are getting remarried, because fool me once, right?
Mike Montgomery was mentioned, at least, making his absence one of anger with his family. He never forgave Byron for what he did to Ella the first time. Neither did I. 
Spencer's loyalty is put to the test as she finally comes clean to her mother about seeing the medical records. Her relationship with Veronica has been one of my favorites: they're so supportive, strong and the Hastings women are so stubborn. Even in the light of cancer, they want to be strong and stubborn. 
Spencer's insistence that her mother come clean to the public about the diagnosis reminding Veronica of why she became a mother was such a sweet scene between these ladies. To raise people to be better than yourself. Not even Melissa's presence could ruin this. But emoji villain could. 
Spencer: Good morning.
Veronica: It was until I opened my eyes.
Veronica finds out that her opponent's daughter, Yvonne, had her medical records leak and the source was traced to Spencer's computer. But instead of trying to explain, Caleb takes the blame. He's matured a lot over the last five years and it'll be interesting to see how this plays out, especially due to his relationship with Spencer.
Meanwhile, Hanna is trying to find out if she really loves Jordan and wants to marry him. What better way to do that than help someone else throw a wedding? Hanna helps Ella pick out a lovely dress and accents the tables to go with the dress.
It's sad to see her so unsure about her relationship and it's just a sign that it won't work, especially when all she does is think about Caleb. 
Alison and Dr. Rollins' relationship goes to a new level when he asks her to marry him. As if that's not shady.
When Alison receives her first text from this new stalker, she's forced to come clean about her fight with Charlotte on the night she died and she's back in that place with her friends. But after a few shots of tequila, her and Rollins show up at Aria's doorstep to get married. (She officiated her parents' wedding.) Why the rush?
As the girls' relationships seemed to settle in tonight's episode, we are fast approaching the season finale!
Who killed Charlotte? Who has a twin? Why is Shower Harvey so shady? Why does Dr. Rollins creep me out? Why did Charlotte call Wren? So many questions. Comment below with your theories!
Don't forget, you can watch Pretty Little Liars online right here on TV Fanatic!
Jay Ruymann was a staff writer for TV Fanatic. He retired in January 2018.