Cabe in art class is everything I didn't know I wanted.
On Scorpion Season 2 Episode 18, we meet a friend from Cabe's past. His name is Mick, and he's not a big fan of the law. It wasn't hard to predict that Mick was going to double cross Cabe, especially if you are like me and recognized Mick as Hades from Lost Girl. I was suspicious from him from the get go.
Mick was not throwing away his shot! Sorry, having a Hamilton moment.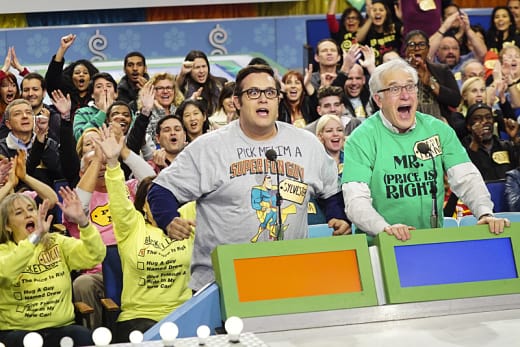 While it was nice to meet someone from Cabe's past, it was a little hard to understand why they were friends. All the stories came towards the end of the hour, and most of us probably already hated Mick by then. There wasn't an urge to root for him. You mainly just wanted to punch him or at least I did. 
The most effective story that really showcased that Mick was a good friend was Cabe talking about art class.
Mick supported Cabe's passion for art, and he didn't let anyone make fun of his friend for it. Cabe telling the art teacher why he got into art was such a sweet moment, and you could see that Cabe was reflecting on his friendship with Mick and realizing that in the end, Mick was still a good friend. 
This story helped us to understand Mick's line about how Cabe was still his best friend, but it didn't help us understand Cabe's motives as the case progressed. You just knew it was going to end badly, and you wished that Cabe was smart enough to see it.
Now, after the case was solved, we could understand why Cabe stood up for Mick as much as he did, but it's too little too late at that point.
Speaking of art class, we better continue to see Cabe painting or working on other art projects. It needs to happen. We saw Toby's boxing, Sly on the Price is Right, so there's definitely room to explore Cabe taking art classes.
Personally, I would love to see Cabe and Ralph talk about art or maybe paint something together. Paige could encourage Ralph to try something a bit more creative.
Well, Cabe, you were just trying to see the best in Mick when everyone else saw a criminal. Just like you saw the best in this team when everyone else just saw misfits. That is a really wonderful trial, and you don't have to apologize for it.

Paige
Show of hands - who else is thinking that Cabe and the art teacher might become a thing?
Cabe needs a little romance in his life. I mean his speed dating adventure went horribly, and this lady seems nice enough. Plus, the two of them will bond over art, and it will be romantic. Wouldn't it be really amusing to see how Team Scorpion reacts to Cabe dating?
The up side to this case was that it was a little morally ambiguous for Team Scorpion.
They are normally more on the up and up, and Team Scorpion voiced their concerns about taking on this kind of case. It was unexpected that Cabe was the one to bring the team a morally ambiguous case. If anyone was going to do it, my money would be on Toby.
Toby's gambling came back in a big way tonight. It felt like it had been awhile since his gambling made an appearance, but honestly we don't need to be reminded of his addiction every single week.
This time, the focus was not so much on Toby gambling, but on Happy noticing it. Her speech to him on the roof was heartbreaking. We never see Happy that vulnerable. She opened up about what it felt like to bounce around from foster home to foster home, and she was visibly in tears. 
Happy was afraid that Toby would become obsessed with gambling again and get lost in it so much that he would never be around. As far as fears go, it's a pretty understandable one. Was anyone else shocked at how much Happy opened up? It was an amazing moment.
I swear I'm never going to gamble again, ever.

Toby
What did you think of the episode? Did you absolutely adore watching Sly on the Price is Right? There so many hilarious moments. Leave your thoughts in a comment below.
Remember you can watch Scorpion online anytime via TV Fanatic. You should also click through the slideshow below to read my really emotional blurb about Megan's death. I'll never be over it.
Allison Nichols is a staff writer for TV Fanatic. Follow her on Twitter and on Google+.