The Originals Round Table: Kol's Return!
Paul Dailly at .
Welcome to the shadow world.
On The Originals Season 3 Episode 11, there was a lot of lurking in the shadows for Davina and it led to the return of her former love, but will she be able to bring him back into the land of the living?
TV Fanatics Miranda Wicker, Amanda Steinmetz and Paul Dailly discuss vampire Cami, the pale horse and Kol's potential return.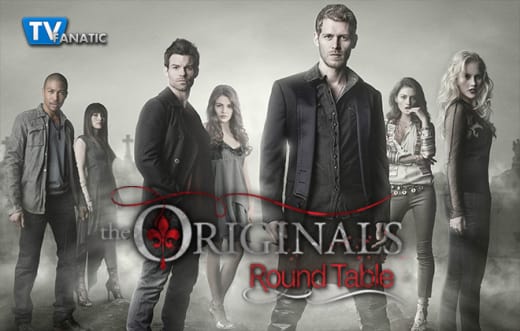 What was your favorite scene from "Wild at Heart"?
Miranda: Davina and Kol in the shadow world. I didn't think I would love Davina next to Nathaniel Buzolic's Kol since I was so in love with seeing her opposite Daniel Sharman but their scenes made me hopeful for Kol's return. Runner-up goes to Davina and Josh.
Amanda: I definitely loved the moment Hayley broke down in front of Elijah. There may have been some truth to what Cami said to her, and I think it shook Hayley.
Paul: I loved when Elijah killed the witch. That came out of nowhere, but it made sense that he'd want to protect his family.
Least favorite scene?
Miranda: Detective Kinney leaving Lucien's apartment like breaking into the penthouse of a thousand-year old vampire is no big deal. What a waste of Jason Dohring.
Amanda: I agree with Miranda. Jason Dohring has been criminally underused on the show. I was so excited for him to join this season, but Jason is deserving of a better character, 
Paul: I agree with Miranda and Amanda. His character is actually pretty annoying, so hopefully Cami can compel him a new personality!
Vampire Cami: Love her or hate her?
Miranda: I'm so on the fence. Her emotions are absolutely ALL OVER the place, which makes usually calm Cami intriguing, but how does she just forget that she was in love with Klaus before she turned? She's super manipulative and completely dark, like her humanity is off. It's one of the weirdest vampire transitions we've ever seen.
Amanda: It's a little bit of both for me. I love that we haven't seen a transition like this before. What makes Cami so dangerous is her ability to understand people. Being a therapist while she was human allowed her to tune into people's emotions. As a vampire, she can use that skill to manipulate those around her. I don't like how quickly she turned on Klaus, but I'm excited to see where this story line leads. I just hope it doesn't lead to her death. 
Paul: I think she's a blast. The character wasn't the greatest before her change and considering the writers are trying to force Klamille down our throats, it was kind of a given that this would happen sooner or later.
Will the Sisters resurrect Kol for Davina? (And do you want to see that happen?)
Miranda: I totally want to see Kol come back, but I'm not sure I want the Sisters to be the ones to do it. They work for the Strix so they can't be trusted.
Amanda: I want Kol and Davina to be reunited, but not by teaming up with the Strix. 
Paul: I want him to return for sure, but I want the Strix to do it. There's literally no other logical way it can happen. 
Will we lose an original to the pale horse?
Miranda: if we do it will probably be Rebecca. Just so they can quit yanking us around with Claire Holt's schedule.
Amanda: While I'd like to see none of them dead, I think it would be Rebecca as well. I just don't see the writers killing off Klaus and/or Elijah until the series comes to an end. 
Paul: I don't think we'll lose any of them. Freya could die, but I don't know if that would do much to fulfill the prophecy because she's not exactly a vampire. Let's face it, if Rebecca dies, the ratings are going to slip even further. 
Remember you can watch The Originals online, right here on TV Fanatic. Get caught up now!
Note: The Originals Season 3 Episode 12 airs Friday February 12 at 9/8C on The CW. 
Paul Dailly is the Associate Editor for TV Fanatic. Follow him on Twitter.