The Originals Season 3 Episode 11 Review: Wild at Heart
Miranda Wicker at .
So it looks like we won't be getting any hot Klamille hookups now that Cami's a vampire. As The Originals Season 3 Episode 11 revealed, the old Cami? She's gone.
Or is she?
This transition is unlike any we've ever seen because Cami had the benefit of knowing the mind of one of the most notorious vampires ever before becoming one herself. 
It's definitely making things interesting.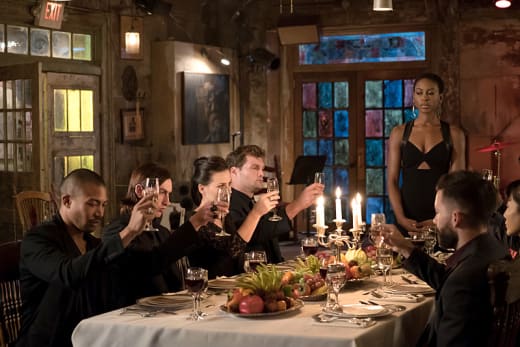 Leah Pipes played coy about the future of Klaus and Cami's relationship when I talked to her this week. She did not, however, mislead us in saying that every single relationship Cami has with anyone will change now that Cami is undead.
It's impossible to tell if Klaus wants to rip her clothes off or her head. He's intrigued by this dark side of her while being utterly infuriated with it at the same time. 
To be honest, so am I just a little bit, mostly because I can't tell if Cami's breaks in emotion are real or if she's pulling one over on everybody. She's like Humanity-less Damon pretending to like Lexi only to sleep with her on a roof at night and leave her there to fry in the sunlight.
For instance, during her chat with Hayley, did Cami fake those tears after seeing the pale horse figurine just so she could make an excuse to leave? Or did she really feel bad about accusing Hayley of feeling relieved that Jackson's dead so she can be with Elijah now? (Gotta give it to Cami. It's not like every Haylijah fan hasn't been thinking it.)
Is she really struggling with the emotional swings of being a vampire, or does her background in psychology just give her a greater ability to manipulate? 
Let's just go with "yes" and "yes" to make things simple. 
It's interesting every time a new vampire transitions because we get to see all the sides of their human self amplified and what Cami's transition points out is that she's had the ability to manipulate people using their own emotions all along. Now she has a greater understanding of human emotion and the ability to compel. 
It's a deadly combination. But so far? Cami hasn't killed anyone. 
A complaint about this episode: What a terrible use of Jason Dohring's Detective Kinney. An absolute underuse of the character. Let's not make him a lackey for the vampires. ALSO, let's not pretend Lucien wouldn't have his place protected around the clock. 
Anyway. The jury is out on Vampire Cami right now. She's a big ball of crazy at the moment, and I have a love-hate relationship with big balls of crazy.
In characters we haven't seen in what feels like a decade, Davina Claire made her return tonight. She tricked her best friend into acting as her magical conduit to the ancestral plane (which is apparently not the "Other Side" since that was obliterated), made out with the REAL face of Kol Mikaelson, pissed off some dead witches, and joined the Strix as one of the Sisters, all in the span of an hour.
It was a busy night for the teen witch. 
Obviously nothing good can come of Davina joining the Sisters. There's little chance they're going to let her have what her heart desires and serve the Strix and she should be smart enough to know that. But love and promises and all. 
I'm quite intrigued by her story and what it will mean for her and by the possibility of getting Kol back. Will it really happen?
Eh. Maybe. No one has to stay dead on this show. Should it? Yes. And that probably means it won't happen at all.
Jackson, however, is quite dead, and Hayley is quite heartbroken over it.
The two scenes tonight with her in their apartment, unable to look at his shirts hanging over a chair, were incredibly powerful. She really did love Jackson, but I think what she loved most was that he represented a chance at being normal. Now that's gone, and with it, her hope that Hope can grow up safe and happy.
And Elijah sitting down in the floor in his suit just to listen? Ugh. Heartbreaking. 
I love that he's keeping his distance, unsure what to say but wanting so desperately to console her. It's beautiful. And sad. But mostly beautiful. 
What did you think of "Wild at Heart"? How do you feel about Vampire Cami? What will happen to Davina now that she's joining the Sisters? Sound off below and remember you can watch The Originals online right here while we wait for The Originals Season 3 Episode 12.
Miranda Wicker was a Staff Writer for TV Fanatic. She retired in 2017. Follow her on Twitter.