The Vampire Diaries Round Table:Curtains For The Heretics?!?
Paul Dailly at .
That was the craziest episode in quite some time, right?
On The Vampire Diaries Season 7 Episode 13, the huntress went after the Heretics and it led her towards the Salvatore brothers. 
Below, TV Fanatics Carissa Pavlica, Miranda Wicker and Paul Dailly chat about Caroline's journey, the huntress and the current the longevity of the heretics.
Caroline is on her way to New Orleans three years from now. React!
Carissa: I guess they're preparing for The Vampire Diaries cancellation and an Originals time jump!
Miranda: I'm not *quite* the Klaroline fan many people are, so I'm not looking for a romantic hook-up when she arrives. But I AM interested in the fact that she's going to "see an old friend." I think I'm mostly interested in Caroline going to New Orleans three years from now because that will give us some insight into what's happening in both worlds.  
Paul: That was quite the twist and I'm so intrigued to see how that plays out. Will Klaus even still be there, or are they going to mess with our emotions? As much as a I like Klamille, I like Klaroline better, but I also like Steroline. So many ship names and two of them have to be sunk. Maybe Cami can move on to Stefan? Stami, anyone?
What did you think of the huntress?
Carissa: I guess she's interesting. But her origin story was a little bit unexplained. Or I am just too stupid to follow it. Her father was a vampire hunter? Then Julian barged in. Julian, Julian, Julian. Then a bunch of Indians killed themselves to give her life and wanted them to avenge her father's death and theirs for giving her multiple lives. And her sword sometimes kills and sucks up souls and sometimes just marks them. 
Miranda: I'm really intrigued by the mythology of her story. Her father was a Brother of the Five, like Jeremy. Is the Huntress somehow related to the Gilberts? (That "you look just like my girlfriend and her three doppelgangers" line was 1) funny 2) mighty interesting in light of the Brotherhood thing.) Mostly what I want to know is do they have to kill her nine times for her to stay really dead? 
Paul: I loved her. I thought her entrance was very well executed and her back story is very interesting. It's obvious she's not a bad person, but her goal will lead to some fans hating on her.
What did you think of how the pregnancy storyline played out?
Carissa: Honestly, I was just glad to see Alaric again. For them being his babies, he sure was MIA for the first half of the season, wasn't he?
Miranda: I cried real tears when those babies were born and Alaric wheeled them into Caroline's hospital room. I'm a sucker for fresh babies. And then when he named one of them Elizabeth? BUCKETS O' TEARS. 
Paul: Until last week, it was pretty meh, but thinking back on how it concluded, it worked.
Will the huntress wipe out all the heretics before she gets killed?
Carissa: I'm guessing all but Valerie, who we know is with Stefan in the future. I'm not sure about the "why did you hand over the sword, Damon" punchline, either. It's kind of like Teen Wolf when Stiles didn't tell Scott he killed someone in self defense. Didn't Damon throw the sword so he could save Bonnie? Why didn't either of them tell anyone? Not the question, I know. I have things to say!
Miranda: Valerie? No. Mary Louise? Please god say yes. Nora? She can stay. 
Paul: Totally agree about Mary Louise. The heretics gave the show a much needed jolt of life, but Mary Louise is just whiny and annoying.
Has Enzo done too many horrible things to ever be likable again?
Carissa: Of course. He's one of those sons a bitches who goes from annoying to likable and back again. 
Miranda: No. LOL. Enzo will always be likable to me. Nothing he's done is more horrible than anything anyone else has done. Hell, Kai murdered his entire family and stabbed his pregnant sister in the stomach on her wedding day and fans still went crazy for him. Enzo is definitely still likable. 
Paul: I'm with Carissa here, though I am excited to see how everything plays out that leads to Benzo.
What are your hopes for next week's crossover?
Carissa: Since I don't watch The Originals, I just hope I have an inkling of what's happening. I know the basics from editing, so it should be interesting.
Miranda: I'm incredibly excited for a two-hour mix-up of these shows across two timelines. I think there's some serious potential for an interconnection of the stories happening in both places. Does Cami have a Dark Object that can defeat the Huntress? Does Lucien know something about her story? Is she the monster in Alexis' vision? Does Klaus still harbor feelings for Caroline? CAN CAROLINE (OR ANYBODY) PLEASE KILL AURORA!? 
Paul: I hope for some GREAT Klaroline moments. I also hope that someone takes out both Aya and Aurora.
Remember you can watch The Vampire Diaries online, right here on TV Fanatic.
Here's your first look at the next episode: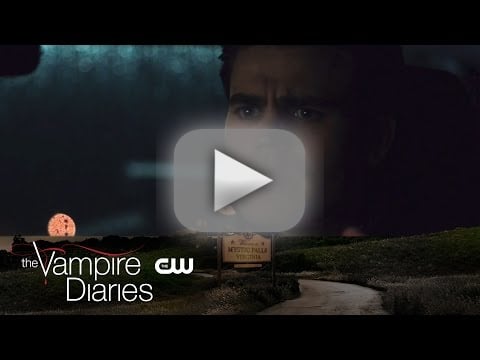 Paul Dailly is the Associate Editor for TV Fanatic. Follow him on Twitter.