The Vampire Diaries Season 7 Episode 11 Review: Things We Lost in the Fire
Miranda Wicker at . Updated at .
Stefan Salvatore was right. For the brothers, post-Hell is definitely worse than being trapped inside the Phoenix Stone. The Vampire Diaries Season 7 Episode 11 saw Damon and Stefan both grappling with their "ghosts of histories past" and trying to figure out the stone's message.
The stone's message is probably not "go around burning bodies," but what do we know. 
Oh. Yeah. Burned bodies. Elena Gilbert's coma-corpse is (maybe) a little extra crispy.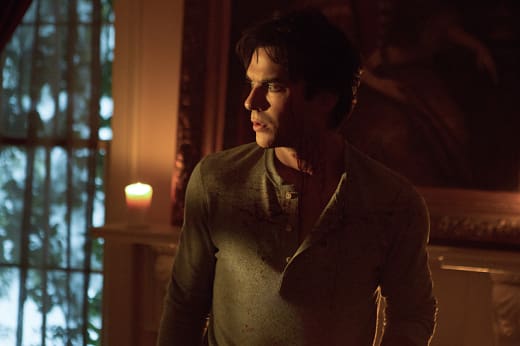 Here's the thing. I seriously, highly, incredibly doubt that Damon actually burned Elena's body. But Damon thinks he burned Elena's body, and that's a pretty great way to torture him. Good on ya, Phoenix Stone.
It seemed a little too much like a trap when Tyler took Damon to a cargo yard in the middle of nowhere to show him Elena's body and then tried to shoot him. My guess is that the coffin Tyler showed Damon was completely empty but Damon hallucinated both Henry and Elena and that Tyler was trying to capture Damon because he's secretly working with/for the Huntress now.
(Plus, we know Elena's body/spirit/whatever is still trapped in the coffin in the future when Stefan wakes Damon up.)
Tyler just didn't really prepare for Damon to be all crazy pants head-smashy, and now his blood is pouring out all over some concrete, though probably not for long. 
We also know Tyler's not dead yet because of the flash forwards which do not in any way tell us that Tyler isn't working for the Huntress. Something's up with ol' Ty, and the only real reason he'd come back to Mystic Falls is to scope things out and recruit. 
It was not, I can assure you, to put diapers on baby dolls while blindfolded. (Hey guys, baby doll butts and baby doll heads feel nothing alike. Same for real human babies. Trust.)
Tyler's "getting out of Mystic Falls was the best thing I ever did" line to Matt, coupled with the reveal that Matt is working for this mysterious Huntress in the future are the hints pointing me in the direction of a team-up coming down the line. Plus Tyler's interest was piqued when Nora walked into the room and later Nora got a "you're next"-style postcard in the mail. 
Coincidence? I speculate not.
Related: we still don't know anything about the group Matt was working with when he turned Enzo over to them. (P.S. I miss Enzo. So does Bonnie.)
I also think Matt might start training this new police force in the ways of vampire killing so he can take Mystic Falls back vigilante style, and I'm 100% okay with that. Julian's turning the place into a scene from Mad Max and it's just...depraved and gross.
I like it when my humans and vampires mix and mingle.
Elsewhere in the episode, we got a little insight into what Hell was like for Stefan and what post-Hell is like for both brothers. 
In short, it's not good. 
But I think Stefan's getting the wrong message from the stone. 
On no planet real or imaginary is the answer ever for Stefan to walk away from Damon. He's tried. Damon's tried. These brothers are opposite ends of a magnet and no matter how far they get away from one another, something always brings them back. It's nature. It's brotherhood. It's undeniable.
It's why we love the show, or at least one of the reasons.
Stefan can, and does, push everyone else away because he's scared of hurting people, but the thing about Damon is that he cares deeply for his brother, so he takes that hurt and just carries on. Stefan does the same with Damon. 
Speaking of pushing people away, I'm going to go out on a limb and tell the Staroline/Steroline fans to take heart. We know that in the future the two have broken up, but tonight, with Caroline's attachment to the babies beginning to show, and Stefan believing he has to push the people he loves away in order to save himself, it's starting to make sense.
Caroline will follow Alaric not necessarily to have a romantic relationship with him but because she wants to help raise the twins. Eventually, something romantic will blossom, but it will never be what Stefan and Caroline have. (The same goes for Stefan and Valerie.)
Matt straight up told Caroline that they only came after her because they knew that's how they could get to Stefan. 
His Hero Hair is still well-coiffed, guys. He pushed Caroline away to protect her, and by extension Alaric and the twins and the future of the Gemini coven. (I'm guessing! Total speculation! I think I'm right!)
As far as what Damon needs to do to break through his post-Hell hangover, I have no idea. If accepting and loving and apologizing to Lily was the thing that got him out, why is Henry the one haunting him now? There has to be some unfinished business there. I'm pretty eager to see what it is.
What did you think of "Things We Lost in the Fire"? What messages do you think the stone is sending the brothers? Are you excited to learn more about the Huntress? Sound off in the comments below and don't forget you can watch The Vampire Diaries online right here at TV Fanatic!
Miranda Wicker was a Staff Writer for TV Fanatic. She retired in 2017. Follow her on Twitter.