Our favorite seafaring warriors are back in a big way, because Vikings Season 4 Episode 1 is just the first of twenty new episodes this season.
Though we only get ten now and the second half in the fall, it sure as hell beats waiting a whole year between seasons. If you followed my reviews last year, you know I was terrified of losing Travis Fimmel too soon.
History's latest promos paint a pretty clear picture that Ragnar's doom is upon us. That's okay because the King's death is inevitable, the difference is I am now ready for it.  
My hope is that Bjorn, Rollo, Lagertha and even Floki's stories continue to entertain us.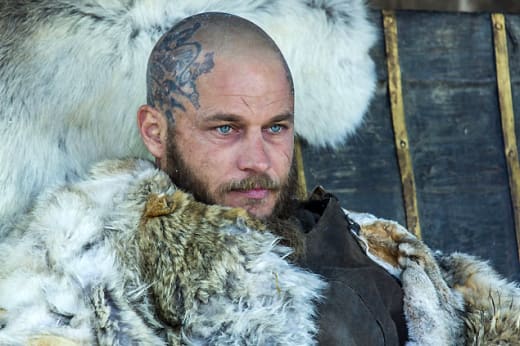 When last we saw Ragnar, he was deathly ill and confronting Floki about Athelstan's murder. The King had been as torn between Valhalla and Heaven as his Christian friend before him.
The opening moments of tonight's premiere made it clear that struggle will continue this season. Ragnar does not fear death, but the uncertainty of whether or not Odin will allow him into Valhalla is eating away at his soul. I have no doubt Athelstan will soon visit Ragnar as well.
I have always defended Aslaug, trying to understand her motivation and the way she views the world. That said, she appears to be nastier and more power hungry than ever. Harbard changed her and definitely not for the better. Is it me, or did the Seer's chuckle imply that Aslaug's days are numbered? Will Lagertha rule Kattagat?
Show creator/writer Michael Hirst needs to work hard this season to endear us to Bjorn and Ragnar's young sons. The show must go on, right? Therefore their stories must become as compelling if not more so than their fathers.
History tells us they were, but we'll have to wait and see how the series handles those legends and whether or not the actors can carry the show.
Floki is easily one of Vikings' most reviled characters these days. However, after recently binge-watching Vikings Season 3 his point of view became easier to understand. Was there jealousy involved? Absolutely, but there was also a great deal of love and admiration for Ragnar at play.
The shipbuilder sincerely felt he was doing the God's work and saw the priest as a legitimate threat. Floki is in for a tough time this season, and unfortunately it's doubtful he will make it out alive. Will Helga help him escape?
Bjorn: Floki needed to be dealt with. You were incapacitated, I thought it was the right thing to do.
Ragnar: Did you also think that if I wanted him arrested, I would have done it a long time ago? But now you have made it public, and left me with no options.
Bjorn stepped up nicely while his father daydreamed of Valhalla, but his choices never seem good enough for Ragnar. I understand the King was not prepared to deal with his old friend's crime, but "storywise" I am glad this is being dealt with sooner rather than later. Dragging Floki's arc out all season would get old quick.  
Alexander Ludwig's big speech was powerful and he carried his scenes well. If this is a glimpse at what Vikings' future holds post Ragnar, I'm not as worried as before. Part of me actually felt bad watching Helga attempt to chase away the children slinging manure at Floki.
He deserved that and more, but Floki used to be one of my favorite characters early on. Can great writing redeem him this season? Will Ragnar ever forgive him for taking Athelstan from him? Can we, as an audience, forgive that act?
Though I love Lagertha, her relationship with the treacherous Kalf is still an odd one. Ruling Hedeby as equals was a step in the right direction, but can Kalf truly be trusted? Perhaps she is destined to rule Kattagat while Kalf remains in Hedeby.
Either way, Kalf stood by Lagertha and took down Einar once and for all. I'm sure I wasn't the only male watching to cringe at what Lagertha did to the fiend... Ouch! What a way to go.
Einar: There Earl Kalf, you have your answer.
Kalf: And here right now is mine... archers!
Lagertha: I should have done this a long time ago, Einar.
It didn't take long for Ragnar to come around, about 14 minutes into the episode to be exact. I hear fans complain about the show's pacing, but like Game of Thrones some of the best moments are the quieter ones.
Ubbe is beginning to play a larger role, and the disappointment on his face when Aslaug barely acknowledged Ragnar's recovery was telling. I also enjoyed Bjorn's interaction with his young brothers. He loves them dearly.
Ragnar quickly brought up the fact Rollo staying behind in Paris was a massive mistake. It's hard to root for a guy who has betrayed his own family on several occasions. However, I must say that Rollo's awkwardness among the Franks was a blast to watch.
The Seer told him he saw great things in his future, so "the bear" was merely following his own path. I will say, it was disappointing to see Princess Gisla throw a tantrum and behave like a spoiled child. She seemed so damn strong last season, but at least her father, the King, has grown a pair.
It is going to be fascinating watching their relationship unfold, that's for sure.
Rollo: You are my wife.
Princess Gisla: Leave me alone.
Rollo: No need to be afraid.
Princess Gisla: Don't touch me. Monster.
Rollo: Goodnight, wife.
Though Rollo is a monster in many ways, I couldn't help but be amused by the bedchamber scene. Gisla running her blade along his side and Rollo telling her to stop tickling him was hilarious. Yeah those two are going to be fun to watch, whether or not you like Rollo as a character. Talk about terrific writing, right?
It did not surprise me in the least that Rollo turned on his Viking supporters. However, sitting proudly atop his horse while the Franks did his dirty work for him was a new low, even for Rollo.
Bjorn leaving Kattegat to prove himself was a good move. Not just because he needs to impress his father, but as I mentioned earlier the character needs to engage us as an audience. I have faith Bjorn will grow more than ever this season, he simply has to if Ragnar's story is coming to an close.
Ragnar's fatherly advice was touching and I loved when he said, "prove me wrong." Aslaug mentioning Bjorn's death was awful, I can't blame anyone for hating her this year.

Overall, I thought this installment picked up nicely where we left off and set up the drama for the season. Hirst's writing is so brilliant, I'm sure were in for another wild ride. Will there be a time jump? Who will live and who will die? Your guess is as good as mine, let's discuss it further.
What did you think of "A Good Treason"? Will Ragnar have Floki executed? Does Bjorn stand a chance out in the wilderness all alone? Has Rollo completely lost his mind in his quest for power? You're up Vikings Fanatics, please sound off in the comments below and share your thoughts on the season premiere with me.
As always you can watch Vikings online via TV Fanatic if you need to re-watch an episode or happened to have missed one.
NOTE: Vikings Season 4 Episode 2 is titled "Kill the Queen" and airs on February 25.