You, Me and the Apocalypse Season 1 Episode 2 Review: An Erotic Odyssey
Elena Zhang at .
We're introduced to some new characters in You, Me and the Apocalypse Season 1 Episode 2 while the rest of the world begins to prepare for the end of the world.
This episode definitely had more laughs than the first, and I think that's because it was less focused on plot and more on the characters themselves.
This was a wise move, because we need to get invested in the characters in order to care about the mysteries they're involved in.
Rhonda is turning out to be the most empathetic character in the show. Jenna Fischer plays Rhonda's plight very straight, so you really get a chance to feel sorry for her current predicament. Her genuine concern for both her husband and son are very moving.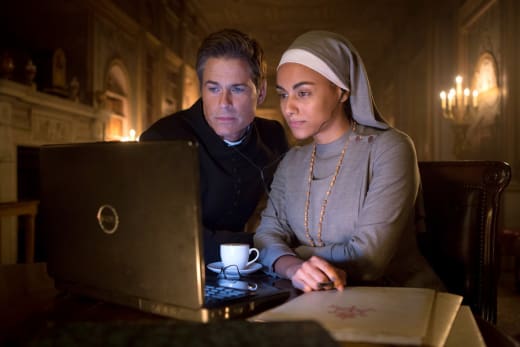 Fischer also has some serious comedic chops. I loved how clueless she was about looting. 
Ariel: Why are you taking air fresheners?
Rhonda: I don't know, I've never looted before!
Unfortunately, Rhonda continues to be bogged down by Leanne, the white supremacist played by Megan Mullally. It's obvious that Leanne is meant to be a comic relief in what is mostly a dramatic storyline. However, her character is just too cliche and over the top that not only is it not believable, it's just not funny either. 
Jamie and Dave's friendship was enjoyable to watch this episode, and Dave definitely helps in making Jamie sympathetic. The idea of making a bucket list is a pretty realistic reaction to knowing that the world is ending, and it'll be interesting to see the different last wishes everyone will try to achieve before they die.
Like, for example, the old couple exploring their "erotic odyssey." That was a great gag, especially when Jamie tried to awkwardly drive around them.
And when Jamie and Dave got hit with the tranquilizer darts, slowly falling to the ground, the actors proved to have excellent physical comedy skills. 
It's very British chaos, isn't it? Everyone's queuing.

Dave
In fact, I'd rather watch Jamie and Dave traipse through the English countryside, getting into hijinks and crossing off items on their bucket list, instead of exploring the tedious mystery of Ariel and Layla.
Ariel is clearly meant to be a villain in this show, but without enough backstory, it's hard to care about why he's got Layla. Cases of mistaken identity can also get annoying really fast.
We're introduced to another member of the future bunker, Scotty McNeil. It's interesting to find out more about this bunker. It was apparently meant for a hand-selected group of women, but we know that in the future the group will include men as well. I'm intrigued to find out how their plans get derailed.
I also wonder if the future bunker mates were really all there just by accident, or if someone brought them together for a reason. They do all seem connected to one another in some way.
Did anyone else think that Scotty and General Gaines were misleading the President into thinking he'd be part of the group? They implied that the bunker needed a leader, but it was never stated outright that it would be the President. 
There wasn't much of the Vatican storyline in this episode, which is unfortunate. I'm really enjoying the dynamic between Father Jude and Sister Celine, and am excited to seem them in action as they investigate the second coming.
Jude: What if I let you down?
Celine: It's okay, I have very low expectations of you.
I'm curious about how religious or supernatural the show is willing to go. It would be fascinating if there was an actual antichrist thrown into the chaos. But, that would probably answer the question of the existence of god, and I'm guessing the show will want to keep that ambiguous.
The question I really want answered, though, is why is there a monkey in the bunker? Let's have a story about the monkey, please!
What did you think of this episode, readers? Are you intrigued by the White Horse mystery? Did you laugh at the erotic odyssey scene? Do you have a theory about the monkey? Share your thoughts in the comments below!
Don't forget you can watch You, Me and the Apocalypse online anytime via TV Fanatic!