You, Me and the Apocalypse Season 1 Episode 4 Review: What Happens to Idiots
Elena Zhang at .
You, Me and the Apocalypse Season 1 Episode 4 was a vast improvement from previous episodes.
The stories were suspenseful, but weren't centered mainly on plot or mystery. Instead, the stories focused on character development, something sorely lacking from the show thus far. 
For Rhonda, we're seeing her character slowly change as a result of the mayhem following the prison break. We've known her to be demure, mousey, and gentle, showing love and affection towards her son and her husband.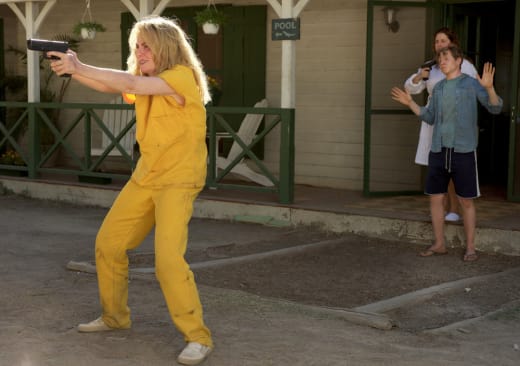 She's also been continually butting heads with her partner-in-crime, Leanne, ever since they first met. Rhonda is obstinately against the use of violence, much to Leanne's chagrin.
Indeed, at the beginning of the episode, Rhonda once again berates Leanne for threatening to shoot first the boat owner, and then the young teenage boy they find at the guesthouse. But by the end of the episode, Rhonda is holding a gun to the boy's head.
Rhonda has gone through a fundamental change, driven by desperation to find her son. But there's also a slightly cynical aspect to her character now. Mistrust has been sown, and Rhonda no longer automatically believes in the goodness of people.
Everything has become a means to an end for her now, and it'll be interesting to see just how far she'll go in the future to protect her son Spike.
I do find it a little odd that the police are still chasing prison convicts in the midst of an impending apocalypse, though. I know that the government is trying to reassure people with Operation Savior, and insists that everything go back to normal.
But it's a little hard to believe that the whole world would just willingly comply all of a sudden. I suppose it speaks to human nature, that we find routine comforting, even if it's completely illogical or irrational.
The meat of the episode, however, lies with Father Jude and his emotional revelation on the ledge of a building. His entire speech trying to convince Giovanni not to commit suicide was pretty moving.
Giovanni: God isn't speaking to me.
Father Jude: But I am. Giovanni, you matter. You are loved.
The cynic in me is inclined to think that Jude made up the story of his own father's suicide, but perhaps that speaks to the larger problem at hand: that the world is too cynical, too depressed. Jude's message was one of hope, and it proved to be the only effective message in all the depressing chaos. 
But Jude hasn't changed from the skeptic that he is. He freely admits to Giovanni that the church is made up of both good and bad people. But it's not the church he has faith in; it's God. The duality between doubt and faith in Jude is what makes him a fascinating character.
Jamie's plot is still the weakest part of the show so far. The show has yet to give any reason for me to care about Layla, or Jamie's birth mother. On the other hand, Jamie and Dave together provided the best comedic moments of the episode. The suppository scene was hilarious without being too over-the-top. 
I did not stick my fingers up his bum for this!

Jamie
And then there's Ariel, who has solidified himself as the show's villain. He shows us exactly what happens to idiots when he kills Max in cold blood.
Strangely though, that scene wasn't as chilling as it was trying to be. We've already established Ariel as slightly psychotic, and we barely had any time to get to know Max as a character. 
But Ariel's discovery of the secret bunker does hint that he might be the one who orchestrates the bunker mates coming together in the end.
What did you all think of this episode? Any theories on why Dave is wearing an eye patch in the bunker? And why was Father Jude's blood stolen? Share your thoughts in the comments below!
And don't forget you can watch You, Me and the Apocalypse online via TV Fanatic!