Liza definitely had a better couple of days than Kelsey did!
While I missed their interaction on Younger Season 2 Episode 5, the next time they're together it should be all hands on deck trying to salvage Millennial Print after the fiasco Jade has made of things.
And Liza should be a little more focused and perhaps not so worried after receiving confirmation that Josh is truly committed to her, because she really is living the dream.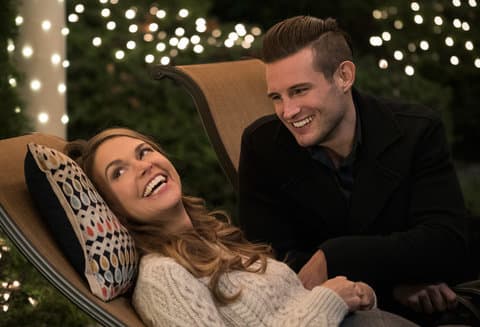 It's really hard to imagine what could possibly come between Liza and Josh at this point to break them up. 
While the marketing for Younger likes to give us cause for concern by suggesting maybe Charles might be a fly in the ointment (does that somehow fit into Maggie's theory of Liza's web?), every time Liza has doubts about Josh, he comes around with positive reinforcement on all angles.
The only possible thing that could sway Liza away from Josh is Liza herself falling out of love with Josh. That's always a possibility. She could determine he's exactly what Michelle suggested – her 9/11. It's not real with Josh because she was looking for the wrong thing.
Whatever she's really looking for can be found with someone else, whether Charles or not, could pull her away from Josh. Or, maybe...just maybe...Caitlin being completely upset with Liza over dating Josh would do it temporarily.
Even so, if Liza was unhappy as a result, I think Caitlin would regret her attitude and push Liza back with Josh.
Because, really, how awesome is Josh? He was willing to take his first trip to Jersey (really?!) to meet her friends, always wants to talk over their problems, has all the sex, has a smokin' bod and is willing to get married right now if she thinks that will mean they stay together. 
What the hell?! Who could possibly say no to Josh?
Then we have the problems #ChestyPeters is suffering as a result of #SpoiledTalentlessBrat. 
It was pretty evident when she was blowing smoke up their behinds about her cover being a photo of herself next to a homeless guy while climaxing and opening the book to the sound of said climax, all while Kelsey agreed her pages were the best she'd never seen, that there would be no book.
When you look back on Younger Season 2 Episode 4 and everything that they went through to sign her, it kind of makes you want to chomp on another pot pop. 
Did she do it just to get back at Josh after all? Was it all a ploy? Is Millennial's first order of business going to be to sue the first client they signed to get their advance back since she had so much fun blowing it on purpose? If those photos were only on Snapchat, I hope Lauren remembered to take a screen shot of them for evidence!
Younger Season 2 Episode 6 is called "Un-Jaded," so we can expect they'll do their best to detach themselves from the twit. 
Hopefully something bigger and better will slip into their hands at the same time. They work too hard to be screwed over like that. Kelsey gives such a personal touch to her writers. They should be lining up at the door to sign with Millennial!
Younger Moments:
No, I didn't know what truffle butter was and I really wish I didn't know now. You cannot undo these things, people! Next time, I'm taking Josh's word for it and NOT GOOGLING IT.
Whether a game of Risk or a web of lies, I would have a hard time sleeping if my life looked like Liza's on a whiteboard. 
People on TV and in the movies make getting and having things like pot pops so easy. 
I forget how much the doucheburgers were now. $600 a pop? Made of lobster and foie gras and other delights. I'm not sure I'd want those ingredients together, nor can I see why they add up to $600. Is it the gold wrapper?
I really need friends like Maggie and Lauren to teach me things. Alright. I'd like friends like Liza and Kelsey, too.
What did you think? This episode wasn't as quotable as the last, but really added to the story. If there is ever a bad episode of Younger, I'll be beyond surprised. I don't think it's possible. You?
If you're behind, you can always watch Younger online, so don't hesitate to do it right here via TV Fanatic!
Carissa Pavlica is the managing editor and a staff writer for TV Fanatic. She's a member of the Broadcast Television Journalists Association (BTJA), enjoys mentoring writers, wine, and passionately discussing the nuances of television. Follow her on Twitter and email her here at TV Fanatic.