Awkward Season 5 Episode 15 Review: The Friend Connection
Paul Dailly at . Updated at .
Awkward seems to be on the road to recovery.
On Awkward Season 5 Episode 15, Jenna finally realized she could have a relationship with someone other than Matty. She also realized Luke's actually a very nice guy. 
Luke's always been a good guy, but I just didn't like him with Jenna because it meant she wasn't with Matty.
But since the writers have destroyed Matty's character in just a matter of episodes, it was time for Jenna to move on for good.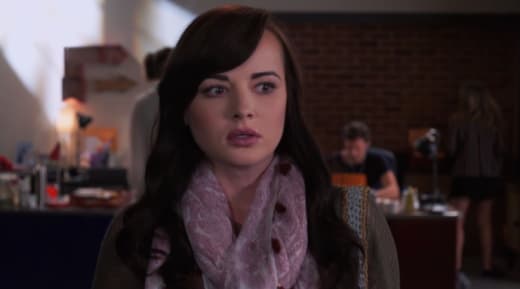 I'm over Jatty. The back and forth was just too much, and sometimes in life people move on to be with someone other than their teenage heart throb. That appears to be what's going on now. 
It was sad that Jenna felt the need to quit Luke because of work and stuff, but taking him back has to be one of the better decisions that she made. I was skeptical when they boned at work. I just hope that he doesn't disappear again. Their relationship is one of the better parts of the show right now. 
At these prices, I can see why someone would turn to prostitution for a drink.


Luke
It seems like Matty has met his match in Sullie. She's just plain annoying and her penchant for pranks almost got Matty in a fist fight with someone twice his size.
I don't know whether she's written to be annoying, but she's coming across that way. It would be good for her interactions with Matty to be left off screen. Not every character is great, but this one is just terrible.
The bulk of the episode was about Sadie's birthday party. Tamara was playing the doting friend a little too much, and it's clear her loyalties lie more with Sadie than Jenna. This friendship is still very odd, but they're pretty fun together. 
I do feel bad for Jenna because when she needs T the most, she couldn't give a monkey's ass about what she wants. She's chosen her side, and as much as Sadie likes pissing Jenna off, she has problems of her own. 
Sergio just doesn't want to give her the time of day, and I can't blame him. Sadie is a hard ass and treated him like trash, but that's the best she's ever treated anyone in her life. 
It should be interesting to see how this storyline plays out over the rest of the season. I do think we'll see Sergio again, but it may be saved for the finale.
Aunt Ally was back on the scene and hilarious. Her interactions with Jake were spot on, but it seems clear that something happened between these two during the one-year time jump. 
I don't work here, psycho.

Jake
Lissa may be annoying, but she doesn't deserve to be treated like this, so I hope that she gets some clarity soon and makes a decision that will benefit her. 
"The Friend Connection" was a solid episode that was filled with hilarity. Hopefully, this is the shape of things to come so the show picks up for the last-ever episodes to go out on a high.
What did you think of the episode? Do you ship Jenna and Luke? Hit the comments below!
Remember you can watch Awkward online right here on TV Fanatic. Get caught up now!
Paul Dailly is the Associate Editor for TV Fanatic. Follow him on Twitter.