Roman and Burgess tracked down a catfisher on a dating app while Intelligence investigated a shooting at a women's shelter on Chicago PD Season 3 Episode 18.
Below, TV Fanatics Elizabeth Harlow and Stacy Glanzman are joined by super fan Amy Perrin to discuss the possibility of Roman and Burgess, Lindsay's past, and who we think should try out a dating app. 
Join us!
Do you wish Roman had been the victim of the catfisher? What are your thoughts on Roman on a dating app?
Amy: I dislike Roman, so it might have been fun to see him be the victim of the catfisher. I was a little surprised to find out he was on a dating app, but since he is just looking for hookups I guess it makes sense. I wouldn't want to hookup with him, and apparently I am not alone in that mindset.
Elizabeth: I mean, I don't like him, but I'm not wishing him bodily harm... Roman on a dating app is frightening. It's basically the worst date I can imagine. Boring but doesn't realize it and thinks his God's gift to women I'm sure. Ugh.
Stacy: I think it would have been funny to see Roman get taken advantage of by a catfisher instead of a random victim. I mostly feel bad for any women who had to sit through a first date with him.
Are the writers going to make something happen between Roman and Burgess?
Amy: I sure hope not. I like Burgess, and feel that she can do a lot better than Roman. I hope that the writers just leave them as partners and platonic friends.
Elizabeth: I'm feeling sick just thinking about that. Burgess needs to be alone for a while. While Ruzek was far from the best fiancé, she wasn't without fault in that relationship. She should take some time to think about the reasons why it didn't work beyond "Ruzek maybe didn't want to really get married right then."
Stacy: I hope not. They have zero chemistry and Burgess can definitely do better. Plus I'm still hoping that Burgess and Ruzek will work things out eventually.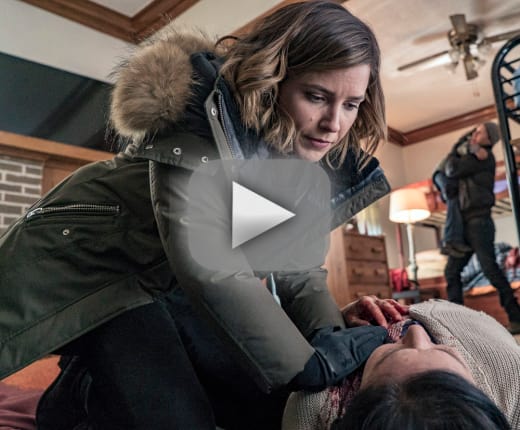 What did you think about how Voight handled the situation with Ainge?
Amy: I am disappointed that Ainge isn't going to go to jail, but I was glad that Voight successfully threatened him into leaving town. At least Ainge isn't Chicago's problem anymore.
Elizabeth: I was mostly amused by it. I mean, he didn't am even use a tone that different from how he normally speaks. If I didn't already know something about Voight, it's not like he did all that much that would make me think he would back it up.
Stacy: We've seen Voight take matters into his own hands before, and the way this case affected Lindsay I wasn't too surprised to see him threaten Ainge. If anything, I was surprised that's all he needed to do. Voight's reputation precedes him in Chicago.
Were you surprised to learn that Lindsay spent a few months in a shelter?
Amy: I was a little surprised to learn that Lindsay spent a few months in a shelter, but with Bunny as a mother it makes sense. It also helps me understand better how she is able to be so empathetic to victims.
Elizabeth: I wasn't expecting it per se, but it makes sense that she might have gone through something like that. I wouldn't have been surprised to find out that she and Bunny had been evicted and were hotel homeless for a while.
Stacy: I wasn't expecting it either, and I liked the way it came out while she was relating to the victim, with Halstead watching. I think it made Halstead realize there's still a lot he doesn't know about her.
Which character from the Chicago universe would you want to see on a dating app?
Amy: Jay is pretty perfect, and even though he doesn't need a dating app to get women, I would love to see him on one.
Elizabeth: I would swipe right on Jay, Atwater, Ruzek, Severide, Casey, goatee-less Otis, Cruz, Mills, Will, Connor, and Choi. I would end up regreting half of those.
Stacy: I'd pick Severide. He doesn't need an app to find women, but he has such bad luck with the women he meets that he couldn't do any worse.
Stacy Glanzman was a staff writer for TV Fanatic. She retired in March, 2019.