Chicago PD Season 3 Episode 19 Review: If We Were Normal

Stacy Glanzman at . Updated at .
Well, they went there, much to everyone's dismay. 
Did we all let out a collective groan when Burgess kissed Roman on Chicago PD Season 3 Episode 19?
Hopefully this is just a rebound thing and Burgess will come to her senses soon.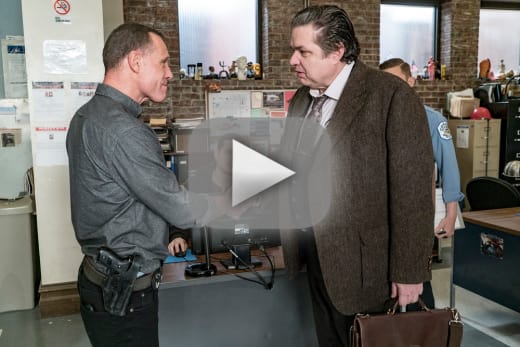 At least the writers knew how to appease the fans by ending with a hot and heavy Lindsay and Halstead scene! Whatever the Roman/Burgess situation is, Lindsay and Halstead are absolutely not PG-13. 
Halstead: Ruzek and Burgess...and Roman. That sounds like a horror movie right there.
Lindsay: It'll probably be a PG-13 deal.
Lindsay was on point and that entire opening scene had me rolling! Lindsay's pretend surprise reaction was spot on, and definitely made me wonder how many takes that took to get without either of them laughing.
I do wish Lindsay would have just told Burgess what she claimed she wanted to hear, but considering where she's coming from, I can see why maybe she was not the best person to ask for advice if you want to be talked out of dating your partner. 
You want me to be the one to tell you that you should not date your partner?


Lindsay
Burgess claimed she "forgot" Lindsay and Halstead were dating, but come on, she asked Lindsay on purpose because she actually wanted to be told to go for it. We see what you did there, Burgess. 
So, what does this really mean? Is she over Ruzek? Is she lonely? Does she legitimately like Roman?
It might be time for the second annual Battle of the Badges to commence, this time with Roman and Ruzek in the ring. Who doesn't want to see that?
I love Platt, but she must really be feeling the wedding stress if she trusted Roman to man the desk for her. It's also surprising Burgess wasn't already invited to her wedding, but thankfully we will not have to see her bring Roman along as her date. 
We know Mouch invited the entire firehouse, so it's a little odd that Platt didn't invite Intelligence. Granted, they are paying for it themselves now, so they may have had to cut a few people.
The case was a little scary. I definitely thought Madison/Jamie was a Stepford wife from the second she opened the door. It made a lot of sense to find out it was a severe case of Stockholm Syndrome. I can't imagine having to carve my name into my arm to keep from forgetting who I am. 
Seriously though, you knew something was up with her when she took them into the nursery they set up in order to "manifest" a baby. How weird was that?
When the prosecutor came in to tell them they had to let Stommer go, I knew there was no way these guys were going to let someone get off on lack of evidence two weeks in a row.
Lindsay's idea to drive Stommer, Jamie, and Ruby out to the middle of nowhere in order to get through to Jamie worked like a charm. It was sad that the other victim was dead, but at least Stommer wasn't getting off this time.
Watching Olinsky connect with a victim was a refreshing change of pace, but hearing him talk about his daughters and still not giving us any insight into his current family situation was frustrating. What is going on there? Is he still living with Ruzek? Has he even talked to Meredith in the last six months or however long it's been?
I'll give him credit on his choice of candy though. Take 5s are delicious.
Ruzek's jealousy is a little petty. After all that, was anyone left wondering where that laptop actually is? I was half expecting Ruzek to hurl it at Roman's head by the end of this thing.
Also, did Ruzek just give away the realtor secret? How many homes are about to get broken into this weekend?
If you missed anything, you can watch Chicago PD online, but I wouldn't blame you if you just wanted to re-watch the first and last scenes. 
Stacy Glanzman was a staff writer for TV Fanatic. She retired in March, 2019.