Well, after the three days Damien had, I'd probably throw up after looking at myself in the mirror, too.
I've only seen Damien Season 1 Episode 1, but so far, so good. It's got my attention. There isn't any doubt who Damien is. He's the kid from The Omen. I not only recognize him from his previous journey, but want to know what's next. 
That link between the story that was and what will be makes it interesting. Mind you, I have no idea if the setting is supposed to be 2001, when Damien would have really been turning 30, or if we're just skipping around to present. I don't care. I'm still on board.
Bradley James makes Damien worth watching. The character is an enigma. He claims to have had a dark cloud around him forever, yet doesn't believe it could be related to God or the devil. By the same token, he doesn't appear to believe in either, but doesn't hesitate to go to church to lay some questions at Jesus' feet. Interesting.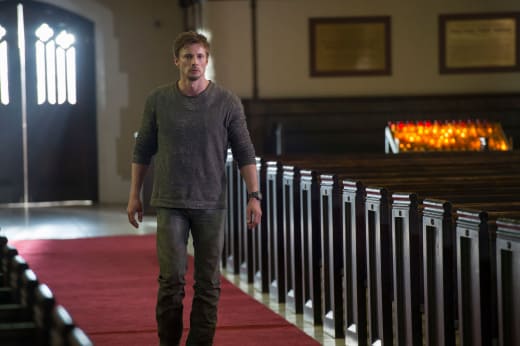 When he cries out at the end of the premiere, it is painful. I don't hate the antichrist (as usual). What makes him tick? What do we find out straight away? Not too much.
He has close friends and fellow photojournalists, Amani and Kelly, who care for him deeply. Amani got him an extravagant gift for his birthday and Kelly traveled around the world to be with him after what went down with the old lady. 
He was kicked out of many schools. So he's troubled, but we don't know why as of yet. He's been on the radar of the Catholic church and there is a special knife in in their possession to kill him, but they think they're too late. 
Kelly's sister, Simone, didn't think much of him, but she didn't push him away after Kelly was killed. 
As Damien's memories began flooding back, he was shocked to recall his governess saying to him on this 5th birthday the same thing the old lady did to him on his 30th, "Damien, I love you. It's all for you!"
I thought for sure the lady was killed when she was standing before Damien, and he became baptized in her blood. Apparently not. (Or was she??) She sure left an impression. It took the entire episode for him to tie her into his whole life, but it was a cool reveal.
The way the show is tying in The Omen as memories Damien has from his past works really well for me. It was done the same way on Ash vs Evil Dead this past summer (another series that asked us to forget two other franchise films) and those walks down memory lane only make the present take more appealing.
When Damien met Ann (Barbara Hershey, who will play a larger role going forward), she told him:
The key is to always maintain a presence, without them knowing you've always been there the entire time, right over their shoulder the entire way.

Ann
That's essentially what the old lady had done, as well. She had been at every photographically worthy event in Damien's life. Not only would that make you feel violated, but you'd have to feel manipulated, too. Was someone trying to guide his life into a certain position?
If he could shake her, could he shake the darkness? I have no idea if he'll be thinking that, but I sure would. We think we know he's going to eventually embrace the darkness, because that's his destiny, but before he gets there, what will he do to try to thwart it?
If he struggled with the darkness and kept people at arm's length all of his life, then he wasn't ready to announce to the world he's the antichrist. I'm interested to see how he'll deal with those around him, who he'll let in and who he'll keep out.
He seems intelligent and almost too rational, though. Since he doesn't have a deep belief in God, it's not as if he'll lean on the good to right his path. He could be just as interested in hearing the pleas of both sides before he comes to any decision.
Wouldn't merely listening to the darkness be the devil's way in? That's what I always thought. 
At first it was Kelly who was leading Damien to answers he wasn't sure he wanted to know. With her death, finding the old lady in the photos and the deluge of memories, he's going to start seeking them for himself, and that will lead to the rising of the antichrist.
He'll be more eager to have answers than to protect himself against what knowing them might mean.
Grade the Damien Premiere!
Now that you've graded it, hit the comments and put into words what you think of this new A&E series. Are you on board to watch more? Does it make a good companion piece to Bates Motel?
Carissa Pavlica is the managing editor and a staff writer and critic for TV Fanatic. She's a member of the Critic's Choice Association, enjoys mentoring writers, conversing with cats, and passionately discussing the nuances of television and film with anyone who will listen. Follow her on Twitter and email her here at TV Fanatic.