Vandal Savage was defeated again. I think.
At least the bad guy was pushed out a window on DC's Legends of Tomorrow Season 1 Episode 8, and that was enough to give the team access to save the day and pack up to leave. 
No wonder they left three of their behind (and Chronos seems to have no problem finding them). They are kinda half assed. They never clean up after themselves. At least once, I'd like to see what actually happened with Savage. Is he DEAD? What did they do with the body? 
For that matter, what was he doing in town BEFORE the meteor hit? Just hanging out? Does he do that? What is Vandal Savage really like, anyway?
This hour picked up right after whatever Snart did to Mick, and we still don't have confirmation on what that was. While Snart made some quips about it, he wasn't ready to do much more. But it was very obvious he missed his partner and friend.
Rip was not a substitute, and Snart didn't even enjoy the irony of playing an FBI agent, even as he got to play the bad cop to Rip's good. The fire has gone out of him. Literally.
Jax was the one who couldn't get over the fact that Snart killed Mick, but he was also grateful later that he wasn't killed by Snart when the opportunity arose. Does the team really think that little of Snart? I've seen nothing to indicate he would be a cold blooded killer, and even in the worst circumstances it would be questionable.
Perhaps this new hole in the team is a way to give Jax a partnership with someone other than Stein. He does need a pal, and now Snart does, as well.
Partnerships reminds me that expecting Ray and Kendra to blend into the neighborhood as the new neighbors probably wasn't the keenest idea anyone had ever had. Which is not to say that means everyone in 1958 was terrible.
I'm kind of sad that the series went right to all that was bad about the 50s instead of allowing even a bit of joy to be seen from the times. Not everything was miserable. Not everyone was miserable.
We are always growing and learning and loving. And, frankly, hating. In another 50 years we'll look back on this time and see a lot of ugliness, too, but I sure as hell hope someone takes the time to show there was more to enjoy than the taste of a French fry in a milkshake.
By the way Kendra opened the door, didn't it seem she was unaware Savage lived next door? Odd, that. Where is the planning for these missions?
And wasn't it rather surprising that after all these years Kendra would still think the old knife in the purse trick would fool Savage? He is not stupid. She does have her memories back of all of her past lives, right? So she knows who she's dealing with. 
Sara scared the heck out of her new friend, Lindsay, too. One minute they were kissing sweetly, and the next Sara pulled a fighting baton out of her butt (seriously, where does she keep that?) and starts beating the crap out of people. 
But I have really liked the past two episodes making use of Sara's life after death. She talked about what it was like to die and be dead on DC's Legends of Tomorrow Season 7 and here she felt as if she was experiencing her first kiss again. 
I'd like that much detail to be paid to Savage and his impact on the series. After all, SO MUCH has been made of his purpose and why they're going after him. It's all they do. So let's see some care being taken with how they deal with him.
I've thought I figured out why Kendra and Ray are together. Because they're getting ready for Hawkman to come back into the picture and to make things really uncomfortable. Why else?
They're probably only going to get closer, though. The synopsis for DC's Legends of Tomorrow Season 1 Episode 9 says all three of those marooned (that should have been the name of this episode, right?) will think they've been abandoned and prepare to make lives in 1958. The promo proves they're there for two years! WTF?!
Did anybody else go to The CW and watch the full commercial about the ATOM mural? In it, Brandon Routh mentions a SPOILER that it will be revealed one of the characters are not all they say and have been keeping secrets. Given we know all of them but Rip, can it be anyone but him?
What secrets could he be keeping? Thoughts? On anything? Feel free to share! Amazement, sadness, anything at all. I know you won't pull any punches. 
The series is on a break until March 31, so watch DC's Legends of Tomorrow online in the meantime and watch the promo to see what's ahead!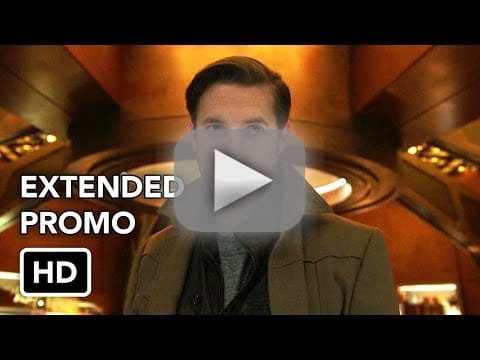 Carissa Pavlica is the managing editor and a staff writer for TV Fanatic. She's a member of the Broadcast Television Journalists Association (BTJA), enjoys mentoring writers, wine, and passionately discussing the nuances of television. Follow her on Twitter and email her here at TV Fanatic.