Girls Season 5 Episode 5 Review: Queen for Two Days

Caralynn Lippo at . Updated at .
Leave it to Hannah Horvath to blow up her relationship in the most awkward, unsatisfying way ever.
Girls Season 5 Episode 5 saw Hannah and her mother Loreen attend a "Spring Queening" retreat, where Loreen intended to do some soul-searching and think over her decision to divorce, and Hannah intended to avoid Fran. 
I really, really liked "Queen for Two Days." Of the three subplots, Hannah/Loreen's and Shosh's were both strong and well-balanced. I'd say Jessa/Adam scenes were probably the weakest of the bunch, but were by no means actually weak – just less engaging or interesting than the other plotlines.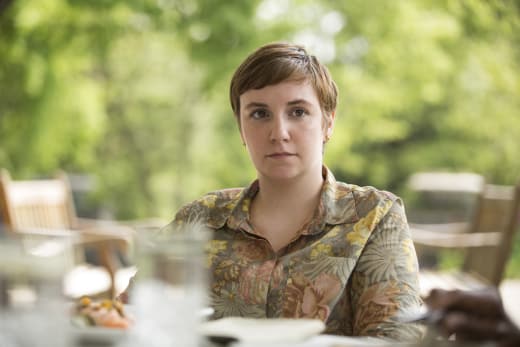 "Tad & Loreen & Avi & Shanaz" was one of the best installments of Girls Season 4, particularly because of its uniqueness in focusing chiefly on Hannah's parents, who typically never receive much attention at all, post-Tad's coming out. It was also a winner thanks to the strong performances of both of the actors playing the elder Horvaths (especially Becky Ann Baker as Loreen). 
"Queen for Two Days" also succeeded where it shone the spotlight on Loreen. The dinner scene with the other older, recently-divorced women was a standout, as Loreen grew ever more horrified listening to the horror stories the other women shared about dating as an older woman after divorce.
Her decision to remain with Tad, and the mini character arc that she took to get there throughout this episode, made perfect sense. Her closing speech to Hannah, depressing as it was, also fit what we know of Loreen.
I have to applaud the show for not going a "typical" route with Tad's coming-out.
The "expected" fallout obviously would have included the Horvaths divorcing, but Tad and Loreen both legitimately enjoy being married to one another (apparently the sex is even better than ever, post-outing, which is bizarre but amusing) and decide on a non-traditional course of action.
Seems befitting of the people who raised Hannah Horvath to be Hannah Horvath.
Hannah, meanwhile, spent the retreat weekend complaining about Fran and about the retreat, and futzing around on her phone to the increasing annoyance of that poor retreat worker guy, Sam.
It was clear that she'd just tagged along to be away from Fran, following their recent arguments over his collection of ex-girlfriends' nudes in Girls Season 5 Episode 3 and his overstepping with Hannah's teaching methods in Girls Season 5 Episode 4.
You know, I've actually never had sex with a woman before. I mean, I've done other stuff. I went to Oberlin, so I'm not, like, a monster.

Hannah
Can't say I was even remotely surprised that Hannah cheated on Fran. They were telegraphing what was going to go down (ha! Excuse that turn of phrase) between Hannah and the yoga instructor pretty heavily. And as soon as Holly used the term "copacetic," I was predisposed to dislike her.
Sexual "outbursts" seem to be Hannah's go-to coping mechanism. Hannah cheated with the first person who flirted with her, despite the fact that that person was a woman and Hannah was very much not into the hook-up at all.
The yoga instructor sobbing after climaxing via masturbation, after Hannah refused to continuing going down on her, fell a little flat.
It was one of those Girls moments that felt bizarre and uncomfortable just for the sake of being bizarre and uncomfortable. There's no way we'll ever see this woman again, so it wasn't a provocative or character-deepening moment. It was just strange. The encounter was already awkward enough without Hannah's hook up being an orgasm-crier.
Anyway, who knows what this means for Fran and Hannah. I would assume that Hannah will eventually come clean (since she was about ready to dump Fran anyway) and their relationship will end, but this show tends to subvert expectations so most likely something far more eccentric will happen.
Back at home, Jessa and Adam grew even closer after meeting up with her sister, Minerva ("Minni"). The detail that Jessa and Minni had hooked up with all the same men (excluding Jessa's father who Minni – unrelated to him – had an encounter with) was perfectly bizarre and seemed very Jessa.
It was a great detail, nicely explaining parts of Jessa's personality – she'd competed with this sister who matched her in everything and in some ways Jessa never had anything that was safely hers and hers alone.
Jessa's assurance that Adam could have sex with Minni and she wouldn't mind felt like a subconscious test for Adam, one that she didn't even realize she was administering. Luckily, Adam passed that test – with flying colors.
She's a beautiful fuckin' rainbow. Cutting and sublime. And she's gonna be the best fuckin' therapist ever. I envy her future patients because she's a truth-teller. And her perfect face is the least beautiful thing about her.

Adam [about Jessa]
Swoon.
The combination of laying into Minni about her misread of Jessa and offering to pay for Jessa's schooling really underscored how serious Adam is about the relationship, balancing out the seriousness that Jessa demonstrated by inviting him along to dinner with her sister and introducing Adam to Minni as her boyfriend.
These two are both really in it, which means it's either going to go dreamily or implode catastrophically.
I really like these two together, so I'm hoping for the former. Though paying for any significant other's schooling is an odd, risky move, especially since these two literally just got together. Nice gesture, though.
On another note, clearly that awkward first-time sex of "Old Loves" was just a one-off rough beginning. Their first appearance in this episode, mid-coitus, proved that they're perfectly in tune, sexually: Jessa also digs oddly specific role play and gives Adam an opportunity to exercise his acting chops.
It's cute. They're cute. I really hope this doesn't implode.
Shoshanna, meanwhile, does a complete 180 in Japan following a surprise visit from her ex-boss, Abigail (Aidy Bryant, fantastic as always). Working at the second largest cat cafe in Tokyo and dating Yoshi was, apparently, not fulfilling for Shosh in the slightest.
Shosh started off "Queen for Two Days" determined to convince Abigail that Tokyo was the best (though, on second viewing, her assurances to Abigail that she was loving Tokyo and "romantic exploration" with Yoshi were half-hearted at best).
Sometimes, at night, I think about Japan, and I'm like, "Did I create this country in my mind?"

Shoshanna
By the end of it, it had become obvious that Shosh's over-the-top love of Tokyo was, to some degree, put on. Showing Abigail around and having her experience everything Shosh thought was notable about Tokyo (all very Shosh-things, of course) managed to break through that facade Shosh had put up.
Shosh's breakdown at the restaurant when she confided in Abigail that she was homesick and lonely was one of Zosia Mamet's best scenes to date.
Any episode that allows close focus and a big moment for Shosh is a great one in my book. "Queen for Two Days" fit that bill, and more. Shosh's character arc is the most interesting thing about this season, so far.
Stray thoughts:
No Elijah. Hiss. Boo.
"Dhani Mahila" (the name of the retreat) means "Rich Girl" in Hindi, which is one of those perfect little hidden tidbits that make me adore this show's writing. So fitting.
On that note, "Queen for Two Days" did a great job satirizing rich lady retreats. The activities, the harsh tough-love feminist lectures, the boring lunch conversations. All of it. Perfect.
I'm probably not the only one who audibly grimaced when Yoshi let fly that he thought Shosh was a virgin, like him. Oy, Yoshi, you poor sap.
Abigail's description of Yoshi – "an Asiatic One Direction member" – was fantastic and so accurate.
Actually, Abigail was just on a roll in general. Mistaking a cat cafe for a "sex hut" and later "I want to watch a reality show about you two called Yosh & Shosh Take The City, any time I have the flu." More Aidy Bryant, please!
Are Tad and Loreen going to have an open marriage? The only thing I'm wary about, in that case, is if Tad meets a nice man he wants to marry and Loreen is abandoned. I don't think I could handle that. Next to Elijah, Tad and Loreen are probably the two most consistently likeable characters on the show.
On the flip side, Minni is awful. She was around for like one and a half scenes and I hate her. Nearly every line out of her mouth was infuriating.
I will miss Yoshi and his oddball mis-translations when Shosh inevitably shatters his heart and abandons him.
What did you think of "Queen for Two Days"? Are Fran and Hannah kaput, or is she going to bury her awkward adulterous encounter? Watch Girls online here at TV Fanatic in case you've missed any episodes!
Caralynn Lippo is a staff writer for TV Fanatic. Follow her on Twitter.