Gotham Season 2 Episode 14 Review: This Ball of Mud and Meanness

Lisa Babick at . Updated at . Comments
There's no turning back now. Not for Penguin. Not for Nygma. And certainly not for Bruce.
On Gotham Season 2 Episode 14, while Penguin found the light and the path to freedom, and Nygma wrapped himself into an enigma in his mind, Bruce played with the darkness and let it lead him to the brink.
It stared at him, and he stared right back.
If there were any doubts about David Mazouz's ability to transform into Batman whenever that time comes, those doubts were shattered (like Bruce's childhood) after his brilliantly understated performance this hour.
The entire scene between Bruce and Matches Malone literally sent chills down my spine. From Bruce's stuttering when Matches opened the door to the moment when Bruce put the gun down on the table, it was a study in perfection.
The most chilling moment had to be when he described how he got his nickname in the first place. He burned a guy. Just once. He was so nonchalant about it. That's not scary. Not at all.
I loved the nod Gotham gave to The Dark Knight once again with the whole interrogation scene between Jim and Jeri. She was a real special gem, and I enjoyed every moment she was on screen. Jim seemed a little over the top, though, almost like he was channeling his inner Barnes. Except that Barnes is a good cop, and Jim isn't.
The fight scene between Alfred and Cupcake was extra special, too. It was so out there how Alfred was giving Bruce tips about fighting while he was getting his face bashed in. But, I'm sure some of it stuck with Bruce, and he may need it now that he's going to be living in the streets.
I can't wait to see more of Bruce's transformation.
Penguin has a different life to lead now that he's "cured." It's kind of  scary to think what Professor Strange may have done to him. It's definitely not good when he won't even share what it is with Ms. Peabody. I mean, what could be worse than the monsters he's creating at Indian Hill?
It was nice to see Lee showing concern about Ms. Kringle. It seemed odd that no one thought twice about the fact she disappeared and only told Nygma about leaving with Dougherty. Jim didn't seem too interested in following up with Lee's concerns, but I'm glad he decided to look into it.  
Things are getting tricky with Nygma. His paranoia is out of control, and I love that his focus is on Jim. Maybe Nygma will give Jim what's coming to him. I wonder if he knows what really happened to Galavan that night? 
What did you think of "This Ball of Mud and Meanness"? Let us know your thoughts in the comments below. Remember, you can watch Gotham online any time, right here via TV Fanatic!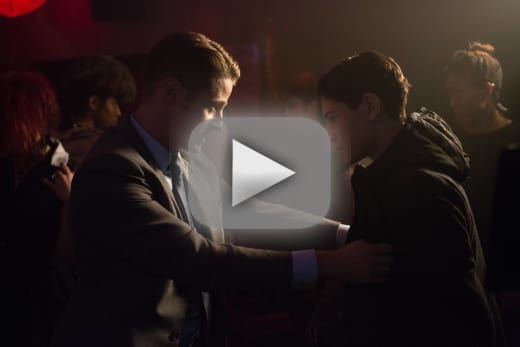 Lisa Babick is a staff writer for TV Fanatic. Follow her on Twitter.