Nashville Season 4 Episode 13 Review: If I Could Do It All Again

Jay Ruymann at . Updated at .
Luke's tour is put on the line when Riff's inexperience from his retirement is revealed in Nashville Season 4 Episode 13.
Riff's awful singing voice puts everything on the line, so Luke is left to find a solution to save their rears. But what is Luke really trying to save?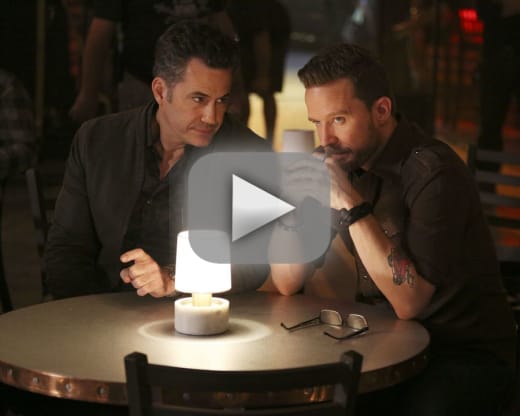 He's trying so hard to keep this tour afloat, but why does he care about the tour? It can't be his fans, because they've nearly all turned against him, so it's most likely to save himself. After his troubles with the IRS, this is how Luke is going to save his money and lifestyle.
Colt returns to town, but not to visit his father. He visits Maddie, but his time away has really changed him.
I like this Colt better. He wants to do something with himself, help people, and he sees the faults in being a music star. He's not spoiled anymore, he's considering joining the army, but it's sad that he and Maddie broke up. He might've made her bearable.
Poor. Daphne. Each week, Maddie treats her worse and worse, especially now that she's become friends with Cash. They've grown close over her music, but she's weirdly too old to be best friends with a teenager.
Daphne deserves better than this. She's been through so much and she's so much younger than everyone. Plus, she lost her father, who's in prison, and Maddie still has her biological family in tact. Poor Daphne.
I'm really over Maddie's spoiled attitude. Hopefully when Juliette returns next week, we'll see less of Maddie treating everyone in her life like garbage.
Vita did steal the $500, and lied straight to Rayna's face. I don't blame Rayna for dropping her. If she can't trust her, how can she make an album with her? Her family life is interesting, though. Even worse than Juliette's.
Frankie's attitude was inexcusable. He attacked Vita, he attacked Deacon, and then, in a spout of anger, lost his sobriety, because in the crowd of The Beverly, people mentioned Deacon as the sole owner of the bar. 
Jealousy is an ugly thing and I still don't understand Frankie's vendetta against Vita. Yes, her was right about her stealing, but he had no evidence in the first place. Just his dislike of her, and probably that Deacon vouched for her. 
The unspoken resentment Frankie has toward Deacon is going to get him written off the show faster than Juliette's mother.
Meanwhile, Scarlett and Gunnar's album is finally finished. They finally have to pick a single, but when the label chooses Scarlett's solo song, she worries about introducing a duo with only one of them.
These two have come so far, and their band is one of the best parts of the show. When are they going to get back together, already? You broke up with the handsome doctor, Scarlett! Make your move, girl!
Next week, Juliette finally returns and I am so excited for her to revamp this show again. She still seems to be having some emotional issues, so why was she let out of rehab? Will she be ready?
Are you excited for Juliette's anticipated return to Nashville? Leave your theories below about Juliette's return. And what happened to Vita? Her car was trashed and she's missing, but Will was talking to someone that looked almost exactly like her? Was that her sister? 
You can watch Nashville online right here at TV Fanatic to see Juliette accidentally kill a man again, before she returns and (probably) gets into a fist fight with Layla for making moves on her ex-husband.
Jay Ruymann was a staff writer for TV Fanatic. He retired in January 2018.