Shameless Season 6 Episode 10 Review: Paradise Lost
Paul Dailly at .
A new Gallagher has entered the fold!
On Shameless Season 6 Episode 10, Debbie finally gave birth to her child, but she managed to escape the commune. 
Seriously, though, the whole commune storyline got too crazy even by this show's standards. In what world would a group of women be fighting over Frank Gallagher?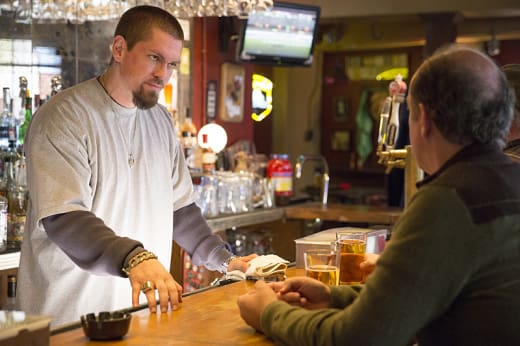 Hell must have frozen over in that commune. I bet some of those women have never seen a dude from outside their group. 
As much as I like Queenie, her storyline isn't all that. It's clear she's been put on the show this season to make it crazier than ever. She's infinitely more likeable than her daughter, but I don't know whether she'll get another arc away from the commune. 
I do think that there's a reason why the commune were so eager to get Debbie and the baby, but I haven't put my finger on what yet. I don't think these characters are going to disappear just like that, and considering the mess Frank left them with, we'll see them again. 
Ian finally took his test, and even though he passed with flying colors, it was clear that something was going to pop up and force him to evaluate everything. 
It was very awkward that Caleb was in with him when he was getting his check up with the nurse. It's surprising that Caleb would even want to hear how many partners Ian has had. 
I was so sure that Caleb would ditch him when he came clean about everything, but I'm guessing Caleb values his honesty and is willing to overlook his past. 
It was a departure for Caleb to talk Ian into lying about his medical past in order to get a job. To date, he's been very by the book, so it was great that he was willing to bend the rules were necessary. 
While most of our favorite characters were making life changing decisions, Lip had the week from hell. 
We all know just how badly his break-up with Helene affected him, so we knew that after all his reckless decisions, there were going to be consequences. 
At this stage, I'm surprised he's still enrolled in college. He brought nothing but trouble to the place since he set foot in it.  He's back at home for now, but will the drama in his life force him to go in search of Mandy?
It did suck to have her return for one episode, so I'm hoping she pops up again before the season is over. 
Like I've said before, the key to moving on is dealing with your past  These two have a lot of unfinished business that needs to be resolved before they can move on. 
Elsewhere, Fiona was busy making a life for herself and Sean. Who couldn't make a life with Sean after what he did for her on Shameless Season 6 Episode 9? 
He's a nice enough guy, but I just don't see this relationship standing the test of time. If they make it out of the season an item, I'll be ecstatic. 
"Paradise Lost" was another solid episode of this Showtime drama. We're six seasons in, and the show is still managing to throw great storylines our way. 
Other tidbits from the episode:
Svetlana and V make a great couple, right? More scenes please!
Lip's drunken antics made me laugh out loud. He was obviously the life of the party. 
Queenie's reaction to the two women fighting over Frank was priceless. 
Everyone together at the end for Debbie giving birth was great!
Fiona's comment about the dude with Back-Ne was hilarious!
Remember you can watch Shameless online right here on TV Fanatic. Get caught up now!
How did you feel about the episode? What do you expect before the end of the season?
Paul Dailly is the Associate Editor for TV Fanatic. Follow him on Twitter.