"Pastor Tim" picked up right after the premiere ended, and that meant Philip had some questions to answer about the fight with Stan.
While Philip previously chose to open up as Clark with Martha, on The Americans Season 4 Episode 2 he decided to tell Elizabeth the truth about going to EST and all the feeling he has been doing.
She didn't take it as bad as expected, and the revelation might have come at the perfect time.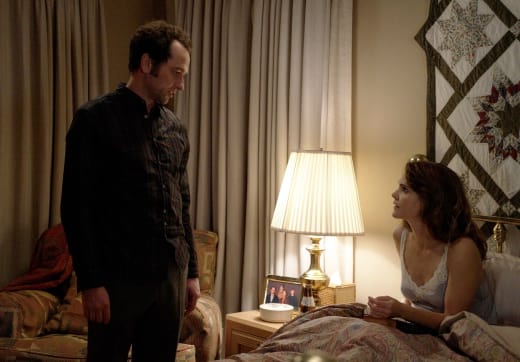 Philip was very hesitant to tell Elizabeth anything about EST, but when it came to the altercation with Stan, there wasn't much else he could come up with to explain it. So he told the truth.
Thankfully, Elizabeth listened and even asked if it was something he might want her to attend with him. That was a good sign. Better than I would have imagined going into it.
But Elizabeth is still behind the eight ball when it comes to understanding people and their motivations, while Philip is at the forefront of that exploration. That was very obvious as they discussed how to deal with Pastor Tim.
They didn't like Pastor Tim all that much to begin with but hearing Paige sharing their family secret by phone with the guy was like a slap across the face for Elizabeth. Her immediate reaction was to kill him. Philip realized that killing him could drive their daughter away forever.
Just knowing of the family business could be enough for Paige to put two and two together, nailing her parents as the responsible parties for Pastor Tim's death. Is that something worth risking? Elizabeth thought yes. Philip not so much. 
But Elizabeth sort of wins the discussion, and she heads to Pastor Tim's cabin to see how they can kill the guy while Philip tries to get rid of the Glanders. 
You'd really have to wonder about your handlers, and Gabriel in particular, for saddling you and your children with a biological weapon inside a vial wrapped inside a baggie then inserted into a cooler you were hiding in your brick wall, when he could have very easily placed it in his own fridge for safekeeping. 
I mean, what kind of guy really does that? 
It was infuriating watching what went down during that bus scene, as well. Are the Soviets already losing their mojo at this point? Here in the US the agents and assets are calling the shots. Over in the Soviet Union, Nina is making demands and having notes smuggled. 
Where the hell are all the self respecting and really nasty Soviets? They seem to have disappeared, save for Elizabeth, who is clinging to her beliefs a little too tightly under the circumstances.
When Gabriel told Elizabeth her mother died and gave her the conciliatory hand pat, I wanted to smack him, too. At least Elizabeth later cried. Is she cracking? Perhaps feeling and learning about said feelings might not sound so bad to her. Maybe she'll open herself a bit.
Granted, I can't imagine myself going to EST, so expecting someone like Elizabeth to all of a sudden want to take that kind of emotional plunge is kind of ridiculous, but sharing her feelings with Philip would be a start. 
They can't kill Pastor Tim. Maybe they can counsel with him. Alright. That's ludicrous. But he did offer, after all. 
I'm finding myself more invested than ever in what's happening with this family. I've always believed that the end game will be that they (or at least Philip and the kids) will want to defect and become Americans. That seems like the culmination of their journey. I could be wrong, but I like the idea.
What I cannot figure out right now is how to invest in the other Soviets. Arkady and Oleg don't have much going on that ties into things now that Nina isn't actively spying here in the U.S., and Nina over in the USSR feels so distant it's hard to care what happens to her. I don't did care because of her ties here.
What about you? Do you care what's happening to the peripheral characters? Are you more interested in the Jennings, Martha and Stan? What could they do to make the USSR characters' stories more compelling and relatable?
If you drop by, why not say hello? 
Я так одинок!
If you need to catch up, you can watch The Americans online right here via TV Fanatic!
Carissa Pavlica is the managing editor and a staff writer for TV Fanatic. She's a member of the Critic's Choice Association, enjoys mentoring writers, cats, and passionately discussing the nuances of television and film. Follow her on Twitter and email her here at TV Fanatic.