The Catch Season 1 Episode 2 Review: The Real Killer
Paul Dailly at . Updated at .
Alice is a force to be reckoned with.
On The Catch Season 1 Episode 2 Alice took multitasking to whole new level when she took on a case while simultaneously trying to find out more information about Ben and his band of crooks.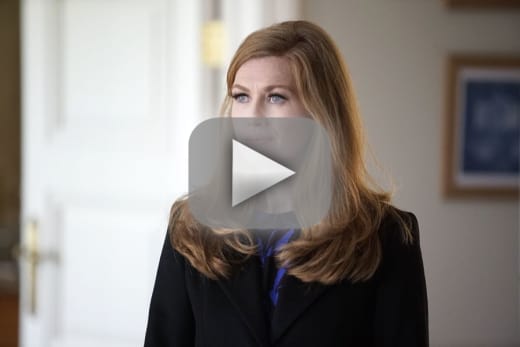 Let's speak about the case of the week. It was a run of the mill case you'd expect to find in a procedural, and that's not a good thing. It's been done to death and future cases will need to have a little more originality if this show has any hope of standing the test of time. 
All of the stuff with Alice and the painting was very interesting. It's crazy to think she has the real version of that painting, but couldn't Ben have just taken it and gotten himself and his team of crooks out of the red?
Alice is an engaging enough character, but we just need more grounded storylines to bring the story forward. Out of the characters, Val has emerged as the weak link. She showed so much promise on The Catch Season 1 Episode 1, but she just didn't get very much to do here, and Alice was more or less walking on egg shells around her the entire time. 
They're meant to be a group of friends, so I find it ludicrous that Alice didn't want to confide in Val about everything sooner. It was only going to get worse, and it did before it got better.
Val has a lot family issues going on right now, but I just don't feel like her back story meshes with the tone of the show. Maybe if there wasn't so much going on elsewhere it would make more sense to have this going on. 
Margot wasn't great, either. The way the dude kept saying to Chris that she'd murder he and Alice made me think she was going to be a great villain, but what we saw made her out to be nothing more than someone who is all talk. The scene with the razor didn't help matters. It was a little too obvious she was using it as a power play. 
Sonya Walger is a fantastic actress, but so far, it seems like her talents are being wasted here. It's time to trim the pointless storylines and get the show to were it needs to be to succeed. 
The decision to have significant focus on the villains was a great one. It seemed like they were going to be lurking in the shadows waiting for their next move, but instead, they were running about trying to get some fast money. 
I can't help but wonder what was going through Ben's mind when he decided to hang around the office in hopes of getting a glimpse of Alice. He should have been wearing something to conceal his appearance. He was literally outside of the building, and anyone could have noticed him.
Then there's agent Dahl who was way more interesting. Who knew he had it in him to bug Alice's home? She'll know it was him as soon as she notices. Alice isn't scared to confront someone when they're wrong, so look for her to go crazy on him. 
"The Real Killer" had too much going on to say that it was an enjoyable affair. Considering the show premiered pretty low in the ratings, I doubt this episode will do much in the way to keep people tuning in. 
What did you think of the episode? What's Alice's next move? Chat with me in the comments. 
Remember you can watch The Catch online to get up to speed with this crazy new drama.
Paul Dailly is the Associate Editor for TV Fanatic. Follow him on Twitter.