The first five minutes of The Good Wife Season 7 Episode 17 had me so heartbroken that I almost wanted to change the channel.
It was every parent's worst nightmare and the daughter's death was all the more devastating because you saw it coming from the moment they showed her taking her first steps. I felt as though I was holding my breath waiting for that bullet to arrive.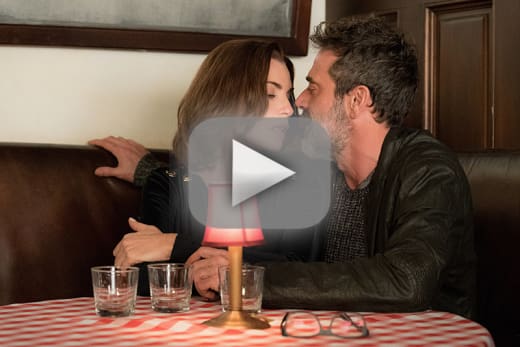 The case of the victim's father versus the gun shop owner was interesting as I'd never knew there was such a thing as the Commerce and Arm's Act. 
As much as I appreciated Judge Abernathy's ruling, fining the defendant only 10 cents per day for leaving that billboard up felt entirely too random. There should have been some basis for the amount or else it seems like he's leaving the ruling open for appeal.
Elsewhere, Eli was still using the bathroom vent to spy on the grand jury proceedings. I enjoyed the way that Alicia blindsided the prosecutor by agreeing to answer his questions. He never saw that coming.
Unfortunately, when they called Lloyd Garber back for more questioning, the janitor was working in the bathroom. I was surprised that Eli didn't grab the plunger and tell the man he'd handle it himself. 
Grace's predicament was probably all too real in a world that puts a computer software's evaluation above a human one; although with some humans that might not be such a bad thing. 
The Admissions Director had a chip on her shoulder and was determined to not be intimidated by an attorney. I question Alicia's argument at the end about intellectual property. I'd assume those 750,000 essays were submitted by students to schools who use the software. The question then becomes whether those essays are the property of the schools or the students. But the threat of a class action suit was enough to make the school back down. 
Grace's decision to become a lawyer after watching her mother argue her case was really sweet and I do think Grace will make a great attorney one day as she is the best of all the Florricks. 
I was as shocked as Alicia when she saw Jason kissing that blonde at the restaurant but I loved that she chose to confide in Lucca about it in this The Good Wife quote…
Alicia: I have issues on this front. Husbands who screw around, who lie, who leave me in tears.
Lucca: You're not in tears now.

Good point. Alicia was disappointed but not devastated. She and Jason haven't committed to anything but having some fun and there's nothing wrong with that. 
Not to mention the fact that Alicia isn't able to commit to anyone right now…
I am married. If anyone should be explaining, it should be me.

Alicia
It certainly doesn't appear that Alicia is interested in a commitment right now. She's just enjoying herself and it looks good on her; even her hairstyle is making her look happier. 
But as for her groping Jason under the table at the restaurant, just how long did she expect Lucca to take getting those chips? Lucca coming back to find Alicia with her hand down Jason's pants was going to be all kinds of awkward!
Speaking of awkward, Alicia lied to Cary and I hated it. She and Cary have been loyal to one another for a long time now and I think he deserved the truth.
Perhaps Alicia felt she didn't lie because Diane didn't plan to "cut him out" but rather buy him out. Somehow I don't see Cary being concerned about the minutia of the wording when it comes to getting ousted from the firm he helped create. It's just not fair. 
Check back later this week to see what our The Good Wife round table team has to say and if you can't wait for more, you can always watch The Good Wife online here at TV Fanatic.
C. Orlando is a TV Fanatic Staff Writer. Follow her on Twitter.