Vikings Season 4 Episode 7 Review: The Profit and the Loss

Henry A. Otero at .
There's no question Rollo won this round, and boy was King Ragnar pissed!
Perhaps since we knew what was coming, it made the battle feel a tad anticlimactic. Vikings Season 4 Episode 7 was a letdown in the sense that Ragnar and Rollo did not actually come to blows. The traitor watched from afar as his brother's ships burned.
Ten episode seasons force the storytelling to be tight since there's no time to waste. By doubling the episode count, we can expect many more fillers like this one. It's a shame they're dragging out the story this year.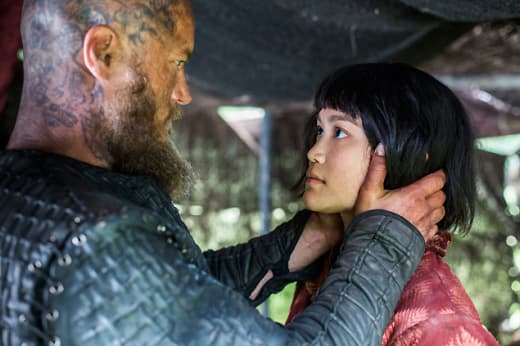 Is Ragnar's odd behavior bothering anyone else? I realize his story hit its peak, and we are now witnessing the warrior's decline. However, it would have been nice to see him go out in a blaze of glory. Not too long ago, I could not imagine this series continuing without him. Now, I'm actually looking forward to that cursed snake pit scene.
Don't get me wrong, the character has had quite a phenomenal journey. I simply do not find myself rooting for him anymore. The time's come for his sons to step into the spotlight, and I embrace that change wholeheartedly.
However with 20 episodes on tap, don't expect that move until the finale this fall.
Bjorn: I hate my uncle. I want to kill him.
Ragnar: Good.
Speaking of not rooting for a character, is anyone hoping Rollo gets his happily ever after? His time in Paris has been compelling, but let's be honest the guy has always been a slimeball and a coward. While all the characters have much more complex arcs than in Vikings Season 1, it's also tougher to tell the heroes from the villains.
That's one of the reasons I still miss Athelstan. He was a good man, who kept Ragnar's curiosity nourished. Their friendship was pure and meaningful. It was one of the highlights of the show for me... Ah the good ol' days.
When those chains rose out of the water, I found myself hoping the two latest brothers would drown. Unfortunately, we know King Harald and Halfdan's story is just getting started.
Still, I hated Rollo more than ever when he set the Viking ships on fire. Though the traitor's tale is far from over, I hope Ragnar (or Bjorn) at the very least wound him significantly. How about taking a limb? Maybe a finger or two?
Back in Kattegat, Aslaug wondered why Harbard had returned. Though I find him fascinating, I'd like some answers aside from the fact he's a stud. Will we ever learn whether or not he's a God? What's his connection to Floki?
Aslaug: You had no idea Ragnar had gone away to Paris?
Harbard: No, but I heard about the raid on Paris. I heard he was very sick. I wondered in fact, if he was still alive.
Aslaug: He has gone back to Paris. This time he's taken Ubbe and Hvitserk with him. He's punishing me cause of what happened last time.
The Wessex and Mercia stuff continues to bore me. It's not like King Ecbert's plan was unclear, right? We knew he was after Mercia from the moment we met him.
Either way, we were finally introduced to the mysterious "W" and he's a prince... Shocker? Not so much. The guy shared his family's gruesome tale, then proceeded to hand over his ancestral crown to Ecbert. Kwenthrith is not going to be pleased.
While Ragnar drowned his sorrows in Yidu's Chinese "medicine," Bjorn demanded a plan of attack. I've mentioned this before, but Alexander Ludwig's transformation this season has really impressed me. He's the guy I'm rooting for now, and I'm sure that was Michael Hirst's design.

As I wrote at the top, this installment was basically filler. A stepping stone to the next episode. Aside from the failed attack of Paris, not a whole lot happened.
While I've been a fan of this series since the day one, I'm hoping the storytelling remains focused and that the pressure on Hirst to deliver 20 episode seasons doesn't affect the quality of the series. Hopefully, things pick up next week. Will Ragnar and Rollo come face to face?
What did you think of "The Profit and the Loss"? Did you find this episode as disappointing as I did? How much do you hate Rollo right about now? Go ahead and sound off in the comments below and share your thoughts with me.
As always, watch Vikings online via TV Fanatic if you need to catch up before the finale.

NOTE: Vikings Season 4 Episode 8 is titled "Portage" and airs on April 7.