It's so unfair that Liza always finds herself in these sticky situations!!
And yet, we know that in any other hands, the information she had on Thad on Younger Season 2 Episode 10 wouldn't be handled as carefully.
If I found out the guy my friend was about to marry was bumping uglies (I'm so old) in a "stall rabbits" relationship with his assistant, I'm not sure I would have been able to wait around for evidence.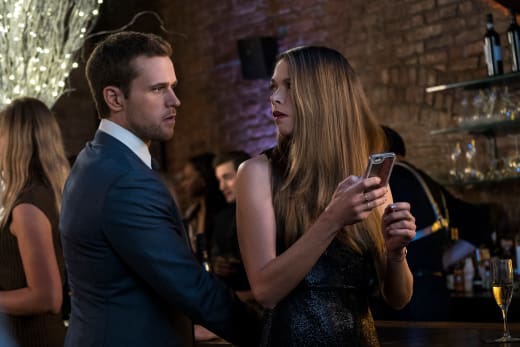 I'm kind of worried that no matter how Liza presents what she knows, she's going to come off looking, again, like a bad sport because of what she's going through with Josh.
It's happened before, after all. 
But it's not as if Liza is just sitting around and moping since Josh started appearing in the paper with Greta.
Does anybody else think he's not dating her at all, but everyone is reading a lot more into that than it is? Because it will really make things incredibly awkward for Josh and Liza to reunite if Liza has a big secret like she had a one-night stand with her ex-husband.
It didn't feel all that awkward when it was happening, and with the huge changes both Liza and David have undergone since their breakup, testing the waters by having sex again is almost natural, isn't it? Especially since they're both single.
Please let me know if I'm just really crazy for saying that. Maybe I have a completely different breakup pattern than normal people.
Even if I'm weird, and David wrote Liza a note (two entire different things), I don't think David will get lucky twice. Sorry bucco!
But it does help put things into perspective with regards to Thad and Kelsey. First of all, Liza had the kind courtesy of being shocked at the discovery Thad would go so far as to cheat on Kelsey. I thought that was really sweet because it never crossed MY mind that he WOULDN'T cheat on her.
It also never crossed my mind that Kelsey would get into the wedding details so fast and furiously. She was just having threesomes not that long ago and bemoaning her inability to pick a life path. 
Now she has a wedding planner (granted, it's Lauren) who has a team of wedding planners underneath her. Talk about fast progress!
And holy moly how over the top was Lauren's party? Were her ultra planning skills keeping her from being in on all the dirt floating around about Kelsey? Wouldn't you expect the girl who knows EVERYTHING to have heard about the stall rabbits long before anyone else?
Sure, people might want to keep that news item from Lauren to avoid her wrath, but they might also want to give it to her first for the same reason.
Who would want to be on the receiving end of the tongue lashing after admitting they knew Thad was a cheating cad before Kelsey walked down the aisle, but they didn't tell Lauren who could have stopped her friend from a world of hurt?
What do you expect to happen with all of this? I don't want the season to end!!
Other notes:
It was so sweet that Diana took Liza under her wing in a protective manner. She even talked about passing her the baton one day!
It wasn't Kelsey in the stall with Thad, was it? That would sort of change the GOTCHA of it all! 
David plays the accordion. I'm not sure how I feel about that.
I absolutely cannot believe that Liza deleted all of Josh's old texts from her phone. I would have had to have backed those up first. Seriously. Couldn't do it.
Alright. Over to you!! What do you think we're looking forward to for the rest of the season? Drop me a line. Do you miss Josh? Can you imagine the show without him in a longer timeframe? Share!
You can always watch Younger online if you yearn for a more simple time. HA. As if any of this has ever been simple. Until next week!
Carissa Pavlica is the managing editor and a staff writer for TV Fanatic. She's a member of the Broadcast Television Journalists Association (BTJA), enjoys mentoring writers, wine, and passionately discussing the nuances of television. Follow her on Twitter and email her here at TV Fanatic.