Awkward Season 5 Episode 16 Review: Best Friends for Never
Paul Dailly at . Updated at .
Jenna and Tamara are not the friends they once were.
Jenna realized this on Awkward Season 5 Episode 16 and tried to reel Tamara back in, but it proved quite the challenge. 
Tamara has been far too busy with Sadie to even bat an eyelid that Jenna hasn't been having the best time. There's no denying that T and Sadie have the wittiest conversations on TV, but Jenna has every right to be a little pissed off.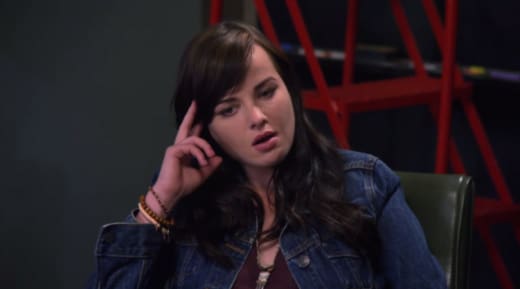 Jenna was there for her all through high school and Tamara jumped just ship as soon as they went off to college. She wasn't having the best time, and her new classmates were pretentious, so she didn't fit in with them. 
That's where Sadie entered the fold, and for the first time, they had something in common. Sadie hated T in high school, and she knew she could easily have T as a minion, but it became so much more than that. 
It was intriguing how quickly Jenna managed to get her old friend a job at Idea Bin. It would make you think that the company isn't all that popular. Just look at the way Luke pushed Jenna's application the top of the pile. I didn't buy any of the stuff with the co-workers. 
I suddenly felt a strong urge to call in sick tomorrow morning.

Jenna
They're probably the most annoying supporting characters on TV. There's no need for them to constantly make abbreviations for words that are already short enough. Because of T, they now want to be Jenna's friend, but it was interesting that Jenna didn't take them up on their offer of drinks. 
Jenna hasn't really matured since high school and that was perfectly highlighted with just how upset she got when Luke said they had to keep their relationship a secret. She should have known her work colleagues would hate her even more. 
Props to Luke for realizing what was wrong with her. The pairing of these characters has been a highlight of the show this season. I'll fight their corner until they inevitably split up because Matty wants her back. I think everyone is so over Matty and Jenna. 
They've been forced apart so many times it's difficult to give a damn about them. Considering the way he's looking at pictures of them in happier times and trying to get in contact with her, look for them to share the screen very soon. They probably won't be talking. 
It sucks that this will probably signal the end of Jenna and Luke, because from experience, Jatty won't last more than a few episodes before being tugged apart. It's sad, but it's true. It's time for the writers to let their relationship play out without the need for unnecessary drama. 
Matty going to college paved the way for Lacey to actually get a storyline, so that was one of the brighter spots of the episode. It was made clear very quickly that Jenna lied to her parents about why they split up. That should be addressed over the next few episodes.
"Best Friends for Never" wasn't the greatest installment, but it was a cut above some of the worst episodes of Awkward Season 5. The characters are being sent on intriguing, different paths, so as long as it continues this way, I'm all for it. 
What did you think of the episode? Is T being a bitch to Jenna? Are you over Jatty? Hit the comments!
Remember you can watch Awkward online right here on TV Fanatic. Get caught up with these crazy characters.
Paul Dailly is the Associate Editor for TV Fanatic. Follow him on Twitter.