Awkward Season 5 Episode 17 Review: Fireworks
Paul Dailly at . Updated at .
Is Jenna playing with fire?
On Awkward Season 5 Episode 17, she got some much needed clarity on her friendship with Matty, but should she even be talking to him?
Probably not.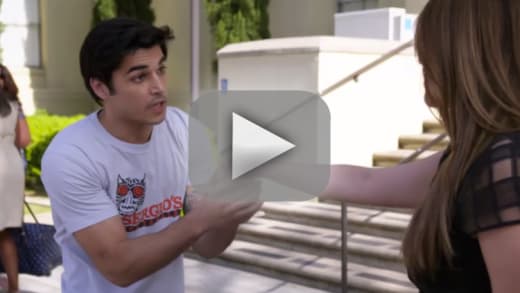 How would you feel if you're significant other was still being friends with their ex?
Poor Luke doesn't know what he's let himself in for with Jenna and that's down to the writers not willing to let Jatty go. It's time for the show to move on and stop acting like Jatty actually has to happen. 
Sorry If my definition of fun isn't drinking all the time.

Jenna
They've been ripped apart so many times and they just aren't an intriguing ship anymore. As much as I despise Sully, she grew on me considerably this week. She always has an answer for everything and I just put that down to her being rude, but this week we found out that there was a method to her madness.
Everyone loves a good party and I'm sure we all have that one friend who gets a little too drunk. That friend is a Sully. She's the life of the party and just wants to have a good time. 
One thing that's bugging me about the whole party on the golf green is that Luke was the only one who was jealous. We've watched enough teen dramas to know that there's always jealousy in these situations. 
Jake will be regretting hiring his friends after getting the pink slip. He should have known something was going to happen. He kind of brought all of this on himself. He knows exactly what Sully is like, so he should have been the one to lock up. I find it difficult to have sympathy for someone who pulls stupid moves like these. 
It's also getting clearer than ever that he has something going on with Aly. The way she bossed him about the drink was embarrassing. He should have known to steer clear of her because nothing ever stays secret in that town. Considering he's been fired now, he'll probably return to work after Aly gives her husband a stern talking to. 
Elsewhere, Sadie crossed paths with Sergio when he randomly called her and asked her to meet him. It was blatantly obvious he was asking her to work for him, so I don't know why she showed up expecting to be wined and dined. 
She was also still under the impression that Sergio was with someone, so she shouldn't have went full stop. It's obvious that there's a spark with her and Sergio, but it seems like there could also be one between her and Jake after that big kiss on Awkward Season 5 Episode 16. 
Sadie will no doubt be glad that she's getting somewhere with Sergio, but this love story honestly just seems poised for destruction and I won't be surprised when she ends up with Jake. 
Jake is very in demand these days. It's similar to the way he was in school when he was a singer. Remember those days? Awkward was still a powerhouse with with witty dialog then. 
"Fireworks" wasn't the greatest installment, but it was far from the worst. We're half way through this final run of episodes, so hopefully the pace kicks up quite a bit as we approach the conclusion.
What did you think of the episode? Are you still team Jatty? Hit the comments below!
Remember you can watch Awkward online right here on TV Fanatic. Get caught up on all the hilarious drama now!
Paul Dailly is the Associate Editor for TV Fanatic. Follow him on Twitter.