Bates Motel Season 4 Episode 5 Review: Refraction

Carissa Pavlica at . Updated at .
So that's why they brought Chick into the picture again.
As soon as it feels like things with Rebecca are tidied up, Romero should have his work cut out for him dealing with Chick. But only if his bride decides to confide in him after Chick made some serious threats on Bates Motel Season 4 Episode 5.
That storyline might also be what draws Dylan back into the family fray and Norman? Well, Dr. Edwards has his hands full at Pineview, that's for sure.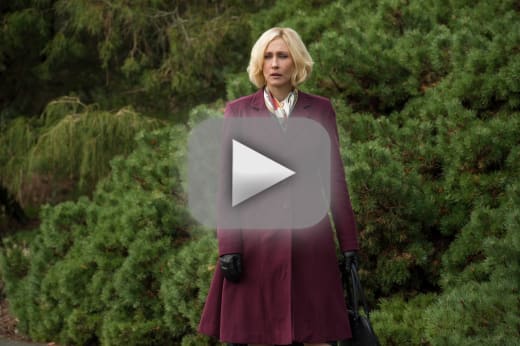 It was surprising how forthright Chick was after he overheard Norma in the hardware store. 
When he approached Norma about her window, he told her a lot about himself. Pretty much everything except the truth about his accident. 
He played the entire thing really well, and I almost bought that he didn't know who she was and only put two and two together after the fact. Getting Norma to trust him and believe in his craft was a good trick. 
It's kind of a bummer he didn't let it all last a little longer, because it sounded like he knew what he was talking about with the window, and it would have turned out beautifully. He could have done something nice before doing something nasty. It's not unheard of!
What I don't know is if Chick reads the papers. Is he aware Norma married Sheriff Romero? I'm guessing not and the photo in the paper was a natural foreboding that he may be onto that news sometime soon.
I'm almost imagining some sort of a house down the lane scenario, where he holds everyone captive and goes off half cocked, maybe Dylan stumbles onto the scene all happy about his new job and Seattle pursuits and his life falls apart.
OK. I probably watch too many horror movies, but Bates Motel is based off of a horror movie. So. There's that.
Dylan and Emma and still moving forward with their Seattle plans, and that is all making a lot more sense in context, as well. 
Did anybody else miss Emma's scar when she first revealed it? I seriously thought what I was looking at was the bottom of her bra. I had to rewind and look three times for her scar. Now, when I did see it, I certainly understood her concern. 
But Emma is so beautiful inside and out that she needn't worry about it. Dylan going to Jaws to make her feel comfortable showed just how much he loves her.
How fully they'll get pulled into the Chick debacle might test their love. It could get ugly. 
Everything about Norman's therapy was off the charts. It never even crossed my mind that Norma wasn't visiting Norman because their visit was so NORMAL.
I loved the way Dr. Edwards picked up on Norman's need for things to be typical or normal, and how easily Edwards moved in and out of Norman's breaks as Norma with Norman. 
It's really interesting to watch and hard to imagine an environment where doctors have to deal with patients like that all day long. It must be incredibly exhausting. 
The way the camera was filming also picked up on the bizarre nature of the conversation, and I felt worried for Dr. Edwards. Norman went from a normal patient to someone who seemed threatening within seconds.
There hasn't been any talk as of yet whether or not Norman is on any medication, but it doesn't appear he's on anything other than the very mildest of sedatives. Maybe they're holding off until they know best how to treat him.
If I were Edwards, I'm not sure I'd want to be alone with him, especially after learning any potential murders were not committed by Norma. 
I cannot wait to see what else is coming with regard to Chick and how Caleb will react when he's contacted. And if I could please have an entire episode of Norman in Pineview, I'd take as much information on his case as I could get!
How about you? What's whetting your whistled these days? Hit the comments and be sure to watch Bates Motel online to catch up if you've missed any of this exciting season!
Carissa Pavlica is the managing editor and a staff writer and critic for TV Fanatic. She's a member of the Critic's Choice Association, enjoys mentoring writers, conversing with cats, and passionately discussing the nuances of television and film with anyone who will listen. Follow her on Twitter and email her here at TV Fanatic.