Bates Motel Season 4 Episode 7 Review: There's No Place Like Home

Carissa Pavlica at .
Did the closing shot from "There's No Place Like Home" send shivers down your spine?
We watched Norma struggle with her relationship with Norman on Bates Motel Season 4 Episode 7 to the point she didn't follow her gut, her older son's warnings, the advice of Norman's doctor nor any other signal telling her Norman wasn't ready to come home.
Norma's happiest times are most certainly behind her now.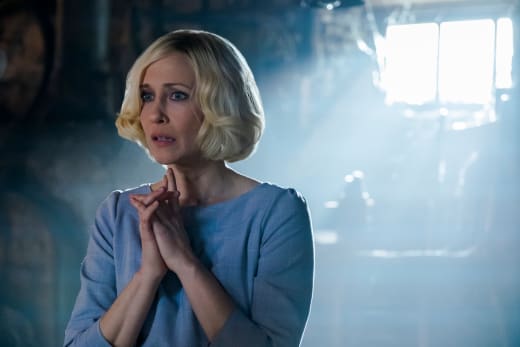 I'm so sad after watching this hour. It's not like I really expected Norma's faults to be healed in the short time she was with Romero, but she came so far and was such a spectacular version of herself on Bates Motel Season 4 Episode 6 that a part of me held out hope.
Hope for what, exactly, I'm not sure. Maybe that finding real love would give her the strength she needed to push back on Norman's crocodile tears when they surely came in her direction, as they did when he wanted to go home.
What's really awful is that Norman wanted to go home because of what he learned about Mother. She had been stepping out on him, and he wouldn't have that. He may not remember what happens when he blacks out or during his sessions, but he knows enough that he doesn't want Mother happy without him.
Dr. Edwards didn't put up much of a fight, either. My favorite conversation they had was when he asked Norman why he wasn't scared, because he should be. Going home knowing fully well he's not in control should scare a normal person.
But Norman already knows he's not normal. He just has to pretend to be to get what he wants.
I know how to make the world see me as someone normal, someone kind, someone nice, and you just can't do that.

Norman
And it works. Norman turns on the waterworks and people feel for him. It worked with Edwards and Norma. As soon as he had them where he wanted them, he turned them off. He got that gleam in his eye. It's cold and calculating. Frightening.
We kind of knew Dylan wasn't going to let Norman get away with murdering Emma's mother, but the more Emma talked about Audrey and thought she was abandoned again and unwanted, the more Dylan wanted to find out what happened to her.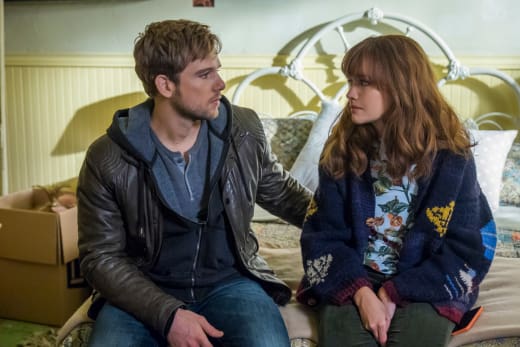 Dylan loves Emma, and if he can only reassure her that her mother loved her and didn't give up on her, that she really wanted to have a relationship and get to know her daughter, he's going to give that to her.
Even if it means discovering that his brother has killed. And really, do you blame him? Why should Norman get away with murder? He's sick and needs to be locked up, no matter how much anyone loves him.
That's why it was so hard to see Norma jump to Norman's defense AGAIN when she was with Dr. Edwards. "He's not violent!" Dr. Edwards didn't even use the word violent, but Norma offered it up anyway. That's how badly she wants someone to know Norman is violent.
If Norma had only admitted that, Dr. Edwards might have forced the hold on Norman, and Norma's life might not be in jeopardy. 
Instead, we had to watch mother and son walk toward the iconic house with the attic the focal point of the closing shot. 
Will Norma ever get to eat popcorn and watch an old movie on the brand new 60" television her husband thoughtfully bought for the two of them? 
There are only three episodes left in Bates Motel Season 4, 13 episodes left in the entire series. It's a countdown now, for sure. When will Norman fall apart completely, and who will die first?
Most importantly, will there come a point where Norma realizes that she has not done anyone any favors by lying about Norman's violent tendencies or to Norman about her real marriage to Romero?
Norma needs to be free of the stress that comes from all the lies. She seemed so free during "The Vault" and if she accomplishes nothing else, I hope she gets to that point before Norman drags her down again.
What's on your minds? Did that closing shot worry you as much as it did me? Don't forget, you can watch Bates Motel online right here via TV Fanatic any time to get caught up.
Carissa Pavlica is the managing editor and a staff writer and critic for TV Fanatic. She's a member of the Critic's Choice Association, enjoys mentoring writers, conversing with cats, and passionately discussing the nuances of television and film with anyone who will listen. Follow her on Twitter and email her here at TV Fanatic.