A newspaper, a bow tie, tea and a crazy non-dead ex-girlfriend can almost sum up Blindspot Season 1 Episode 19.
This episode was the first to provide most characters their own side story.
Last we left Mayfair, she was surprised by Sofia, the girlfriend that supposedly committed suicide. Well, Sofia is very much alive and needs Mayfair's help. Sofia is on the run from someone that knows about project Daylight and needs money to leave the country.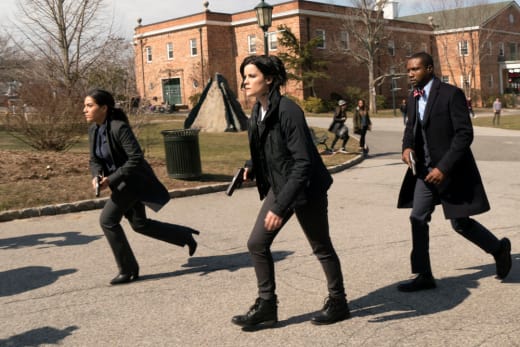 Quick side bar/refresher: Daylight was the project that Mayfair, CIA Agent Carter and Sofia worked on together. The project consisted of them gathering and illegally using NSA data. 
Sofia looked completely frightened, so one could believe that she is in trouble and that someone is coming after everyone involved in Daylight. Could this someone or organization be the same group Jane is hooked up with?
Mayfair ultimately gives all her savings to Sofia and does look pained when doing so. Mayfair wants Sofia to stay under her protection. After Sofia says no for about the 10th time, Mayfair demands she leave and never return. I have a feeling we'll be seeing Sofia again very soon, though.
The newspaper refers to how the case of the week was established. Zapata went to a gambling addiction meeting. Finally, we get to see Zapata actually try to help herself. Her gambling problem has only caused her many issues that threaten her life and career.
She gets the newspaper at the meeting and finds a clue in the sports section. Was she checking the spreads and looking for potential games to bet on? More than likely. But she was able to solve a tattoo because of this curiosity.
The case of the week involved Hudson University's football team and the investigation into their scholarship program. The team was getting nowhere and about to pack it in when they heard gun shots and students started running out of the school.
The team heads in and eventually all split up. Zapata is in a shoot out with one of the shooters and Jane shows up allowing both of them to take him down. Except there is more than one shooter.
Reade ends up being thrown from an explosion and the second shooter, Levi Hart, finds him. The shooter demands to be taken to a certain football coach.
While on the way to the coach, Hart confessed that the coach sexually abused him and that is why he is doing this. Reade tries to convince Hart to turn himself in but Hart refuses and Weller has to put him down. 
The bow tie refers to Reade, who is trying a different look after his break up with Sarah. While we got to see Reade outside of work, I still want more. We know the least about him and he fascinates me. I mean, he buys customs suits and wears bow ties to work for crying out loud, he is an interesting guy.
And last, the tea refers to the Jane plot. Oscar and her are still sleeping together and it grosses me out. I loved Jane's speech to him about needing him because he is the only one that truly knows her. I get that, I really do.
You make me feel real. And who you are and who we are together, doesn't make you the wrong person for the job. It makes you the only person for the job.

Jane
But Oscar knows the old Jane, and she isn't that person anymore. Oscar can't be trusted, and the last scene proved that 100%. Why does he have Agent Carter's body still? What is he planning with it?
Weller also had a small story, but it was so boring I can't write about it. Are you not feeling the Weller family drama as much as me? Something needs to change soon to make Weller a more interesting character.
A rundown of some other random thoughts:
I can't say enough how much I loved the editing of this episode. The five different stories and how they all bled into the case of the week...so good!
I really enjoyed this episode, but it just needed more Patterson. This show always needs more Patterson
Did Weller officially turn into Spider-Man this episode?
We're getting to the end of the season and I can't even fathom how it's going to end. It could go a number of different directions. All of which are exciting.
What are your thoughts on this episode? Do you trust Oscar? Are you feeling the Oscar/Jane pairing and the fact they are acting very couple like? Let me know your thoughts in the comments or on Twitter.
Don't forget if you want to re-watch this episode and any other you can watch Blindspot online here.
Kelly Thompson is a staff writer for TV Fanatic. Follow her on Twitter.