Justice became a judgement call on Blue Bloods Season 6 Episode 18 as Frank, Jamie and Erin all faced cases that were mired in shades of grey. 
Erin's vision seemed pretty clear, but it was former prosecutor Kathy Elliott's that was blurred. Did she really believe Jeffery Durning was innocent or was she just blinded by her own spotlight?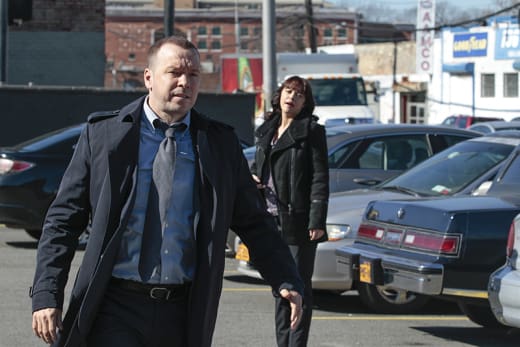 Didn't Mindy say that she went to Kathy after Jeffrey threatened her but Kathy did nothing and yet Kathy acted like she knew nothing about Mindy's statement? As a prosecutor, you'd think she'd have some clue about how to verify the authenticity of that photo. 
I was surprised that Erin was so willing to believe that Kathy simply had the wool pulled over her eyes because she was blinded by ambition after she lied about Jeffrey's whereabouts and actively hid him from the police in order to get her interview. 
The best part about Frank and Nick Constantine was their opening scene during the Offenders Notification Program. Do they really hand out those cards? They reminded me of tarot cards telling someone their fortune. If you continue down this path, you will spend 15 more years in prison.
Or in Nick's case, it was the rest of his life. Shooting Alex in a room full of people was just stupid and sending bullets flying into the street where a young boy was shot was horribly reckless. 
It was nice to see that Frank believed in second chances but unforunately Nick squandered his and he didn't deserve a third. His own terribly bad choices led to the LIFE card becoming an accurate predictor of his future. 
I also appreciated that Frank was respectful that this was still Danny's case and tried not to step on his toes when he decided to speak with Frank. Father and son worked as a team to crack the case.
Jamie's dilemma was the most difficult. Yes, it was stolen money but no one would claim it, even after Jamie made all the correct phone calls and notifications. 
One of my favorite Blue Bloods quotes was Henry's response to Jamie…
Jamie: What if I told you I found some of the money?
Harry: I'd say forget the brisket, you're taking us to Peter Luger's for family dinner.
I've only had the pleasure of dining at Peter Luger's once (for those of you outside of the NYC area, it's an iconic, high-end steakhouse), but I completely agree with Henry because the steak there is amazing!
Seriously though, Henry pointed out, an investigation that was no longer active was not the same as one that was closed. Eddie also pointed out that this could have been some sort of Internal Affairs integrity sting. 
Life would be easy if the law always coincided with what felt like the right thing to do. In this case, Jamie put his career and possibly his freedom on the line by arranging for Sandy to find that money that would allow her to continue to care for her grandson. 
It was a judgement call. Did he make the right one? I think so, mostly because bending the rules meant he was helping someone in need but I understood why Eddie had a knot in her stomach over the possibility of the consequences. On the other hand, Jamie probably would have lost sleep if he hadn't let Sandy find the money. I don't think his conscience would have been completely clear either way. 
As Jamie tried to explain why he went to a funeral for a man he'd never met, the Reagans were reminded how blessed they were to be a family…
Danny: Well, the good news is none of us is ever going to end up alone.
Erin: Not while another one of us is still standing.

That's why we love the Reagans. If you can't wait for more, you can watch Blue Bloods online here at TV Fanatic. 
C. Orlando is a TV Fanatic Staff Writer. Follow her on Twitter.