Bones Season 11 Episode 13 Review: The Monster in the Closet

Christine Orlando at . Updated at .
Just when I thought that after all of these seasons the team at the Jeffersonian couldn't top itself on creepy killers, Bones Season 11 Episode 13 proved me wrong. 
When a show gets this long into a run, you start to expect less of it. Mediocre cases. Rehashes of old plots. (I'm looking at you Castle!)
But with "The Monster in the Closet," Bones confirmed that it is very much at the top of its game.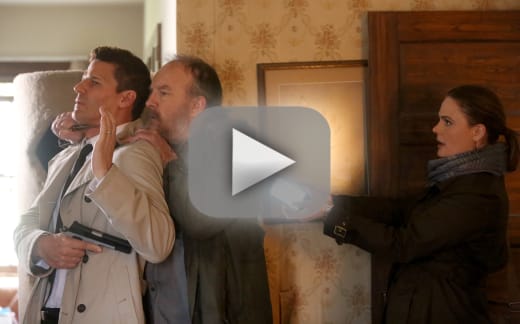 It began with little Christine's nightmares. This kid is one of my favorites on any show. She's adorable and smart without ever being annoying.
Christine is the perfect combination of both Booth and Brennan. I love their family dynamic, as it gives the characters a chance to show their softer side, like when Booth told his daughter not to snore as she crawled into bed with them. 
Even in small doses, it adds a lot to my enjoyment of the series.
But all of those warm, fuzzy feelings were balanced by a new and epically creepy serial killer. 
He's a killer who likes and admires his victims, yet has an obsession with Bible verses about punishment. 
Worse yet, he lives with their corpses for six months before beating them "to death" and disposing of them, leaving their poor loved ones with no answers until months later when their bodies finally appear decomposed in a park. 
Just when I thought it couldn't get any more disturbing, Booth figured out that the drill holes in the bones weren't signs of torture but that the killer turned his victims into macabre marionettes.
I've never been much of a fan of puppets; even less so now. 
Booth and Brennan walking into the crazy cat man, Gibbons', home had me on the edge of my seat. I knew he had to be there somewhere, but the cats made for the perfect distraction.
Brennan's gun sound phone app made me laugh out loud. I'm wondering if it really exists. It wouldn't surprise me if it does, and I don't know why, but now I want one. 
And I really did feel badly for Gibbons when he admitted that a crazed serial killer was holding his beloved cat, Charlie, hostage. I hope Charlie is okay, but I'm not optimistic. 
The case brought back Dr. Karen Delfs as the FBI's behavioral analyst, but I still have mixed feelings on her. Cutting her own hand in interrogation definitely scored her some points with Booth, and at the same time, proved Aubrey's point from his Bones quote…
You ever think you're a little cray cray yourself?


Aubrey
There were two other side stories this week. It appears that Arastoo may be back for good, and Cam decided to ditch Sebastian. 
I'm a little disappointed about that. Sebastian was hot and fun, but perhaps he was only ever meant to be a distraction. If Cam and Arastoo are meant to get back together, I can live with that, but I hope this is the last breakup between them that we'll have to endure. 
A little angst goes a long way, and we're getting more than enough of that from Hodgins and Angela. Hodgins has now sunk to the level of mocking murder victims…
Angela: These days he's not respectful to the living, I'm not sure why the dead would be any different.
Hodgins: Well for one thing, she doesn't talk back.
Wow! That sounded a lot like the response of a man who abuses his wife, but in this case, Hodgins is using his words instead of his fists. 
I get it. Hodgins has been through a severe trauma with consequences that will last a lifetime. Consciously or not, he's trying to push Angela away, either because he feels he's disappointing her, or he fears she'll eventually leave anyway.
Either way, I'm not sure how much of this I or Angela can take, and I hope they move this story forward quickly. I miss the funny, smart, kind man Hodgins used to be. 
Speaking of couples, my favorite moment was when Booth found Brennan obsessing over the victim in the lab. She didn't want to leave because she blamed herself for Allison's death. 
In Brennan's mind, if she hadn't walked away from the Jeffersonian for six months, she may have solved the first murder and Allison would still be alive. She's torturing herself for something that can't be changed, but the one upside is that she shared those feelings with Booth. 
Then they figured out the puzzle of the holes in the bones together. 
With the appalling picture of a human puppet still in their minds, the two went home for an even bigger scare. 
Knowing that the killer had been watching them at the crime scene had to leave them wondering who would be targeted next, and nothing gets your heart rate up like hearing a strange noise at night and walking into your child's bedroom to find they're not in it. 
Kudos to David Boreanaz for the scene where they find Christine hiding in the closet because the expression on Booth's face made him look as though he was either going to cry or throw up, he was so relieved. 
When I heard that Bones was going to do serial killer arc for the end of Bones season 11, I didn't think they could possibly make yet another serial murderer interesting.
Boy, was I wrong. I'm completely intrigued, and I can't wait for more. 
Check back on Monday to see what our Bones round table thinks, and if you can't wait for more, you can watch Bones online here at TV Fanatic.
C. Orlando is a TV Fanatic Staff Writer. Follow her on Twitter.