The news broke a week ago that ABC had notified Castle costar Stana Katic, who plays Kate Beckett on their hit series, that she (and costar Tamala Jones) would not be asked back if the show was picked up for season 9.
We've heard the other stars of Castle react to the news – but how about the fans of the show?
To say they are stunned would be an understatement.
But as the shock has begun to wear off, Castle viewers are pulling together in an attempt to #SaveCaskett.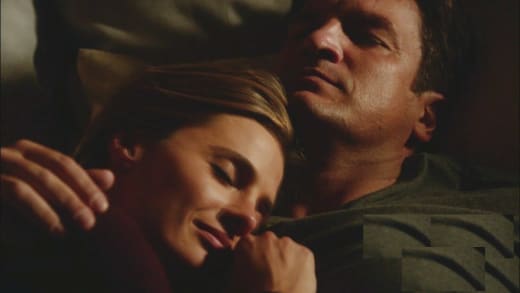 Jenny, one of a group of Castle fans who brainstormed the idea explains:
"Fans are being asked to mail coffee sleeves adorned with the message of #SaveCaskett along with any other message they want to include to the ABC offices in California. Some fans are buying in bulk, others are just sending in the sleeve off their morning latte."
As any fan of the show knows, coffee has been a symbol of love and affection between the two main characters since Castle season 1.
With ABC leaning towards a Castle Season 9 that will focus solely on Richard Castle, the #SaveCaskett campaign is simple:
"The relationship between Beckett and Castle is the heart of the show and we are asking for that relationship to be honored and to receive the happy ending the characters deserve. This is a positive campaign meant to show to ABC how important these characters and their love story have been to the fans over the past eight seasons."
Fans are encouraged to keep their messages positive, adorning their coffee sleeves with #SaveCaskett, Castle quotes, and their hopes for the show's future to Disney - ABC Domestic Television.
Here's the address:
Disney - ABC Domestic Television
500 South Buena Vista St.
Burbank, CA 91521
Attn: Ben Sherwood
Patrick Moran
Channing Dungey
#SaveCaskett
Other fans, such as Kelly, fear that the plan is to kill off Kate Beckett or otherwise break up the show's core couple in order to keep Castle going without its leading lady.
"To be honest, if they need to break up Caskett or kill off Beckett to keep the show alive, I'd rather they cancel it."
But as Jenny points out:
"We want to be able to watch any potential season nine with the comfort of knowing that even if Beckett is not present on screen, the integrity of her character and her relationship with Castle will be maintained." 
Can Caskett be saved? Has a hit show ever had its own fans ask for it's cancelation?
With Katic being let go, a happy ending seems unlikely but with enough fan outcry perhaps anything is possible. 
Will you watch Castle Season 9 without Kate Beckett?
C. Orlando is a TV Fanatic Staff Writer. Follow her on Twitter.