It was hard to enjoy watching Castle Season 8 Episode 19 knowing that (SPOILER ALERT) certain cast members are about to be written out at the end of the season. 
As Caleb pointed out, it felt like they were marching towards the kill zone. 
But there was a bright spot in "Dead Zone" and that was guest star Jonathan Silverman who played safety inspector Alan Masters.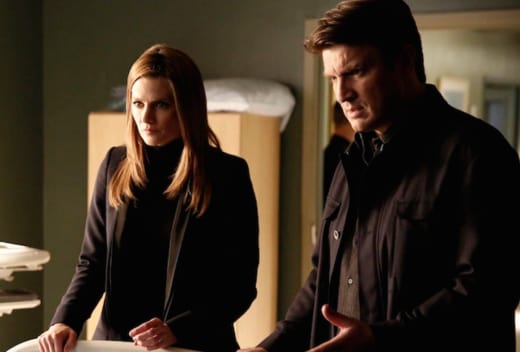 Instead of the team at the 12th Precinct investigating a homicide, they were trying to stop Alan from being killed, which happened again and again and again. 
The first couple of times were intriguing, and Lanie's reactions were realistic yet comical. Kudos to Tamala Jones for reminding Castle fans how awesome Lanie can be when we've seen so little of her in Castle Season 8. 
The one downside was actually Castle himself. Yes, Rick has always enjoyed his crazy theories with childlike glee, and in smaller doses, I've found that fun, but this episode went overboard. 
Speculating about Alan's superhero powers was kind of cute. Hitting the man in the head and holding a large knife up to him pushed the gag too far and made Castle look like a fool. 
Silverman did a great job of playing Alan as the straight man who just wanted his life back. 
I'm Boring Man, except for the contract out on my life.

Alan
I was saddened when Gwen turned out to be part of the plot to kill Alan. I was hoping he'd find his happy ending.
I was also a little disappointed that we saw so little of Horatio Spate as I'm a big fan of actor Maurice Benard who also plays Sonny Corinthos on General Hospital. Apparently he is destined to be typecast as a charismatic mobster but no one can say he doesn't do it well.
The one good thing to come from Gwen being a bad guy was that it gave Alan and Lanie more time together. These two had a unique chemistry that made me smile.  
The scenes between Castle and Beckett felt off. The opening with Castle watching Kate sleep was sweet until Rick began talking as though being a normal couple would be a bad thing. Why? Because life is so much more fun with dark conspiracies lurking around every turn? 
It can't be a fun way to live. It's certainly not a fun story to watch.
Which brings us to LokSat.
On the one hand, I feel as though I should be grateful to finally hear something concrete about LokSat since it effectively derailed most of the season. 
Caleb's warnings sounded like nothing more than a rehash Bracken's ominous threats to Beckett a few seasons back. 
All I could think was, Here we go again, but I'm afraid I'm not going to like the ending nearly as much this time. 
And Rick Castle really needs to invest in a better security system. In Castle season 2 he boasted about what a secure building this was, but it feels like almost anyone can break into the Castle loft these days.  
With three episodes left and LokSat looming, Rick told Kate in this Castle quote…
As long as I'm with you, I'll go anywhere.

Castle
Fans only want to see them finally end up happy together. Will the #SaveCaskett campaign help?
Check back later in the week to see what our Castle round table team has to say, and if you can't wait until them, you can watch Castle online here at TV Fanatic.
C. Orlando is a TV Fanatic Staff Writer. Follow her on Twitter.