The murder charges were dropped against Steve but instead of celebrating, Kayla broke off their engagement! Maggie changer her story once again about Summer and Abigail may have really lost her mind as she threatened to set Ben on fire on Days of Our Lives.
Our TV Fanatics Jack Ori and Christine Orlando are joined by Wendylou from MyHourglass a Days of Our Lives fan forum to debate Kayla's decision to leave Steve, what should be next for Abigail and what story disappointed them the most last week in Salem.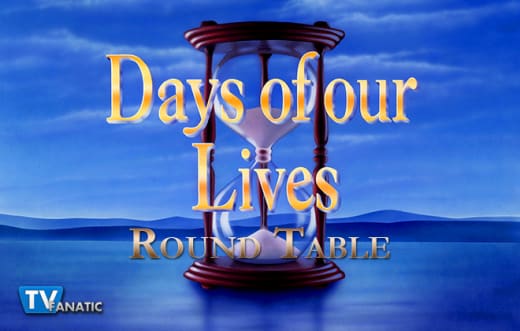 Is Kayla overreacting by calling off her engagement to Steve?
Jack: I think Kayla is being totally ridiculous. I'm hoping that whatever's causing her to faint is also causing this erratic behavior. She can't want to live on the run with Steve one minute and decide he's too dangerous to live with the next.
Wendylou: It is confusing. Just the night before she was worried about losing him and now it's almost like that's what she wanted. I get that she wants a quieter life but breaking up her family won't help things. She and Steve need to stay together and work to help Joey through his issues.
Christine: Maybe it's a brain tumor like Bo because her behavior makes no sense. One moment she's willing to give up everything and go on the run because she can't live without him and the next she's kicking him out. No wonder their kid is such a mess. No one in his life is stable. 
Will Abigail set Ben on fire and, whether she does or doesn't, what should happen with her next?
Jack: I think it's a done deal at this point, though hopefully Chad will intervene before the fire spreads and Thomas gets hurt. Abby should be arrested (preferably by JJ for added drama) and given a psych eval in jail, then be sent to a mental hospital.
Wendylou: I think she might start to but Chad was right outside and I imagine he will arrive before anything too bad happens. Abby obviously needs help. Her loved ones need to make sure she gets it. I don't think she should be in that much trouble. Ben is a murderer and he broke into her house with the intent to harm her and maybe her child too. If she'd just shot him she wouldn't be in any trouble at all. It would have been called self-defense.
Christine: I agree that if she had shot him it would have been self defense but knocking him out, tying him up and gleefully jumping on the bed while planning to set him on fire definitely takes things to a whole new level of crazy. I think Abigail is going to be spending time in a psychiatric hospital in the near future. 
Was Summer the person you wanted to see at Maggie's bedside during this crisis?
Jack: No, no, 1000x no. I'd have liked to have seen Jennifer or Hope in that role, thank you very much, if they weren't going to bring Melissa or Sarah back. Jennifer would have been the most interesting choice because of her alleged pain pill addiction.
Wendylou: Absolutely not. I don't want Summer on my screen at all and especially not spending all this time with Maggie while she is in crisis. I'd much rather see people she already has an established relationship with, even Nicole and Theresa. It's absurd to give this much screen time to a character and relationship we didn't know existed until a month ago. Nevermind that this whole story is an insult to fans of Maggie and her relationship with Mickey.
Christine: Summer is the new Jordan Ridgeway and my fear is that she'll stick around just as long. If Victor couldn't be there with Maggie, which I would have loved, or her daughters then I love Maggie's dynamic with Nicole and Theresa. And why have Hope, Jennifer, and Julie dropped off the grid during this crisis. None of it makes any sense. 
Should Philip have gone to the hospital, despite his rift with Victor?
Jack: Of course he should have. When an estranged parent almost dies and you're so worried you ask your estranged distant relative what's up with him, it's a good sign you should hightail it to the hospital.
Wendylou: Yes. Even if Victor is going to insult him he should be used to that. If something happens to Victor, Philip will never be able to get that time back. Philip seems like a coward.
Christine: I hate the new Philip. He seems like a completely different character from the Philip we knew and loved for years. Of course he should have gone to the hospital to check on his father and Maggie. Sometimes just showing up is important. This version of Philip is more of a whiny boy than a grown man who lost his leg in combat. 
What, if anything, disappointed you this week in Salem?
Jack: My goodness, how many abused women turned violent killers does this show need? Those Abby/Ben scenes were unnecessarily graphic and gory. Also, JJ should have gone running after Chad to see what was going on -- who is this calm imposter and where is the real JJ? And we didn't need so much screen time with Summer either.
Wendylou: I already kind of stated it above but I'm so disappointed in all the screen time being given to Summer. They should be spending more time developing the stories for Jennifer, JJ, Gabi, Nicole, anyone other than this character we've never heard of before.
Christine: How about more revisionist history for Maggie. Now she lied about her baby dying because she was so guilt ridden about giving the child up. She was 17 for goodness sake! Why would she lie to Victor and Julie of all people and make up such a horrible story? The show seems determined to destroy Maggie's integrity in order to give Summer a purpose to be onscreen. 
What was your favorite quote, scene or story from this week's Days of Our Lives?
Jack: I loved Nicole's comment to Deimos. "Well, this is the present and I'm me... and I'm leaving." Nicole in investigative and snarky mode is a sight for sore eyes. I've missed her!
Wendylou: I liked the scene Theresa's scene where she told her how much she meant to her. I also enjoyed Nicole's scenes with Victor and Maggie.
Christine: Nicole and Theresa's respective scenes with Victor and Maggie were the highlights of the week. These were interactions I'd been waiting to see for a long time and I hope we get more. 
Need to catch up? Check out Jack Ori's Days of Our Lives review here at TV Fanatic.
C. Orlando is a TV Fanatic Staff Writer. Follow her on Twitter.