Grey's Anatomy Season 12 Episode 21 Review: Who's on Your Side?

Elizabeth Harlow at . Updated at .
Apparently, Meredith is auditioning for the job of Grey-Sloan's resident fairy godmother. 
She's shifted her matchmaking attentions from residents to her sister-in-law on Grey's Anatomy Season 12 Episode 21, but maybe she should have waited to see how her first couple ended up before taking on new clients.
All was not bright and shiny for Stephanie and her prince charming.
Really, the Emerald City seemed to be lacking on the bright and shiny. even the happy endings had a cloud hanging over them.
Poor Arizona. She was just having the worst day. I was a little confused why she was feeling like such a bad mother, but having your ex's girlfriend on your service while in the midst of a custody dispute sounds like hell. Isn't Richard in charge of resident assignments? Why didn't he catch that?
Not only are the people who are choosing sides choosing #TeamCallie –  props to Alex for remaining neutral – but her situation with April had to be emotionally exhausting. She made the right call to fire her as a patient, even if Jackson did seem really pissed about it.
I have to say it was refreshing to see Grey's follow conventional medical ethics for once. I mean, the overall theme of neither Arizona and April's nor Stephanie and Kyle's stories really fit into the cannon of the show, but maybe these people wouldn't all be so nuts if they'd follow Amelia's advice.
Stephanie: I can be impartial, I'm --
Amelia: Oh Edwards, you have been the family from hell today. This is why we don't doctor the people we love.

Stephanie demonstrated just how emotionally stunted she is in this one. I can totally relate to her dilemma over defining the relationship, though. And also to the way that she was indirectly demonstrating how much she cared about Kyle.
I mean, if this was just sex, she'd be intrigued by what was happening to Kyle as a doctor but probably not to that level. She wasn't researching studies and trials out of professional curiosity. 
Was I the only one who thought he might die during that surgery? Or maybe end up in a coma, or paralyzed, or something tragic? The longer he sticks around, the more I doubt my original theory of how Jerrika Hinton's temporary absence next season will be explained. Maybe she'll be off taking care of Kyle instead.   
Stephanie: I was him when I was a kid...in and out of hospitals for years and...and I just can't sit in the waiting room. I can't handle it. I need to be on the other side of the ride line. I need to be helping people and fixing people, and I can't do that if I'm with him, so...
Jo: So you chose surgery.
Stephanie: No, I chose me.
Amelia's love dilemma came to a slightly happier conclusion. This relationship has been so drawn out that I know many of you have lost interest, but her incoherent babbling at the trailer was the absolute sweetest, realest moment.
It was refreshing to have a couple recognize they're both screwed up individuals bringing baggage to the table and they're going to have to work at the relationship. 
I also loved all the ribbing Owen received. Amelia got some too, but the digs at Owen were just sublime. 
Meredith [to Owen]: I tell my kids, when you're finished with your toys, put them away.
Richard: Uh, good morning.
Meredith: My kids don't need to see your penis, so the same goes for you.

Things are looking up for the Bailey-Warren household, but "up" does not necessarily mean clear skies ahead. Watching Maggie and Riggs stuck between their fight was so uncomfortable. What ever happened to "church and state," people? Bailey should have left it at coolly professional, and Ben should have had the latest medical digest to pretend to read.
Riggs might be a little sketchy, but he did prove useful in his role to help diffuse the tension between the spouses. I'm not sure that Maggie was as effective with her little lecture to Ben – this isn't the first time a senior doctor has told him to shut up and take his medicine, so why should we think this time is any different? 
It's harder to love somebody than to walk away from them.

Amelia
Callie and Arizona head to court on May 5th on  "Mama Tried." Apparently, the stakes are higher than we realized – full custody is at stake here. The whole situation is a mess, and sure to get the tears falling, so make sure you have your hankies freshly pressed.
Of course, we won't be spending the entire hour in court. April's pregnant teenage patient is back, which I'm sure will bring up all kinds of issues for the mommy-to-be, and Alex is stepping in with her treatment. And while Stephanie might have left a "Dear Kyle" letter by his bedside, she may be having second thoughts about the hunky musician.
You can watch Grey's Anatomy online if you missed "You're Gonna Need Someone on Your Side" or any of the other episodes this season. We'd love to hear your thoughts on what went down and what might be coming, so join the conversation in the comments section!
Get your first look at Grey's Anatomy Season 12 Episode 22 below!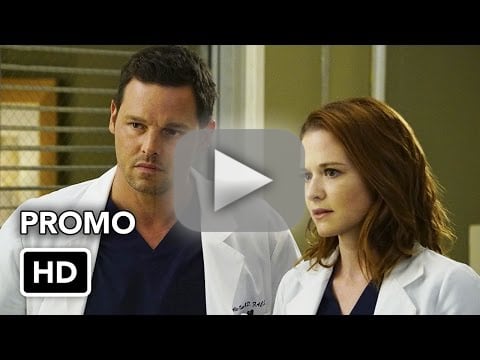 Elizabeth Harlow was a staff writer for TV Fanatic. She left the organization in October 2018.