Nashville Season 4 Episode 17 Review: Baby Come Home

Jay Ruymann at . Updated at .
The Exes are exes no more on Nashville Season 4 Episode 17.
Being trapped in an elevator during a power outage helped Scarlett and Gunnar rekindle their Nashville Season 1 flame, though they were rudely interrupted in the middle of almost-kissing by the power coming back on.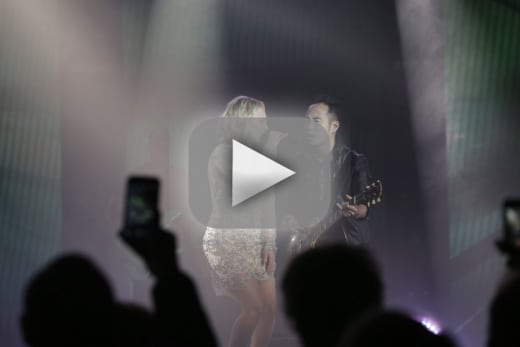 Upon returning to their rooms, the pair (finally!) shacked up together for the night.
Hopefully these two stay together because the on-again, off-again thing has got to stop with all of Nashville's couples. We went through it for three seasons with Deacon and Rayna, and now with Juliette and Avery. We've had enough.
Deacon and Rayna's desperate attempts to bring Maddie home only drove her even further away.
Understandably, Rayna threatened to use her connections to ruin Cash if she went through with helping Maddie, but that's wasn't Mrs. Jaymes smartest move.
This entire story has gone three episodes too far. Maddie lost anyone rooting for her awhile ago, now she's just becoming obnoxious to watch every week, like her legal father, who she visited in prison.
The only person I sympathize for is Daphne, because she just wants her sister to come home, and her family together again. But I will give Maddie this: showing up to sing with Daphne, even though she hates her parents, was very sweet.
She's emancipating from them, not from Daphne, and it's nice to see that Maddie actually still cares about her little sister, even though she's putting her through this hell.
Rayna: Your sister wants to live independently.
Daphne: Does that mean she's divorcing us?
Cash needs to leave, too. I knew she was using Maddie as a vessel for the opportunities she missed out on, and it's going too far. Cash is going to ruin this girl.
Maddie needs to be free to explore her music, but Rayna is right.
Other labels would exploit her as a young woman, and while Rayna had semi-ulterior motives for signing her daughters, she did it for the right reasons: to protect them and let them explore their art the right way.
Deacon and Daphne bonding in Maddie's absence is very heartwarming to watch. Daphne lost her biological father, she doesn't have the same connection to Deacon, but he loves these girls so much.
Even though he doesn't always show it in the right way.
This emancipation story needs to end, Maddie needs to return home with her own record deal, and Cash and her father need to leave town. They're nothing but baggage on this family.
Luke's taken a dangerous risk promoting Will and trashing country radio after they refused to see Will perform his single because he's gay.
After so many close calls for his tour, tax fraud, and bankruptcy, Luke needs to chill out.
It's great that he's signed Will again and is promoting him regardless of his sexual orientation, but how much bad press can Luke take?
One more mess up and Luke could be finished.
Meanwhile, Juliette, Avery, and Layla, embarked on their very own overdone love triangle.
Juliette seems to have regained her confidence, especially after returning to Luke's tour, which means trouble for anyone around her.
Oh, it's easy to get 20,000 people to love you.

Juliette
But her mind is set on one thing: winning back Avery.
Too bad Avery is busy making heart eyes at Layla while they make beautiful music together.
Juliette seems to have really changed. She wants Avery back so badly, she's willing to work to rebuild their love into something better than it was before. She loves him more than she loves anyone, that's very clear.
What is Layla doing, though? Yes, Avery picked her in the ending montage, but it's only a matter of time before he and Juliette reconnect. They have a daughter together, and their feelings are so clearly unresolved; you can only deny that for so long.
Juliette is going to work to prove to Avery that she's changed; prove that she's a better person, that she can stop lying and be honest, and that she is a great mother. 
Layla definitely deserves to be happy after everything she's gone through, but inserting herself into the middle of an unresolved drama nest, while she's supposedly still mourning Jeff, is a disaster waiting to happen. 
They make beautiful music together, but can they do anything else? 
You can watch Nashville online to see the simpler times when Scarlett and Avery were together and Juliette's biggest concern was breaking out of bubblegum country, before Nashville Season 4 Episode 18, when Maddie's emancipation verdict will be decided. Objection!
Jay Ruymann was a staff writer for TV Fanatic. He retired in January 2018.