Once Upon a Time Season 5 Episode 17 Review: Her Handsome Hero

Christine Orlando at . Updated at .
Rumplestiltskin was right. Much to her surprise, Belle was pushed to extremes in the heat of the moment on Once Upon a Time Season 5 Episode 17. 
Has she lost hope? For the moment, at least that's what those dead flowers seem to be telling us.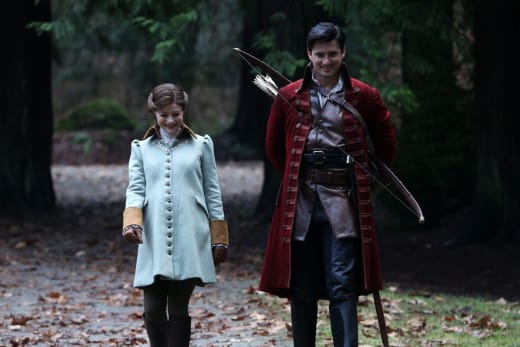 But if you look at Zelena, there seems to be hope even in dead flowers. 
I had completely forgotten about Merlin's hope that the power of the dagger could be wielded for good, but at this point, I highly doubt that Rumple is the man to do it. Perhaps I'm being cynical, but he has gone back to the dark side so many times that I find it hard to believe he'll change. 
Rumple's promise to change his ways after Neal died didn't last long. Will this new baby be enough incentive to help him find the light? We can only hope.
Belle is so trusting, even when she tries not to be. She had to know that telling Rumple about Hades deal would send him off to kill Gaston. I actually laughed out loud when Rumple told her, "Belle, you can trust me."
Yeah, right. 
Not that I would have blamed Rumple for killing Gaston. Even Belle must have known that Gaston had evil in his heart; remember his eyes in the magic mirror? Gaston was out for revenge and Belle wasn't going to be able to stop him.
Well, not without shoving him into the River of Lost Souls, at least. 
I loved that Hades used his loophole in the deal. I wouldn't expect any less of him. It's definitely something Rumple would do if the roles were reversed. 
In the end it was good to hear Belle admit her true feelings in this Once Upon a Time quote…
I have always known who you really are, that's why I love you.


Belle
She loves the beast. Maybe she truly believes she can redeem him, but that doesn't mean she doesn't love who he is. 
Although this was Belle's episode, Emma's nightmare had her facing her fears. Actually it was her friends that forced her to face them when they all practically laughed at her when she claimed not to have any issues.
I love Emma but the girl could use some counseling to work on all of her emotional turmoil. 
Speaking of which, whatever happened to Archie?
I know there's only so much time in each installment, but is anyone going to name Zelena's baby…ever? I mean, what does Robin call his daughter while they're hiding in the woods? That poor child may grow up thinking her name is Baby. That only worked in the movie Dirty Dancing, and barely then. 
Sorry. I guess I've gone off on a tangent, but that unnamed baby really bugs me. 
Elsewhere, Snow definitely found her spunky side once again as she pushed Emma to work together to find whatever creature was after them. Little did they know it was Red! I was just wondering if we'd ever see her again. 
Check back later this week to see what our Once Upon a Time round table team has to say and then read our Once Upon a Time Season 5 Episode 18 review next Sunday.
If you can't wait until then, you can always watch Once Upon a Time online here at TV Fanatic. 
C. Orlando is a TV Fanatic Staff Writer. Follow her on Twitter.