Rosewood Season 1 Episode 16 Review: Dead Drops & Disentanglement

Rachel Miller at . Updated at .
What do you do when a case hits close to home? That's the question Rosewood had to ask himself on Rosewood Season 1 Episode 16 while investigating a mysterious murder. 
When Darren Barber randomly dropped dead from the sky while skydiving, it was easy to assume the man was murdered.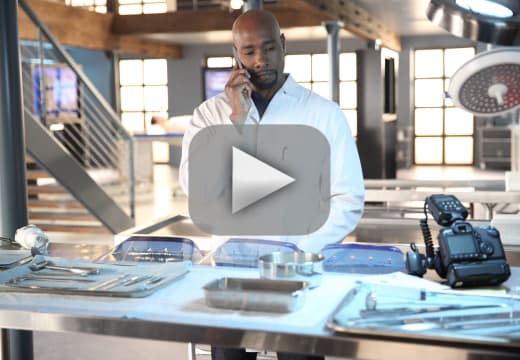 Neal, who has been promoted to Medical Examiner, immediately called Rosie to the scene of the crime to assist with his expertise. Little did Rosewood know, he had something strikingly similar to Darren.
That scar looks familiar.

Villa
Villa knew right off the bat that Darren suffered from a heart condition that was similar to Rosewood. I was shocked to see Rosewood's reaction when he saw the scar on Darren's chest. It was as if Rosie was looking down at his own lifeless body, and he immediately began to feel pain and anxiety.
Rosewood didn't know if Darren was murdered or if his heart gave out on him. That ultimately scared Rosewood, giving him the motivation to solve the case.
Rosie has always been someone full of life and never wanted to let his health condition get the best of him. Just thinking that Darren's heart issues caused his death made Rosie want to finally get that much needed MRI.
Donna: She's your cardiologist?
Erica: Your mother didn't know?
Unbeknownst to Donna, Rosie has a cardiologist who's handling more than just his heart. Erica has been giving Rosie tips on what to drink to keep his heart in perfect condition.
Like any protective mother, this caused a problem with Donna. Donna's always been the number one woman in Rosewood's life, so it wasn't shocking to see Donna feel a certain way about Erica. Donna wasn't the biggest Kat fan either.
It wasn't surprising to see Donna pop up at Erica's office to state how she felt about the budding relationship Erica has with Rosie. Donna knows that her son has commitment issues and she didn't want that to interfere with Erica's professionalism.
If things between the two didn't work out, Rosewood would be out of both a cardiologist and girlfriend.
Your son is a grown man and I appreciate you staying out of our business.

Erica
I just wish Donna would sometimes stay out of her children's personal lives. Yes, she may be looking out for them, but always sticking your nose where it doesn't belong could hurt the relationship she was with Rosewood and Pippy.
The look on Donna's face when Erica told her to mind her business was priceless. I've never seen Donna so speechless. 
Rosewood: Your son and I suffer from the same heart condition.
Mr. Barber: What happened to him?
Rosewood: I don't know Mr. Barber, but I promise I will get you the answers you need.
As mentioned earlier, Darren Barber had the same heart condition as Rosewood. It turned out that the heart conditions isn't what caused Darren's death, instead it was a tumor.
Either way, the case made Rosewood take a look at his own health problems. For his sanity as well as his family's, Rosewood got the MRI that Erica suggested. Rosewood's health is in great condition, which lifted a huge weight off everyone's shoulders.
Butterflies, sweaty palms. You totally wanted him to pop by.

Mia
This case also introduced us to Hornstock's daughter, Sophie. She's a very smart girl who has the same spunk as her father. I cracked up at Sophie quickly catching on to the chemistry between Rosewood and Villa. Like any typical college bound teenager, Sophie fought with Hornstock about her life after high school.
Hornstock wanted Sophie to go to college, but she had other plans. Sophie was intrigued with everything involving Darren's case and wanted to be there every step of the way. Hornstock had his doubt's about Sophie's future plans, but she shocked him after revealing her plans to go to the police academy.
Hornstock should give himself a pat on the back. He may not have had a close relationship with Sophie, but he's had a positive influence on his daughter. She wants to follow in his footsteps.
So what did you think? Where you shocked to see Erica stand up to Donna? Will Rosewood ever fully commit to a relationship now that his health is in perfect condition?
Don't forget you can watch Rosewood online right here at TV Fanatic!